There are just six weeks left until the most highly watched sporting event on Earth, the FIFA World Cup, kicks off in Russia…and footie fanatics around the globe are probably bulk buying their noisemakers in preparation as we speak. But at the Pérez Art Museum in Miami (PAMM), fandom has already reached fever pitch thanks to its latest exhibition that celebrates the sport through art.
Featuring the work of more than 30 artists ranging from Andy Warhol to Kehinde Wiley, Maria Lassnig to Miguel Calderón, "The World's Game: Fútbol and Contemporary Art," explores the social and political implications of soccer as well as many artists' pure and simple love of the game.
"I can't think of anything I'm more passionate about besides art and soccer to be perfectly honest," PAMM director Franklin Sirmans told Observer, lamenting the fact that the U.S. is already out of the running for the 2018 cup.
"Miami is filled with people from different places and I think the level of fandom here exceeds all other cities in America," he continued, which is why he was excited to debut this exhibition about how contemporary artists look at the global sports phenomenon.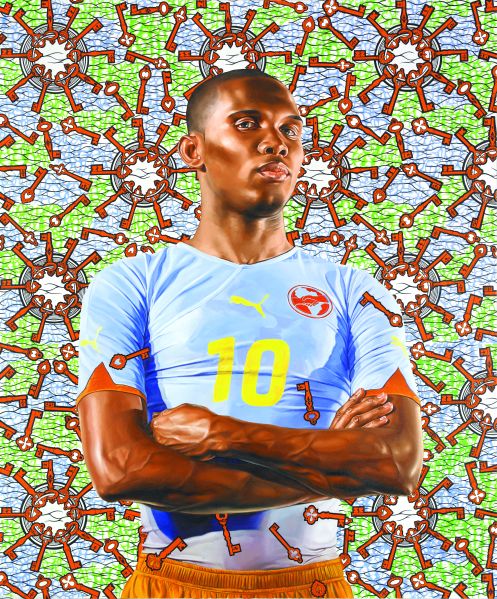 Played by more than 240 million people in nearly every country in the world, fútbol offers an accessible entry point to discuss personal identity, cultural spectacle and political issues of nationalism in an increasingly globalized world. "The World's Game" playfully pushes on each of these points through a panoply of photography, video, painting, and multimedia installations.
Consider the 2010 film by U.K.-born Melanie Smith and Mexico City–based Rafael Ortega, who collage together a visual history of Mexico and the multifaceted construction of the modern Mexican nation, all filmed in the boisterous Aztec Stadium. Roberto Guerrero approaches the game more introspectively in his photographs of footballers and 2015 video, Rite of Passage: Fast and Smooth Transfer to the Other Side, which uses toy players to mimic field tactics, addressing ideals of masculinity and machismo in relationship to his own identity as a gay man.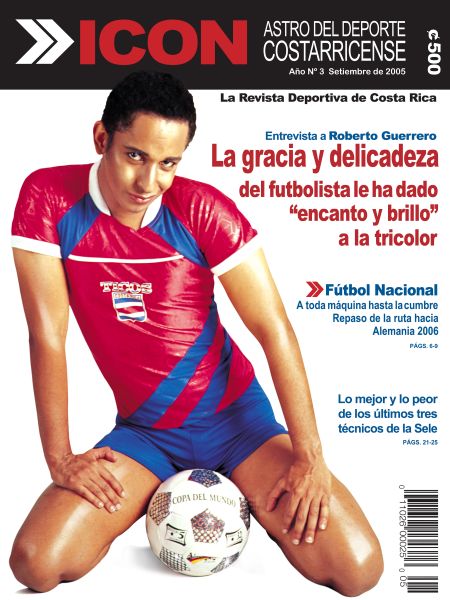 While many of the artists in the exhibition offer funny and even emotive meditations on soccer drawn from their own personal histories or connections to a place, others probe the perhaps slightly more sinister growth of the game from local get-together to global cash cow. Chris Beas's series of paintings, There's Only One United, chronicle the purchase of one of England's best known football clubs, Manchester United, by the Glazer family in 2005. In a move the artist calls "vampiric," they used borrowed money to buy the team putting it into massive debt that remains unresolved 13 years later.
"As a way of turning a profit through sponsorship, Man U now has their name plastered on everything imaginable from tractors, motor oil, wine, insurance and delivery services," Beas told Observer. His paintings depict in tones of black and white images of players mostly from the 1960s, "a time prior to the hyper-capitalization of football," he explained. The artist removes all logos and ads from his copied compositions, leaving only the team's color—red—behind, a reference to the working class socialist roots of the club.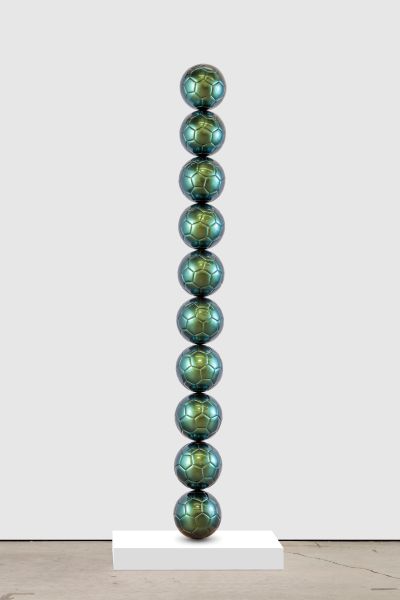 Money can be both a blessing and a curse when it comes to something as ubiquitous as football. A crisp photograph by Brazilian artist Igor Vidor shows a soccer field precariously installed on a mountainside, revealing the conditions under which many players and teams without the resources for fancy stadiums play. "I wanted to compare the topographical differences between the professional and amateur fields, and the metaphorical conditions of privilege and disadvantage," he said, explaining that he himself was a pro footballer when he was younger.
But it's the sport's ability to draw together the masses from all walks of life that ultimately remains its greatest strength, as seen in Stephen Dean's immersive video installation, Volta, filmed fan-style with nothing but a handheld camera. Shot in Rio de Janeiro at the Maracana football stadium during a local championship, it evokes the unifying sense of fandom that supersedes individual and even international differences. "Fascinated by the energy surrounding the game, I turned my camera towards the fans to capture shared emotions at a massive scale," he said. "I wanted to celebrate the choreography of euphoria and agony. The crowd is seen as a threatening yet flamboyant organism in and of itself," all united in seeking the same thing—a goal.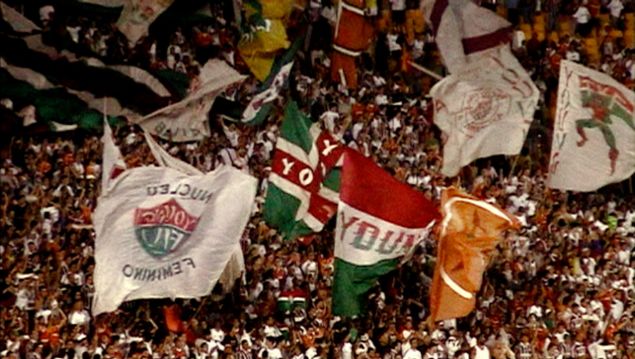 "Dean's piece reminds me of the few moments thousands of people are focused on the same thing, moving together, feeling together. These are such rare moments in our current political landscape," Sirmans said. Likening the World Cup to an art biennial, he noted that at the root of both art and sports is an appreciation of human talent and the desire to come together to support it. "I love this idea that we have something to say to each other about where we're from and who we are but in a way that is offers the opportunity for collective conversation."