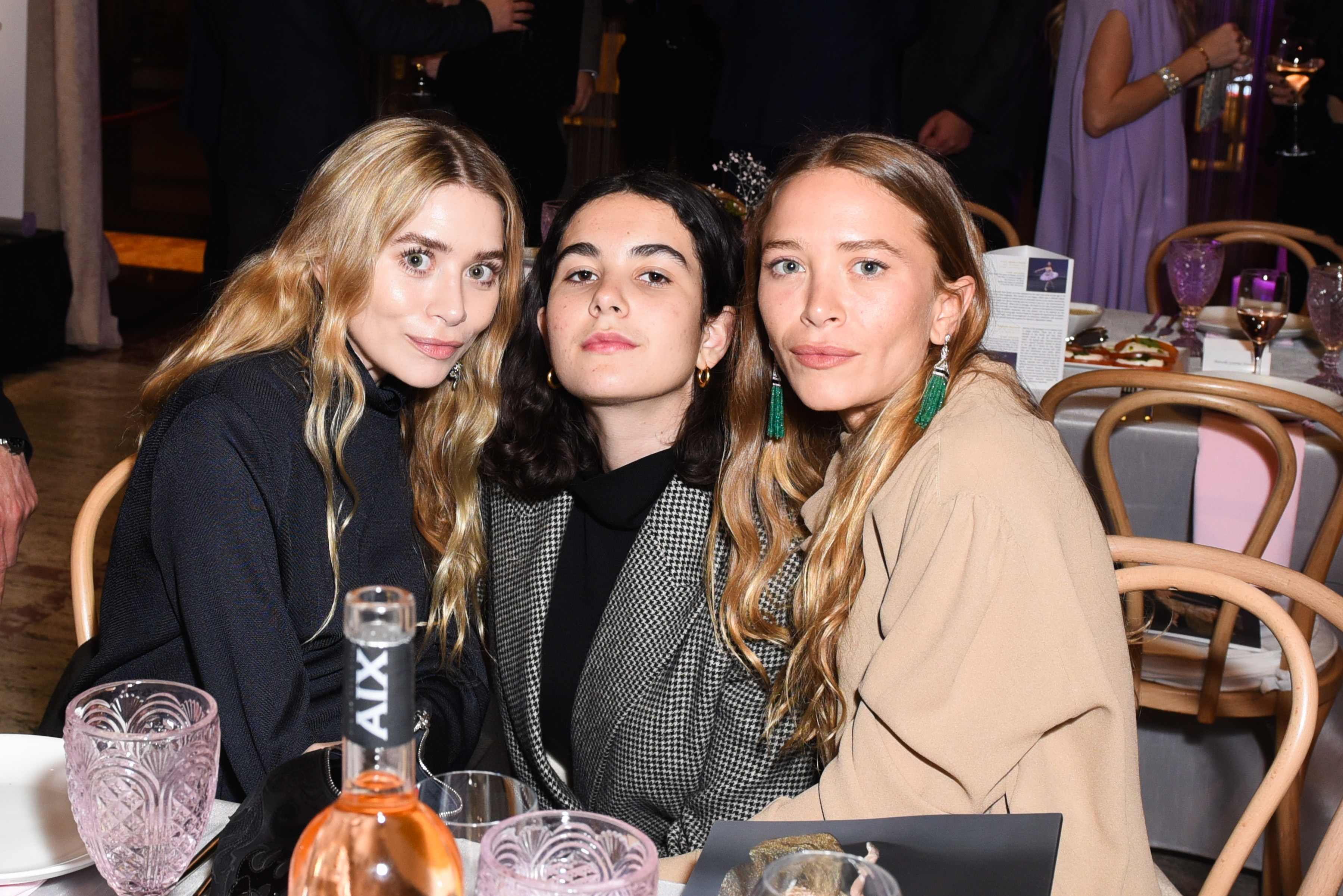 Arielle Charnas stands in the Lincoln Center Promenade cradling a bulbous pregnant belly over which she has draped a waterfall of bubblegum-pink, floor-length silk. The dress, wisely, is by The Row—Mary-Kate and Ashley Olsen's line of high(er) end ready-to-wear. The Twins will be here soon, but for now the charmeuse whips around the lone and otherwise rail-thin blogger like a flag at half mast, mourning the Death of Spring. It is April, unseasonably cold, unreasonably blustery.
At a ten-foot radius, multiple young women (assistants? interns? friends?) donning stars of millennial patriotism are out to brave the elements, mom jeans flapping as they encircle Charnas like Cinderella's mice. They kneel, stand, squat and angle, giving non-stretch denim a run for its money in the most valiant of documentary efforts. Success! The moment is captured and instantly punctuated with a tiny, pulsing heart: "Such a special night and organization! So glad I could be a part of it 💗" (cred: Anna Chudnovsky 🍒🍒🍒)
Yes. A special night, indeed. A night to tip Moët-sponsored wine to the Youth America Grand Prix, toasting the end of a week-long competition between 1,500 student dancers from across the world. For 19 years, the organization has awarded over $3.5 million in scholarships to dance schools. It's an honor to be here. And we're here to celebrate. Efficiently.
Charnas is swiftly ushered through the doors of the David H. Koch Theater and wrapped in the lithe Tracy Anderson Arms © of one (also gram-famous, though to a significantly milder degree) polka-dot-clad Candice Miller, co-chair of the evening's gala. The two take to the proper side of a red velvet rope which keeps lesser-known bloggers at bay. In form, on-cue, duo demure, sealed-lip smiles. Like a perfect glossy TRESemmé ad where teeth are weirdly not allowed.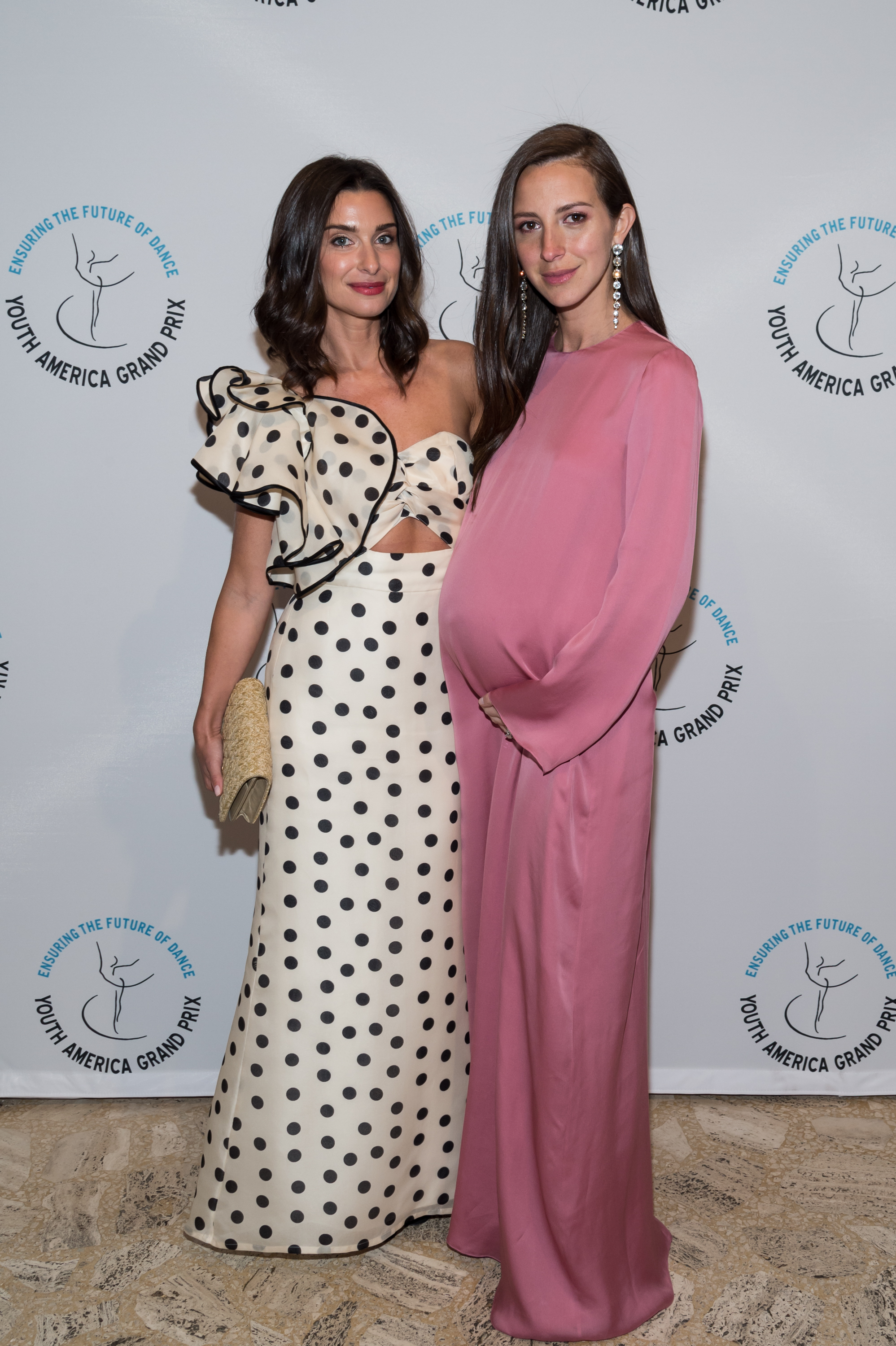 "A lot of the dancers look to her as a fairy godmother. I think I met her at an ABT gala when I was still in the corps. I didn't really know who she was, and just found her to be so warm and intelligent and easy to talk to." A porcelain, fluttering, wide-eyed Isabella Boylston describes Amy Astley, editor in chief of Architectural Digest and honorary chair of the gala. "She's brilliant and she knows everyone," Boylston tells me. "She's a wonderful friend to have." But where is she? 
"Amy unfortunately had to run to Milan for business!" the PR confirms. Pity. We missed her. And we know she wanted to come. (Remember? Astley was EIC at the now-defunct Teen Vogue and, bun-head that she is, brains behind the zine's Strictly Ballet video series. A must-watch if you missed it.)
Fret not. The Twins are here. In matching, chic, twin ensembles. As only The Twins can do. It's depressing, really. If anyone else did that, we'd look like poodles. Or at least as ridiculous as that socialite over there, waving her lollipop like some kind of wand between bouts of rolling the thing on her outstretched tongue and pausing for pensive, conspicuous sucks.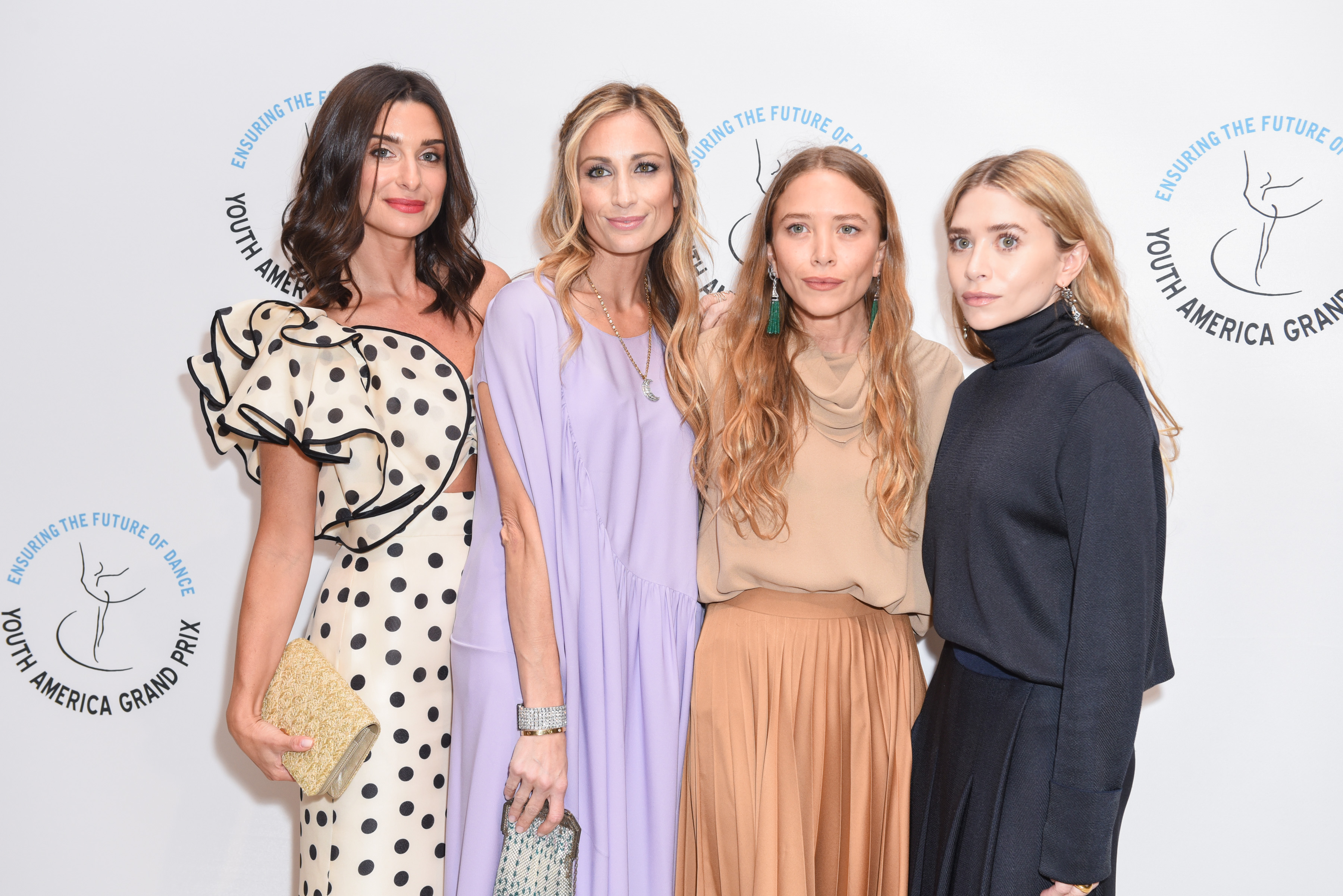 Back to Boylston, because she's super friendly, smiles with teeth, and isn't eating candy in the middle of a party. A YAGP alumna, Boylston took the gold in the 2001 competition. She was 14 at the time, and the win meant the difference between riding a bus two hours each way from Sun Valley, Idaho to the Colorado Ballet Academy in Denver, to training full-time (on a full scholarship) at the Harid Conservatory in Boca Raton, Florida. "I was really, really, really nervous," Boylston confides. "I definitely didn't think I would win."
Now 31 and a principal dancer with American Ballet Theater, Boylston is one of the most recognizable ballerinas in the world; her Instagram a sunny collage of red lips and ropey limbs. Though a fawning 232k followers is a far cry from Charnas-level status, Boylston did star as Jennifer Lawrence's body double in a Red Sparrow dance scene—and that's nothing to shake a dum-dum at. But, she tells me, she still gets nervous before every show. 
"I read this quote from Roger Federer that I love—about how he still gets nervous—and he says, 'I appreciate the fact that I get nervous because it means that I still care.'" Earnestly, she explains, "I just accept it now because I know that nerves can make your performance better, give you laser focus. As long as you don't let the nerves overwhelm you."
Boylston assures me, in a charmingly roundabout way, this is nothing like Black Swan. "There's something really misogynistic about the stereotype that ballerinas are backstabbing and hyper-competitive." Boylston stops. "Of course it is competitive, but it's also a family. No one else will ever understand what this life is like, except your fellow dancers." I wonder if bloggers feel the same. 
Couple more pics, since we know that's what you came for: