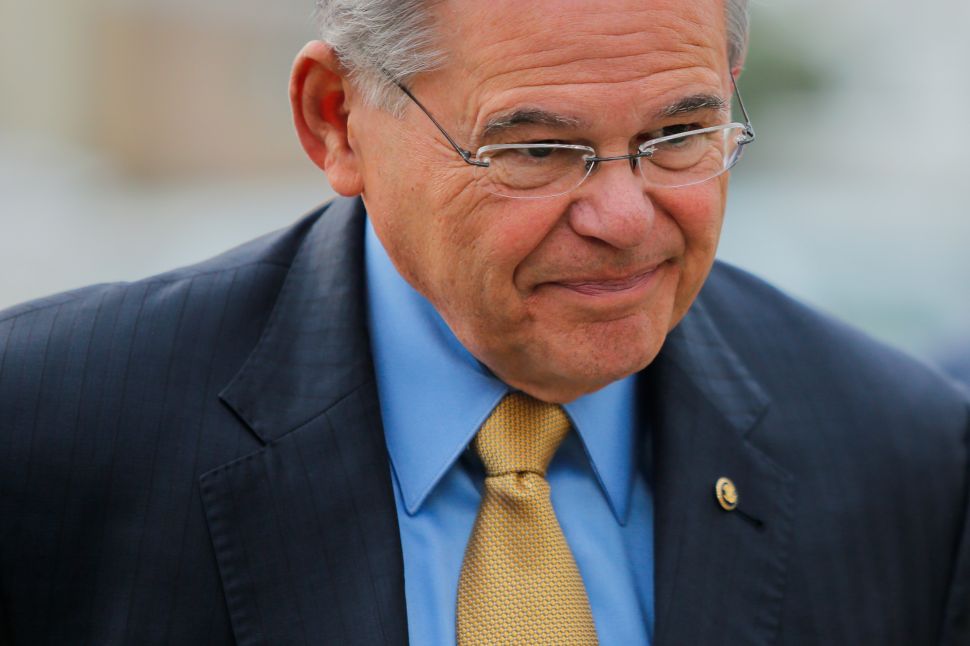 Despite the ethical cloud hanging over him, Sen. Bob Menendez is in a strong position to win his reelection bid, according to a new poll released Thursday.
Menendez leads his likely Republican opponent, former pharmaceutical executive Bob Hugin, by 21 points, according to a Monmouth University poll. Menendez, a Democrat, received 53 percent support, while Hugin had 32 percent.
Menendez has the support of 92 percent of Democrats, while Hugin is backed by 84 percent of his fellow Republicans, the poll found. Among Independents, Menendez leads Hugin 41 percent to 33 percent.
"Let's be honest. It's very unlikely that these results are predictive of the final margin on Election Day. New Jersey voters do not tune in to midterm elections until sometime in October, and fewer than half of the voters we polled now will actually show up to vote then," Patrick Murray, director of the Monmouth University Polling Institute, said in a statement. "However, the current state of the race does speak to what is perhaps the incumbent's biggest strength: being a Democrat in a blue state in a year that is looking very good for Democrats."
Still, Menendez enters the race in a weaker position than during prior campaigns after surviving a two-and-a-half-month corruption trial.
He received a negative approval rating among registered voters: 28 percent had a favorable opinion of him, while 35 percent had a negative view and 37 percent had no opinion. In his 2012 reelection bid, his personal rating was 36 percent favorable and 20 percent unfavorable.
Three-quarters of voters (76 percent) are aware of Menendez's trial, which ended in a hung jury, according to the poll.
"There's no question that Bob Menendez is starting off this year's race under a cloud because of his recent legal troubles," Murray said. "Many voters are already aware of this and have figured it into their vote calculation, but this information is news to some current Menendez supporters and could impact his support."
Hugin largely remains an unknown to New Jersey voters.
More than eight in 10 (82 percent) said they didn't know enough about him to form an opinion. The rest were split between holding favorable (10 percent) and unfavorable (eight percent) opinions of Hugin.
Only 20 percent of voters are aware that Hugin was executive chair of Celgene, a biopharmaceutical company. Just 30 percent said knowing this makes them less likely to support him for U.S. Senate, while seven percent said it make them more likely to support him. Fifty-eight percent said it has no impact on their vote.
"The good thing for Hugin is that health care costs are not as much of a burning issue in New Jersey as they are nationally," Murray said. "The bad news for Hugin is that the Menendez team has yet to sink its teeth into this aspect of his background. The question is whether Bob Hugin is able to introduce himself to New Jersey voters or if Bob Menendez will get to do it for him."
The poll of 703 New Jersey adults was conducted from April 6 to April 10 and has a margin of error of plus or minus 3.7 percentage points.