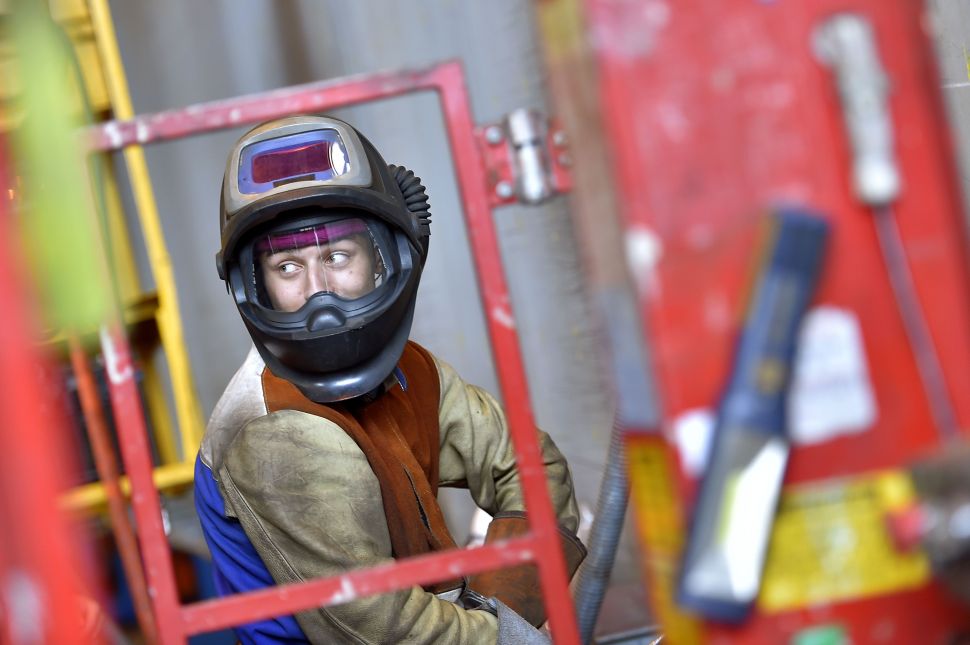 Americans between the ages of 25 and 54 are working fewer hours, and the overall workforce participation of this prime-aged group lags behind that in other developed countries, recent studies by the University of Chicago and the Federal Reserve Bank of San Francisco found.
Only 81 percent of prime-aged Americans were employed as of 2015, while the prime-age labor participation rates in Germany, Canada and the U.K. all exceeded 85 percent, San Francisco Fed research showed. More alarmingly, that gap has widened in the last 20 years, as labor participation of prime-aged Americans has been declining since 2000,
While these numbers will surely worry labor economists, lower workforce participation is, in fact, proof that economic output is going strong—at least in this case.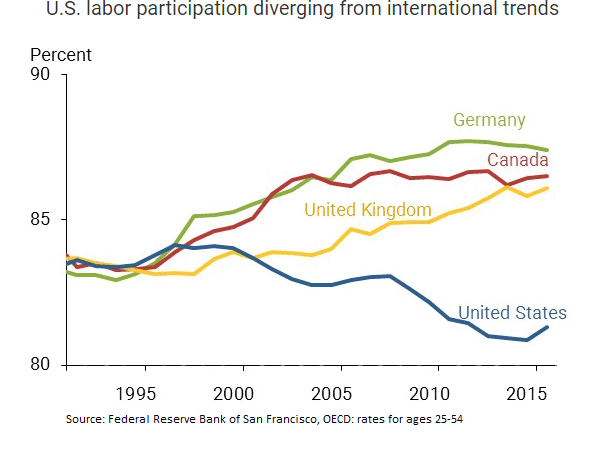 In a March study, a group of scholars at the University of Chicago found that the transformation in the manufacturing sector largely contributed to this declining trend.
Thanks to technological advancement, labor-intensive manufacturing jobs have been increasingly replaced by machines and computers. Between 2000 and 2017, the manufacturing sector lost 5.5 million jobs—that's more than twice the speed of job loss in the previous 20-year period, the study noted.
Interestingly, the economic output from the manufacturing sector wasn't negatively affected by the labor decline. It's true that the 2008 financial crisis put a dent on the sector, but in the post-recession years, while manufacturing labor continued to shrink, the output has quickly recovered to exceed the pre-recession peak.
According to a July 2017 study by the Pew Research Center, manufacturing output in 2015 was over 20 percent higher than that in 2000—despite a wipeout of over five million jobs during the period.
"There has been a tremendous increase of capital and technology in manufacturing—investment in automation, for example. The consequence is that fewer and fewer people of any type are needed in manufacturing production," Kerwin Charles, a professor at the University of Chicago who co-authored the research paper, told Observer.
"The capital investment has rendered labor—of any type—less and less important," he added.
In a particular area, a 10 percentage decline in manufacturing employment translates into a 3.7 percentage decline in the overall employment for prime-aged men, and a 2.7 percentage decline for prime-age women, Charles' study found.
For workers, that means the remaining jobs in manufacturing have become more skill-demanding than labor-centric.
However, catching up with technology is a challenge for those who need employment the most.
Manufacturing positions today often require special skills that are proved through certifications. But most job applicants simply don't have the time or money to obtain such qualifications, a labor economist recently told Observer. 
"Imagine a person who has only high-school education has to finish a college-level training within a year, that's a big challenge," Charles said. "It's particularly difficult for people over 40, who may have a house, kids and other obligations. Also, as people get older, the time for them to recoup the investment put in training gets shorter."