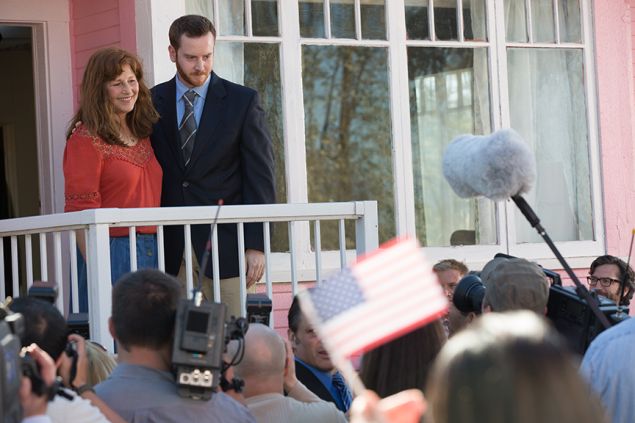 True stories about real people can be irritating or enlightening, depending on the intensity of the narrative, or the level of interest you have in the person under scrutiny. But a biopic about an actual person whose experience changes laws or impacts the lives of others takes on special relevance. Little Pink House is that kind of movie.
With an honest, no-frills performance by Catherine Keener as the noble centerpiece, this film, based on the 2009 book by Jeff Benedict, chronicles the heart-rending efforts of Susette Kelo, a Connecticut paramedic, to save her modest house located near a sewage plant in a rundown community across the river from New London from being demolished to make way for a pharmaceutical plant. After slaving financially to furnish and remodel the little pink house in the suburb called Fort Trumbull with the aid of her handyman-boyfriend Tim (a terrific, beautifully restrained Callum Keith Rennie), Susette came home after a rough day at the hospital to find an odd note pinned to the door from something called the New London Development Corporation offering to buy her property.
She wasn't interested. The developers persisted in their intention to confiscate the house in a multi-million-dollar deal masterminded by a politically ambitious Republican governor, under the supervision of Charlotte Wells (always marvelous Jeanne Tripplehorn), a crackerjack real estate maven who talked Pfizer, the Fortune 500 pharmaceutical juggernaut, into buying up all of the homes in the neighborhood. Promising to save the flagging local economy by bringing 1,000 jobs and a project replete with condos and a luxury hotel, Wells managed to talk a few people into selling out, but Susette and almost everyone else refused, vowing to protect their homes at all costs.
To justify the exorbitant extent of the project, the governor insisted on expanding the poor community's cherished river views by confiscating local homes under the Fifth Amendment laws of eminent domain, by which the government can legally seize private property for public use in the case of hospitals, highways, and other beneficial uses. Susette argued that it did not justify stealing private property to enrich the profits of Big Pharma.
Relentless in her refusal to sell, she turned down the lure of lucrative offers over market value, organized protests at Town Hall meetings, and rallied her neighbors to bring in a lawyer from a non-profit law firm who agreed to take the case for no fee to preserve justice. Braving the threat of eviction notices, bodily removal by the cops and forced demolition of entire streets, Susette fought for her rights until the case, to everyone's surprise, went all the way to the U.S. Supreme Court.
---

LITTLE PINK HOUSE ★★★
(3/4 stars)
Directed by: Courtney Moorehead Balaker
Written by: Courtney Moorehead Balaker (screenplay) and Jeff Benedict (book)
Starring: Catherine Keener, Callum Keith Rennie and Jeanne Tripplehorn
Running time: 98 mins.

---
Sadly, the town lost the case, but the outcome of Susette's appeal resulted in the kind of public outrage that grew into a media storm and affected court rulings across the country. After a five-year struggle, with only 90 days to move out, Susette and her friends lost the battle but not the war. Her devastating effect on the abuse of eminent domain rulings changed the laws considerably, and the fight goes on. In an ironic epilogue, we learn that while the governor of Connecticut went to prison for mail and tax fraud, and Pfizer's plans went belly-up, nothing was ever erected to replace the little pink house.
It's a good story, but too slow-moving for its own good. The cast works diligently, and Keener is scrappy but calm throughout, with a convincing naturalism as a woman with tremendous strength and a powerful belief in civil rights—at a time when most women were reluctant to speak out against political corruption. My big caveat is the balmy look and feel of a film that deserves a tougher aggressiveness. Filmed in the kind of haze that looks like a factory fire at twilight, Little Pink House was written and directed by Courtney Moorehead Balaker, who seems to favor cinematography so filtered and pale it looks like it was shot through a camera lens covered with mayonnaise.