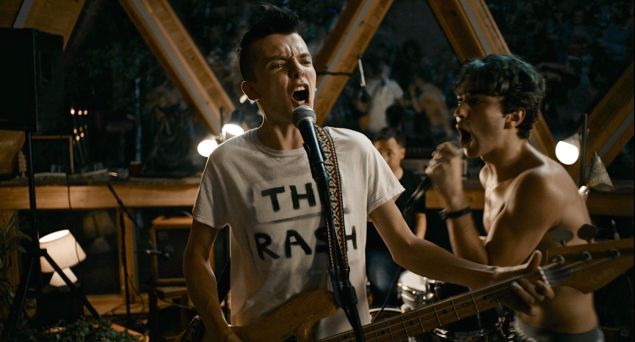 Based on a 2010 novel by Peter Bognanni, The House of Tomorrow is a sweet, inconsequential coming of age story about two 16-year-old boys who have lived over-protected lives outside the normal fabric of American life until a chance meeting jump starts them out of their isolation with the impact of a head-on collision. It's not much of a movie, but it feels good and leaves you with life-affirming optimism.
Sebastian Prendergast (saucer-eyed Asa Butterfield) is a young man who has been raised far away from corrupting influences like Coca-Cola, television and public high school by his eccentric grandmother-guardian Josephine (Ellen Burstyn), who has taught him to be different. Granny is a devoted disciple of futuristic oddball architect Buckminster Fuller, an old lover who left her one of his prize inventions, a geodesic model house of the future and something of a tourist attraction, where Sebastian conducts guided tours.
Old Mrs. Prendergast now devotes what's left of her life after a stroke to preserving "Bucky's" fading reputation by passing his theories and predictions for the 21st century on to her grandson. It's on a Lutheran church tour of the dome-shaped house that Sebastian meets a girl named Meredith Whitcomb (Maude Apatow) and to her amusement sports an instantly noticeable sexual arousal. (Sebastian has led such a cloistered life that he has never even kissed a girl on the forehead, much less the lips.) Before the tour ends, he also meets her religious father Alan (the engaging Nick Offerman) and her over-medicated younger brother Jared (Alex Wolff), who suffers from the repercussions of a heart transplant.
---

THE HOUSE OF TOMORROW ★★1/2
(2.5/4 stars)
Directed by: Peter Livolsi
Written by: Peter Livolsi (screenplay) and Peter Bognanni (novel)
Starring: Asa Butterfield, Ellen Burstyn, Maude Apatow, Nick Offerman and Alex Wolff
Running time: 85 mins.

---
The Whitcombs are an understandable shock to Sebastian's system. His agnostic grandmother has carefully trained him to be different, worship synergy instead of God, trust the power of positive thinking, deplore any form of corruption, and eschew anything other than a diet of organic vegetables. Suddenly, he is slam-dunked into a world of forbidden thrills: sex, rap, and grilled cheese sandwiches on white bread fried in butter.
Jared, who smokes and drinks, pops morphine, paints his fingernails black and colors his hair green, teaches Sebastian to play the bass, recruits him to write punk lyrics and join a heavy metal rock band called The Rash. In return, Sebastian home schools his new best friend in geometry, helps him sneak out of the house to play a talent contest held in secret at the model house without his grandmother's knowledge or permission, endangering Jared's life in the process. In the end, everyone comes of age in ways that are not always convincing.
Not to worry. At a time when so many movies are clueless, filthy, stupid and mean-spirited, The House of Tomorrow has a sweetness that lifts flagging spirits. The shapeless direction and uninspired screenplay, both by first-timer Peter Livolsi, are elevated by a talented cast, especially audacious Alex Wolff (so good as the teenager who ran away from boarding school to meet his idol, J. D. Salinger, in Coming Through the Rye). Ellen Burstyn, in younger years, was a follower and friend of the real Buckminster Fuller, and she shot the archival footage of the controversial guru shown in the film herself. Which probably explains why she serves as an executive producer—to get The House of Tomorrow financed, filmed, and sold. I'm glad she did.