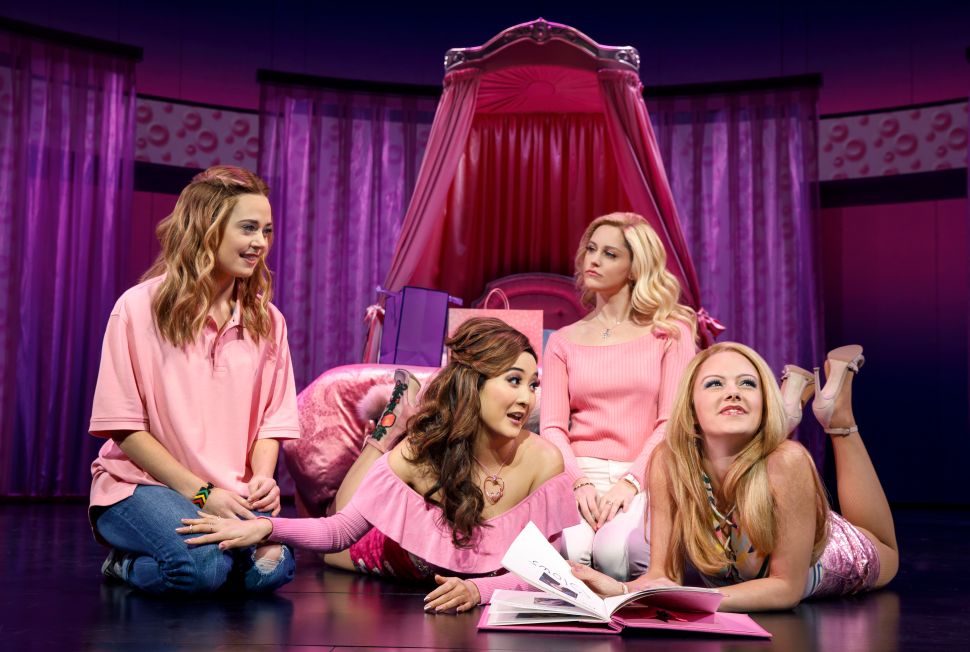 Sometimes when you go to the theater, even at today's humongous ticket prices, you already know what you're going to see before you get there. I went to Mean Girls, the mindless new Broadway musical version of the stupid, tasteless 2004 film (both written by Tina Fey, who proves she is not above trashing her talent to make money) expecting vulgarity, eardrum-endangering screeching from an array of nerds and floozies wearing ugly purple and pomegranate-red costumes, boring songs about angst, sex and teenagers behaving badly, and an interminable armory of smart phones, laptops and brainless texting—and that's exactly what I got.  Directed and choreographed by Casey (Aladdin) Nicholaw, Mean Girls is a load of teenybopper trash which, like the recycled jokes and vapid, lukewarm Jeff Richmond-Nell Benjamin pop score, cannot really be appreciated by anyone without a mouthful of bubble gum. 
If you suffered through the movie, you already know the bare bones of the preposterous plot: a girl named Cady (Erika Henningsen), home-schooled in Africa, of all places, is uprooted and moved from Kenya to a public school in the suburbs of Chicago where she is introduced to the thrills of rapping, Starbucks, and cafeteria food, and plunged into the hateful, backstabbing rituals of an American high-school education like a kitten tossed into a tub of ice water. The school popularity poll is topped by three long-legged bimbos called The Plastics, who greet Cady with cruelty and rejection, so on her first nervous day at North Shore High, she is befriended by two school outcasts—a suspected Goth lesbian named Janis (played by Barrett Wilbert Weed, a newcomer in desperate need of a name change) and  a chubby, flamboyantly gay guy named Damian (played with scene-stealing hilarity by Grey Henson) who wears nothing but pink and carries a photo of George Michael next to his heart.   
If the show is about anything at all (I haven't yet figured out exactly what) it's the fact that nice girls with morals and intelligence can become popular only when they turn into mean girls with low IQs themselves. Cady doesn't really come to life until she turns into the Queen Bitch, which doesn't say anything positive about social progress. Ninety percent of the audience at the critics preview I attended was made up of teenage girls, who screamed and applauded every lewd joke and crotch-groping gesture like a mob geared for chaos. At a time when real teenage girls are making historic news, what purpose is served by proving that girls can be as vicious and one-dimensional as boys? Worse still, what's the achievement in turning a dumb, worthless movie into a dumber, creepier, time-wasting Broadway  musical?
The songs are banal and derivative. Tina Fey's third-rate book is forgettable and shocking, coming from someone as smart and clever as she has been elsewhere.   But everything seems even more pointless when babbled so incoherently you can't understand half of what anyone is talking and singing about anyway. 
The Plastics take turns trying to out-shriek each other on songs called  "Sexy", "Someone Gets Hurt", and "Watch the World Burn". Gretchen (Ashley Park), the dumbest member of The Plastics who really lives up  to the label, belts out "What's Wrong With Me?", a song that only serves as a lamentable reminder of the vastly superior "What Did I Have That I Don't Have", the showstopper by Alan Jay Lerner and Burton Lane from On a Clear Day You Can See Forever. Brain-dead Karen (Kate Rockwell) and peroxided viper Regina (Taylor Louderman), the leading toxin dispenser in the group, have legs for days and sing louder than a jackhammer.  
For laughs, there's a Halloween party where everyone dresses alike, and a talent show in which four of Santa's elves sing "Rock Around the Pole".  The contrived  choreography gives everyone a chance to jump, leap and slide around on cafeteria serving trays. And you know when a show about girls is stolen by their overweight gay best friend, there's something wrong with the concept. Grey Henson as the limp-wristed Damien walks away with the show in spite off the fact that his big tap number called "Stop!" makes no sense. As Cady falls victim to superficial American values like social media, texting, hashtags and emojis, the simple-mindedness of Mean Girls becomes the egregious opposite of everything Tina Fey stands for, so it's appalling that she put her name on it.
They all keep singing "This is a cautionary tale that we continue to unveil", but it never clear what it's cautionary about—except, perhaps, lousy, dopey, irrelevant and futile Broadway musicals like Mean Girls.