Last week DTH—the Dance Theatre of Harlem—came back to roost in its old home, the City Center. Hurrah for Virginia Johnson, its finest ballerina back in the day and now its artistic director. Everyone wishes her well, and everyone has always wished DTH well since 1969 when its founder, Arthur Mitchell, having left City Ballet, created it. Mitchell had been a major star, the company's first African-American male principal, on whom Balanchine choreographed not only the Agon pas de deux (with Diana Adams) but Puck in A Midsummer Night's Dream. And he was Suzanne Farrell's "Hoofer" when Balanchine incorporated Slaughter on Tenth Avenue, from his Broadway hit On Your Toes, into the NYCB repertory.
Balanchine and Lincoln Kirstein and Jerome Robbins all vigorously supported DTH, Balanchine providing free of charge many of the ballets that became a cornerstone of the new company's repertory. The venture was an immediate hit—successful New York seasons, endless touring for the State Department. And then it began to fade, eventually shutting down, until it rose again, Lazarus-like. It was here with us a few years ago, and has now again found a happy, satisfied audience—it felt like a family affair.
But what is it? A company cautiously trying to find its way, and sometimes finding it. There are many strong and appealing dancers who have emerged from its school, and Virginia Johnson is giving them a wide range of opportunities to learn from. The two programs I saw began with different casts of Balanchine's Valse Fantaisie, the version featuring a lead couple and a corps of four women—a modest but charming piece in the manner of La Source. Well, everyone tried hard, and the two ballerinas were musical and appealing. (The partnering had its problems.) There was something odd about the women's feet, though—their pointe shoes looked disturbingly soft. Alas, the performances were marred by a serious attack of the Smiling Sickness. In a splendid NYCB performance on YouTube, led by Sara Leland and John Clifford, there's some smiling, too—this is a joyous ballet, after all—but it didn't look like a toothpaste commercial.
Christopher Wheeldon's This Bitter Earth retained its one virtue: It's danced to Dinah Washington's glorious recording. Otherwise, it's what we used to call adagio dancing—a nightclub act with lots of sexy lifts. As for the big new piece—Harlem on My Mind (choreography by Darrell Grand Moultrie)—it's a succession of jazzy numbers danced to standards recorded by everyone from Count Basie to Fats Waller. Everything was generic, energetic, pointless. Someone, by the way, should proofread the company's programs: Andy Razaf became Andy Razat, and Richard Rodgers lost his "d."
The weirdest event was a performance of the dreaded Le Corsaire Pas de Deux. Sensibly, Johnson is exposing her dancers to the classics—she's looking ahead. But this was the shadow of a shadow, and grinning didn't help. It's not enough to try to do the steps, you have to have a sense of what this kind of dancing is all about. On the other hand, Da'Von Doane's slow, slow exit downstage left after his solo was worthy of the Trocks. The whole thing reminded me of what Garbo once said about ballet: "Those poor fellows, having to lift all those big girls. It's so silly."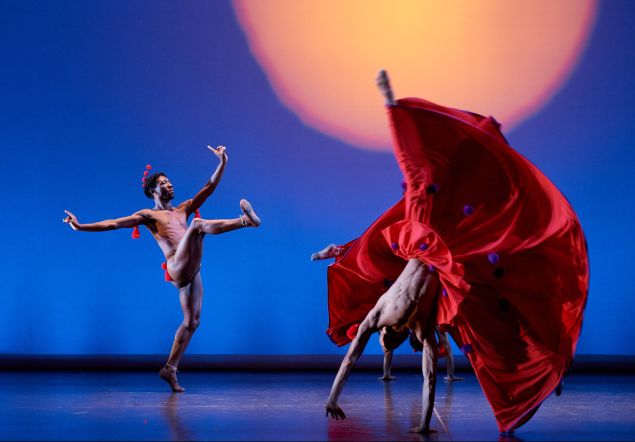 What fully justified the DHT season was the revival of Geoffrey Holder's 1974 Dougla, a company classic—maybe the company classic. Yes, it's old-fashioned, but so are the Rockettes. Dougla is an extended outburst of color, excitement, commitment. Holder's famous costumes are thrilling—he uses more cloth than Martha Graham did at her clothiest; the percussive score Holder wrote with Tania León propels the dancers relentlessly; the "primitive" scenic designs are charming. In other words, this is a piece that has a unity of purpose and effect that very few current works can muster, or even try to. It probably couldn't have happened if not for Alvin Ailey's Revelations, and it lacks that masterpiece's spiritual depth, but as a theater-dance experience, it's a knockout. The dancers were finally in their comfort zone and the audience was in bliss. I was very happy too.