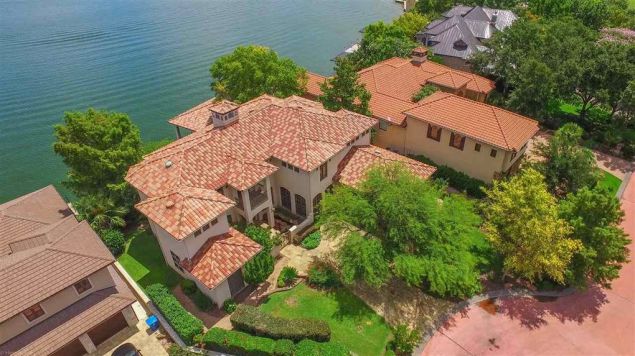 Now that Rex Tillerson isn't needed in Washington, D.C., the former secretary of state has plenty of spare time to visit his waterfront vacation getaway in Texas. President Donald Trump announced Tillerson would be removed from his position on March 13, and his term officially came to an end March 31. Just yesterday, the Senate Foreign Relations Committee approved the confirmation of Trump's nominee, Mike Pompeo, Tillerson's replacement.
Tillerson, however, is opting not to lounge about his 5,857-square-foot Horseshoe Bay retreat, as he's tossed the four-bedroom, 4.5-bathroom residence back on the market for $3.57 million. It's not the first time Tillerson and his wife, Renda, have attempted to part with the lakeside home; they previously offered it for $3.98 million in July 2017.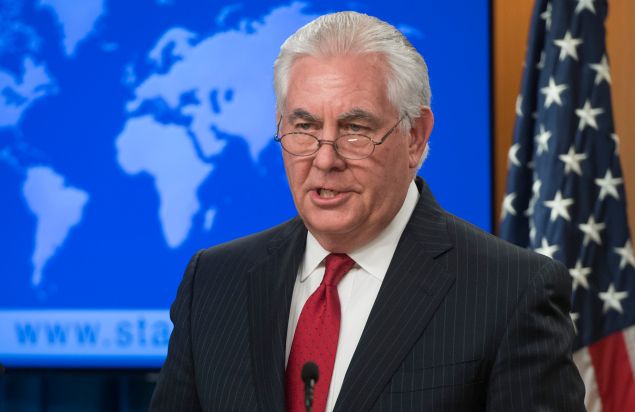 At the time, it was understandable why the couple would want to say farewell to the house. Tillerson had joined the Trump administration months before, in February 2017, so he was (apparently) rather busy. Alas, the Tillersons couldn't locate a buyer, and subsequently removed the listing from the open market in December 2017.
Perhaps now that Tillerson isn't preoccupied with employment he's able to spend more time searching for someone to take the house off his hands. He must be at least a little antsy to sell it, as the price adjustment might indicate.
Indeed, we doubt Tillerson will be too bent out of shape over the minor downtick in the potential sales haul. His net worth was estimated at $330 million last year, including the $180 million retirement package he received from Exxon following his departure. At the time, that made him the third-wealthiest member of the Trump cabinet nominees—Secretary of Commerce Wilbur Ross came out on top, at $2.5 billion, followed by Betsy DeVos, at $1.25 billion.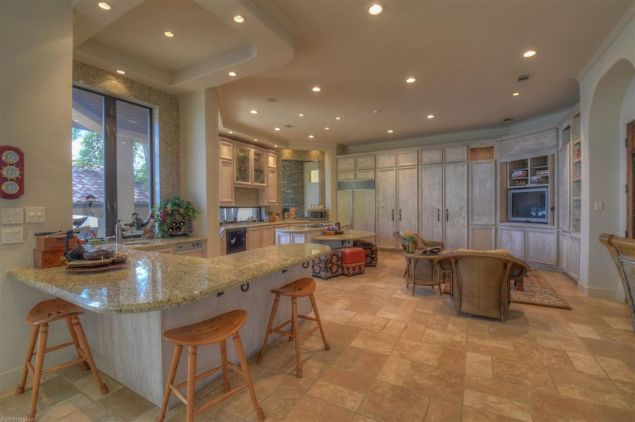 The Tillersons bought the Texas property, which was custom-built in 1999, for an undisclosed amount in 2004. It's located within the exclusive 80-acre Apple Head Island gated community and offers views of Lyndon B. Johnson lake.
The entry level is composed of two separate living areas, as well as a kitchen with light granite countertops, a breakfast bar and a family seating nook. For more formal occasions there's the dining room, with a table situated directly under a wrought iron light fixture and multiple sets of double glass doors. It's all conveniently stationed by a wet bar and 1,000-bottle wine cellar.
One master suite is on the first floor of the house; the second, which also has a private office attached, is located on the upper level, as is another entertainment and media room.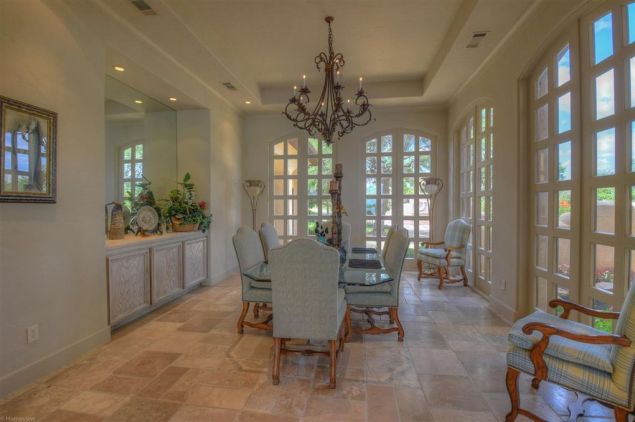 Outside, there's a kitchen and a fireplace on the veranda, all of which overlooks the lake. There's also a covered double boat house—which essentially serves as boat storage. And while there's no pool on the actual property, there is one within the Apple Head Island development.
Once the Tillersons manage to finalize a sale, they still won't be without lodgings in the Lone Star State. The family's main home is an 18.5-acre property in Bartonville. They also own a house in Renda Tillerson's hometown, Fort Worth, as well as at least two other investment properties elsewhere in Texas, per Mansion Global. It remains to be seen what Tillerson will do with the four-bedroom house in D.C.'s Kalorama neighborhood that he bought for $5.6 million last February.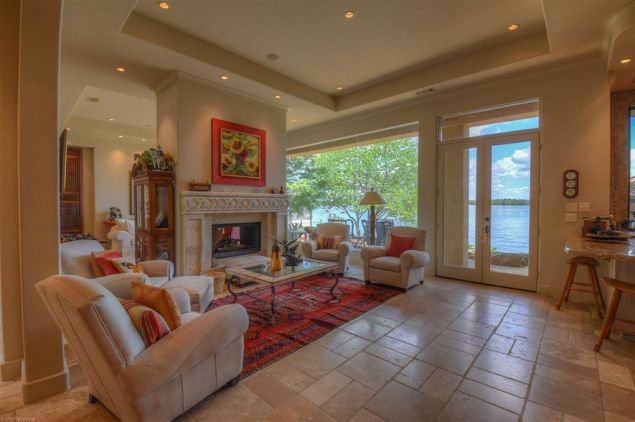 What's next for Tillerson? Well, he won't be able to re-enter the oil business for a while; according to Time, a clause in his Exxon exit contract says he could have to relinquish up to $180 million if he takes a job in the industry within the next decade.
But he does have another potential career option in his home state. Tillerson's alma mater, the University of Texas, is reportedly reaching out to him to be the next chancellor. Maybe it's time for Tillerson to start touring homes in Austin.