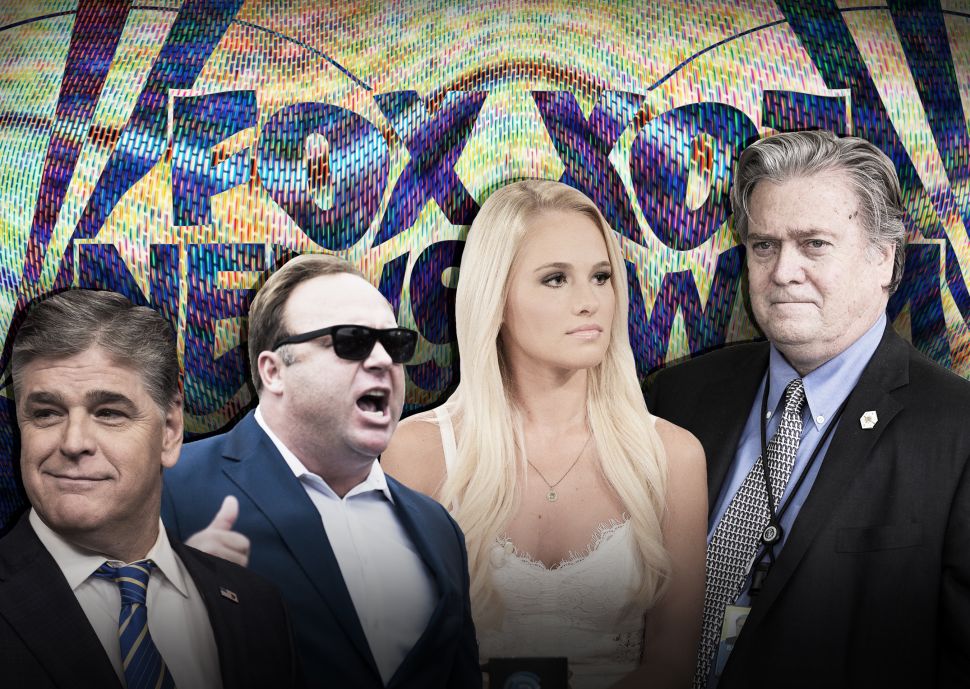 As families grieved over fallen loved ones following February's school shooting in Parkland, Florida, New Right political operatives hijacked the tragedy to push conspiracies about billionaire George Soros.
After writing a story emphasizing how one of the student's parents was a retired FBI agent, reporter Lucian Wintrich published an unverified claim on the fringe website Gateway Pundit alleging Soros was behind the student activists pushing for gun reform, noting their interest in theater to imply they were crisis actors.
"I said they were all from the theater department, and they were being trained by people who also ran the Women's March," Wintrich told Observer.
School shootings have become increasingly politicized since 2012's Sandy Hook. But in the months after Parkland, a national debate—even more toxic than previous years—unfolded as GOP lawmakers and personalities mocked school shooting survivors while promoting an unrecognizable incarnation of the Republican Party fueled by paranoia and disinformation originating across fringe networks.
Eighteen companies subsequently dropped their advertisements from Fox News' Laura Ingraham Show, while donations to the National Rifle Association (NRA) tripled.
Amplifying this poisonous tribalism were dozens of new conservative media platforms like Gateway Pundit, aided by New Right internet personalities with massive social media followings who previously identified with the 'alt-right' before the term became openly defined by white supremacy. As nationalism is corporatized by massive political organizations like the NRA, fringe Republican ideologies are entering the mainstream through conspiracy theorists falsely equating extremism with conservatism.
The New Right movement began with Breitbart. Breaking from corporate conservatism, Trump tapped political operative Steve Bannon to lead his campaign, an appointment which subverted Breitbart into an apparatus of his campaign while ballooning the site's traffic to roughly 17 million readers per month.
"It's no secret that Breitbart was the pro-Trump site, starting as soon as he came down that little escalator and announced his candidacy. We were the pro-Trump site," Patrick Howley, a former Breibart reporter who coordinated with Bannon throughout the 2016 election, told Observer. "I was out there in the Midwest very early on getting people on the Trump train, and if that's a violation of journalistic integrity, so be it."
"I'm very upfront about the fact I support certain candidates," added Howley. "I don't give a shit about that."
"The Breitbart thing was an interesting thing because it started off as pro-Cruz and then it mutated into the Trump thing, which was Bannon's influence," Fox News host Greg Gutfeld told Observer in conveying the platform's shapeshifting nature when helmed by political opportunists.
Following the 2016 election, both Fox and Trump established a symbiotic relationship as Bannon saw his voice increasingly maligned in the administration, later getting ousted from the White House following a terrorist attack executed by white supremacists in Charlottesville, Virginia. A Buzzfeed feature linking Breitbart with white supremacists; the defeat of disgraced GOP candidate Roy Moore in a longtime Republican stronghold; and the publication of Michael Wolff's Fire and Fury, in which Bannon openly insulted members of Trump's family, cemented the operative's downfall.
In the absence of a dominant conservative power online, droves of right-wing outlets entered mainstream conversation, vied for hegemony over the Republican Party and competed in a crowded media landscape defined by disinformation and tribalism.
"Breitbart and Steve Bannon were serving as the headquarters of what was happening [in the Trump movement], particularly on social media," explained Jared Holt, a research associate at Right Wing Watch. "As Bannon crumbled, a lot of them were looking around trying to figure out how to sustain themselves in Trump's America."
Fringe outlets led by InfoWars, Gateway Pundit and Big League Politics—a far-right website started by Howley following Trump's election—trafficked fake news into the mainstream while galvanizing a network of conspiracy theorists who once anonymously dominated 4chan message boards.
New Right internet celebrities, such as rape apologist Mike Cernovich and Vice Media's co-founder Galvin McInness (who started the Western chauvinist group Proud Boys in 2016, which awards its highest honor to members who engage in physical violence with antifascist protestors) wielded sizable followings on social media that formed an entire online infrastructure of fringe ideology.
"They're constantly spreading each other's messages and working together to build a larger, collective audience," said Holt. "It allows them to take up a lot of oxygen… They've mastered the art of aggregation to the point where they've created their own media ecosystem."
The network's rhetoric is consistently pushed into the mainstream by prominent Republicans.
This year, Donald Trump shared and liked over a dozen tweets posted by Jack Posobiec, one of the conspiracy theorists behind the debunked Pizzagate conspiracy theory alleging Democratic officials orchestrated a child sex ring; just last week, the president's son alleged on Twitter that YouTube removed online videos of a mass shooter because of her political ideology.
Online fringe ideology leads to real world consequences, especially given how fast information travels in the Trump era: In one of the more damaging cases, InfoWars, Gateway Pundit and a Russia Today reporter all doxxed and falsely accused an innocent man of murdering school children during the Parkland, Florida massacre (all parties are currently being sued).
"Websites like Twitter incentivize extreme views: You're more likely to get engagement through emotive words," historian Niall Ferguson told Observer in an interview earlier this year.
"There's always going to be people who read [the fictional tabloid] World News Weekly at the checkout counter," added conservative pundit Ben Shapiro.
As D.C. lawmakers demand accountability from social media behemoths like Facebook and Twitter over the spread of disinformation on social media, engineers have minimized the visibility of certain content. InfoWars is reportedly one strike away from being banned from YouTube for pushing the conspiracy theory that survivors of the Parkland shooting were crisis actors, while Breitbart lost roughly half of its traffic between 2017 and 2018, according to comScore.
"Regarding Breitbart, I would suspect a lot of their traffic declined not because of some down-ranking algorithm, but because their traffic was so dependent on Facebook, and Facebook has taken efforts recently to de-prioritize news stories from news feeds because people were complaining," said Holt. "The idea there's a widespread effort to silence conservative thought is not entirely accurate… Social media companies like Facebook and YouTube are trying to curb extremism."
Walking a tightrope between censorship and curbing extremism and disinformation, Silicon Valley companies have been universally condemned for their influence in politics; lawmakers across the political spectrum grilled Facebook CEO Mark Zuckerberg on Tuesday and Wednesday.
But New Right media players are adapting to the distribution shakeups by merging with large-scale political operations.
While Shapiro announced last week that his podcast, The Ben Shapiro Show, will pivot to radio to target an older demographic, telling Observer "everything is in a state of transition," Howley's media outlet, Big League Politics, was acquired earlier this year by Mustard Seed Media, a company run by a political consultant who previously worked on behalf of Roy Moore's Alabama campaign, according to The Daily Beast. Much like how Congressman Devin Nunes (R-Calif.) funneled campaign funds into an alternative media outlet pushing a favorable agenda to his policies, Howley's site is now operated by GOP donors and political consultants, essentially creating a marketing vertical in the mold of Breitbart for populist candidates ahead of the 2018 midterms.
"We are in close communication with a lot of Republican candidates, and there are at least five or six candidates I can think of who we've already interviewed and have already profiled who we have close relationships with," Howley told Observer. "For whatever reason, the Roy Moore people allowed us to have [Roy Moore's] Twitter account, so I'm very grateful for that… I think we are putting it to good use by putting out very good stories and investigative reports every day that Roy Moore's fans really enjoy."
Moore lost Alabama's election after multiple women accused him of molesting them as teenagers. But the accusations did not stop Hannity from defending the candidate during the race, asking his roughly 3.2 million Fox viewers to reserve judgement. As a pipeline frequently laundering New Right ideology into mainstream media, Fox is currently being sued by the parents of Seth Rich for alleging their son leaked troves of DNC emails to Wikileaks, a conspiracy theory pushed heavily by sites like InfoWars, Big League Politics and Gateway Pundit to tap new audiences.
"Fox is the leading conservative voice in the country," Fox News contributor Geraldo Rivera told Observer. "Television is more visceral than print media. People watch and react and respond. Fox drives and Fox is driven, and I think it works both ways, by the audience."
"We were the main site that put Seth Rich into the mainstream with Fox News and everything else," boasted Howley.
Right-wing media platforms Big League Politics and Breitbart provided favorable coverage to the white nationalist Paul Nehlen, who challenged House Speaker Paul Ryan (R-Wis.) last year and is mounting another campaign after tweeting anti-Semitic images. Despite recently breaking from Nehlen, both outlets elevated the candidate's profile even with evidence circling online that he openly embraced tenets of white supremacy.
"What we may see happen is these outlets get really frustrated, and they'll react in different ways. Some will veer into the fringes further," said Holt, noting how white supremacists do not yet have consolidated media platforms. "There's a lot of money to be had there."
Through their standalone online ecosystem, the New Right exerts incredible influence over mainstream politics, defining national conversations in the process. As the movement's media platforms connect with GOP donors—in addition to Mustard Seed Media's acquisition of Big League Politics, Lintrich announced earlier this month a New Right political gathering intended to rival the Conservative Political Action Conference—their conspiracies ascend into the mainstream, trafficking in hateful ideologies in the process.
Battered by the New Right's disinformation attacks, media distorts further into tribal warfare as we all move closer to a world governed by paranoia.