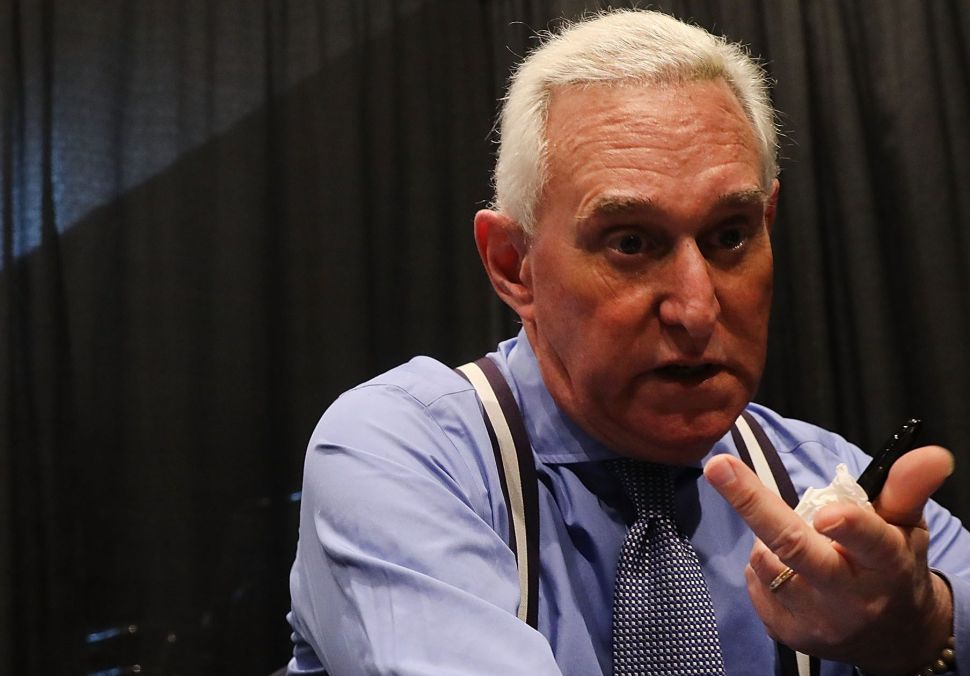 An exiled Chinese billionaire is suing President Donald Trump's former political advisor Roger Stone over comments he made on a fringe radio broadcast.
According to a lawsuit obtained by The Miami New Times, Guo Wengui, also known as Miles Kwok, claims Stone slandered him on InfoWars earlier this year by alleging he violated election laws and funneled money into the campaigns of prominent U.S. political figures.
"Stone has publicly stated that Plaintiff Guo has been 'found guilty' and 'convicted' of financial crimes in the United States—this is not true," reads the suit, filed on March 15. "Stone has publicly accused Plaintiff Guo of violating U.S. election law by making political donations to Hillary Clinton and financing a presidential run by Steven Bannon—this is not true. Mr. Stone should be held to account for these and other falsehoods about Mr. Guo."
Currently seeking $100 million in damages, Wengui has a shadowy past: Chinese companies and individuals have filed libel suits and accused him of rape, according to The New York Times. Despite such controversy, the billionaire's lawsuit accuses Stone of peddling misinformation regarding Wengui's financial history and ties to terrorist networks.
"Stone is a political consultant and conspiracy theorist who has made a career out of inventing lies about others in order to call attention to himself," reads the suit. "Stone broadcasts his lies through InfoWars.com, a media platform owned by fellow conspiracy theorist Alex Jones, for which Stone is a frequent contributor. Since on or before September 2017, Stone has used that platform to spread defamatory falsehoods about Plaintiff Guo."
"The New York Times not withstanding Mr. Kwok is not a dissident or a freedom fighter, he is a criminal fighting extradition to his native China where he is wanted for cyber financial crimes," Stone responded to Observer over email.
"The lawsuit filed in Miami is a frivolous Kwok of Schiff," added the operative. "Kwok himself posted on Twitter that he was financing Steve Bannon's operations and now is suing me for reporting it."
Wengui's lawsuit is only the latest legal blow to InfoWars.
The platform is currently fending off a lawsuit after falsely accusing an innocent Massachusetts man of murdering school children in the Parkland, Florida massacre. A separate suit seeks damages after InfoWars accused another individual of staging a terrorist attack executed at last year's 'Unite the Right' rally in Charlottesville, Virginia.
President Donald Trump frequently promised to open up libel laws on the campaign trail, though most lawsuits against publishers have recently been filed against fringe outlets with a right-wing bend. After openly calling for lawsuits against media outlets, those who advised Trump's campaign are now crying censorship.
"This is the new tactic of the left—it's called LAWFARE. Liberal groups file baseless harassment lawsuits in order to distract and bankrupt me," said Stone. "My lawyers are quite anxious to depose Mr. Kwok under oath about his relationship with both Chinese and American intelligence."