Families on the hunt for a picture-perfect vacation might be thrilled about Royal Caribbean's extensive renovation plans for the CocoCay island—but local environmentalists are not.
For three decades, the cruise line's private island in the Bahamas has offered white sand, blue water and an endless sea of reclining beach chairs on a relatively quiet stretch of the Atlantic Ocean. But not for long. The island, which will be renamed Perfect Day at CocoCay, is about to undergo a massive $200 million makeover that's packed with superlatives: one of the largest water parks in the region, the biggest freshwater pool in the region, the Caribbean's most extensive wave pool and the tallest waterslide in North America.
The massive overhaul will also include a 1,600-foot zip line and a helium balloon ride that takes cruisers 450 feet into the air, offering sweeping views of the island.
The only way to get to CocoCay, formerly known as Little Stirrup Cay, is by Royal Caribbean cruise. There are no hotels or cars on the island because daily trips there begin at 8 a.m. and conclude at 5 p.m. Just like on the cruise ship, food on the island is all-inclusive and unlimited drink packages can be put to good use.
But despite how alluring the new additions sound for vacationers, local environmental activists have expressed their concerns about the cruise line's massive upgrades, which are planned to be completed by spring 2019. In particular, they're distraught about its potential impact on the ecosystem of the Berry Islands, the archipelago where CocoCay is located.
Heather Carey, the spokesperson for Raising Awareness about the Bahamas Landfill (RABL), denounced the project in a Facebook post, which has since been deleted. "The cruise ship industry does very little to benefit the Bahamas. We cannot give away any more of our beautiful Bahamas to these bottomless pits," she wrote.
"What we continue to see is that the cruise lines care about their bottom line and not necessarily about the places they are traveling to and from," Marcie Keever, director of Friends of the Earth's ocean and vessels program, told Observer.
The renovation plans include the installation of a pier that will be able to accommodate even the biggest of Royal Caribbean's 25 ships: the Oasis Class, which measures up to 1,118 feet long and can carry over 6,000 passengers.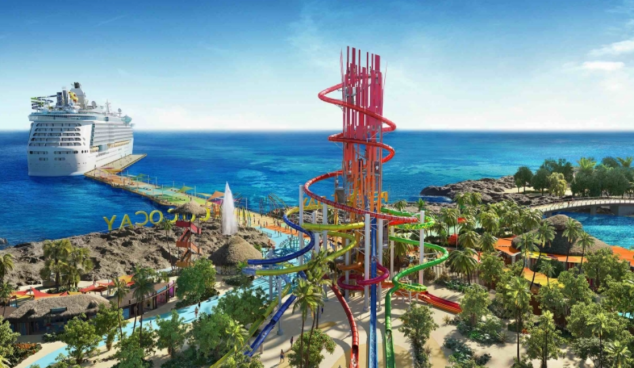 "Royal Caribbean's renovation plan is promoting an influx of tourism without taking proper measures to ensure sustainability and responsible consumption on the island," said Lea d'Auriol, founder of Oceanic Global Foundation, a non-profit that educates individuals on issues impacting our oceans and provides them with solutions for driving positive change. She believes that this impact could be "catastrophic" for the island's surroundings, citing an increase in marine debris and plastic pollution.
Once on the island, visitors can partake in jet-skiing, snorkeling and boat tours at Chill Island. Or they can head over to South Beach for more athletic activities, like beachside volleyball, glass-bottom kayaking and Zorbing, in which riders roll in giant inflatable balls over the ocean. It seems Royal Caribbean has thought of just about everything one would need for their "Perfect Day."
What has not been considered is the effect that an increase in visitors to the island can have on the natural habitats of CocoCay.
For example, d'Auriol points out that that snorkelers at CocoCay won't be taught how to properly interact with marine life and the surrounding aquatic ecosystems. She told Observer that touching coral can disrupt their natural habitats and getting too close to aquatic animals, including sea turtles, can cause changes to their feeding and mating habits. Not to mention the damage that common sunscreen can have on the coral reefs.
While the cruise line has not responded to Observer's requests on how they plan to protect the island's indigenous animals and the ecosystem of the Barry Islands, they did contribute $100,000 to complete an educational handbook for travel companies offering shark and ray tours in 2016. They also committed to supporting the World Wildlife Fund's ocean tourism and coastal conservation projects "to advance ongoing conservation efforts and continue to drive sustainability within the tourism industry."
However, that hardly touches upon the environmental impact that Royal Carribean's fleet of ships has on the oceans. Cruises often use bunker fuel, which is thousands of times dirtier than the average diesel used to fuel trucks. 
"A lot of the cruise lines own their own islands in the Caribbean and they're contributing to climate change. The cruise industry, in general, is a big polluter. The bigger the ships get, the more pollution they generate," said Keever.
Cruise lines who use advanced wastewater treatment systems can discharge anywhere, continuously, according to Keever. Since Royal Caribbean owns the private island of CocoCay, she doesn't believe there are any restrictions on discharging at the island, a detail the cruise line has yet to confirm. 
Royal Caribbean has stated that their Advanced Wastewater Purification systems "are twice as stringent as U.S. federal standards for in-port wastewater discharge."
So what does this mean for CocoCay and the ecosystem of the Barry Islands? "There's a great chance [that] antibiotics, medicine and everything else that comes in human waste, are going right into the reefs, impacting the ocean in a relatively shallow place," Keever points out. That's a pretty shitty consequence from a so-called "Perfect" vacation. 
Update: On April 18, 2018, Royal Caribbean responded with the following statement: "To ensure there is minimal impact to CocoCay and its surrounding waters, we have been working closely with the Bahamian authorities, including the Bahamas Environment Science and Technology (BEST) Commission."