Who didn't make the cut?
Bid adieu to the world's favorite bromance, because Barack Obama did not receive an offer to attend this regal union. Prince Harry and the former president put on a major show of dudeplomacy when they watched wheelchair basketball at the Invictus Games together and when they reunited in Chicago for the Obama Foundation's first annual summit. But that doesn't mean the Obamas were guaranteed a wedding invite.
It would have been highly offensive to invite a former president but not the current one, as it could create tension between England and the United States, the likes of which hasn't been seen since the last time Donald Trump tweeted.
Prince Harry was actually given strict instructions to completely exclude political leaders from his big day. Even Prime Minister Theresa May will be forced to watch the ceremony on TV, just like a plebian.
A Kensington Palace spokesman confirmed the news. "It has been decided that an official list of political leaders – both UK and international – is not required for Prince Harry and Ms Markle's wedding. Her Majesty's government was consulted on this decision, which was taken by the royal household." That means there's no chance of Justin Trudeau repping Canada at this affair, but it doesn't prevent Markle from choosing her BFF, Jessica Mulroney, as her maid-of-honor (sorry, Kate Middleton). She's married to Ben Mulroney, the son of Canada's former Prime Minister, but since he's just a TV host, there are no lingering political ties.
Royal Reporter Richard Palmer recently weighed in, tweeting: "Essentially, it's been decided that there's no need for official guests, as Prince Harry is not likely to be a future King." It's like getting married as the youngest sibling in any normal family; you're under no obligation to invite all of your parent's friends and that uncle you hate. Prince Harry, who is currently fifth in line to the throne, is simply not as important as his big brother, Prince William, even on his special day.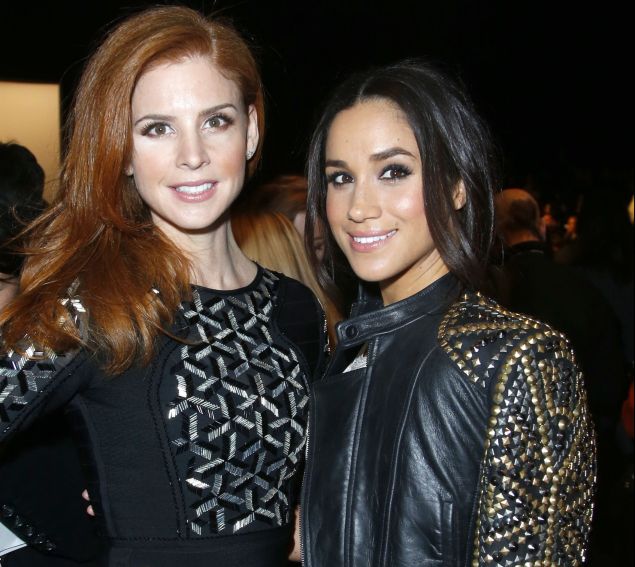 What about fellow Suits stars and other miscellaneous celebs? 
Since Markle no longer talks to fellow her Suits star and onscreen love, Patrick J. Adams, it's extremely unlikely that he will make an appearance. That also means he won't be bringing his wife, Pretty Little Liars star Troian Bellisario, which crushes all dreams for a Suits/PLL crossover reboot. We can hold out for a royal Real Housewives moment, however, if Adams decides to crash the wedding alongside Markle's estranged family.
Markle is still close with her former Suits co-stars Sarah Rafferty, better known as Donna, and Abigail Spencer, who plays Scottie, so both actresses could be spotted at the nuptials.
It's rumored that Markle's guest list also includes Serena Williams and Priyanka Chopra, her two longtime pals. The Spice Girls and Elton John are predicted to have been invited; John even canceled his Vegas gig to make sure he was on-call for a first dance serenade.
Why wasn't I invited? 
The guest list does include 2,640 regular folks, but they won't be toasting alongside Queen Elizabeth (with a glass of her favorite Champagne). Instead, they'll watch from outside Windsor Castle as the redheaded royal and his brand new bride arrive and depart from the ceremony in their fairytale carriages.
"The couple has asked that the people chosen are from a broad range of backgrounds and ages, including young people who have shown strong leadership, and those who have served their communities," Kensington Palace said in a statement.
So here's the breakdown: 1,200 people were nominated to attend the wedding by nine regional Lord Lieutenants, who serve as Queen Elizabeth's personal representatives from each country in the UK. There will be an additional 200 guests who work with charities associated with the royal couple, 610 Windsor Castle community members, 530 members of the royal household (you really should have applied for those palace jobs) and 100 students who attend schools close to Windsor Castle. Hopefully, Prince George makes a plebian pal who convinces him to ditch the knee socks.
Who was nominated to attend? 
How do we know that the members of the public chosen by the Lord Lieutenants are just as important as promised? Kensington Palace's Twitter has provided some substantial evidence, as the list includes injured service members, schoolchildren and charity founders.
Those highlighted include Philip Gillespie, a soldier who lost his leg in Afghanistan and now fundraises for ABF The Soldiers' Charity. Manchester Arena bombing victim Amelia Thompson, who's only 12, will be attending alongside Sharon Goodman, who lost her granddaughter during the attack. Another virtuous commoner attending is Pamela Anomneze, the manager of Studio 306 Collective CIC, who helps people recovering from mental health problems.
If you're unable to attend for some reason, the future husband and wife are accepting gifts in the form of donations…but if you're looking for a more inventive present, consider memorabilia. We recommend this commemorative plate with Ed Sheeran in the place of Prince Harry, to guarantee you definitely get invited to the next royal wedding.