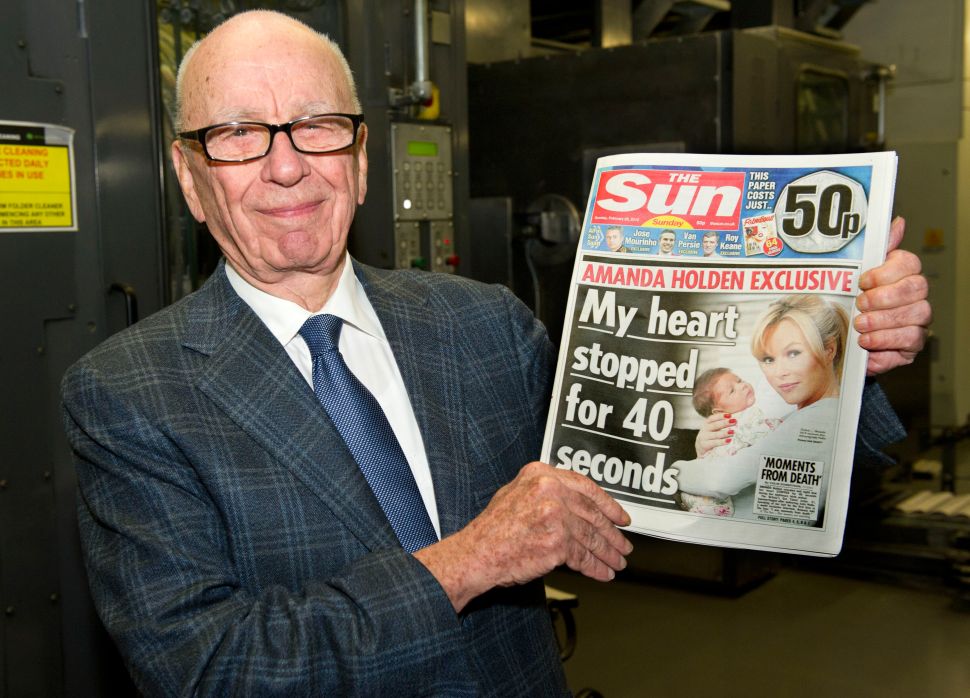 Rupert Murdoch has been a force in both print journalism and cable news throughout his 60-year career.
But can he conquer Broadway next?
Manhattan Theatre Club (MTC) announced today that Ink, a play about the media mogul's early career in England, will be part of its next season. The drama, written by James Graham, will open in April 2019 at the Samuel J. Friedman Theatre.
Murdoch is, of course, best known for founding News Corp and launching Fox News. In recent years, he's also been forced to defend his companies during phone hacking and sexual harassment scandals.
He's even become something of a media ombudsman, offering unsolicited advice to Mark Zuckerberg about Facebook's fake news problem.
And then, there was his contentious marriage to accused Chinese spy Wendi Deng (he's since moved on to former supermodel Jerry Hall).
All of these stories could be fodder for a gripping drama. But Ink actually doesn't focus on any of them.
The play takes place in the late 1960s, as Murdoch transformed the struggling daily newspaper The Sun into a tabloid powerhouse. He and a team of editors and reporters trademarked a brash, eye-catching style, which Murdoch then used to woo New York Post readers in America. "Headless body in topless bar," anyone?
Ironically, the story of Murdoch's irreverent tactics will be bankrolled in part by a monk.
Ink is being partially financed by the Roy Cockrum Foundation. Cockrum, a 61-year-old actor and former Episcopal friar, won a $153 million Powerball jackpot in 2014, and he's been using the profits to support nonprofit theater projects.
But even with its dramatic, well-known subject matter and holy financing, does Ink have a prayer of succeeding on Broadway?
Plays about journalism have actually performed very well in recent years. Nora Ephron's Lucky Guy and a revival of The Front Page both played to packed houses and recouped their investments.
But both of those shows had a distinct advantage: celebrity. Broadway audiences were happy to step into the press room when Tom Hanks and Nathan Lane were hitting the typewriter keys.
Ink, on the other hand, didn't feature any big stars during its London run—though actor Bertie Carvel, who played Murdoch, won an Olivier (the British equivalent of the Tony) for his performance.
But Carvel is best known on these shores for playing Miss Trunchbull in the musical Matilda—which, while hilarious, didn't quite make him a household name.
MTC's involvement does allay some concerns, however. The company already made journalism work as drama in the 2012 play The Columnist, starring John Lithgow.
We won't see Murdoch stop the presses onstage for a year (and hopefully it will be worth the wait). But the mogul's everyday antics should give us more than enough to chew on until then.