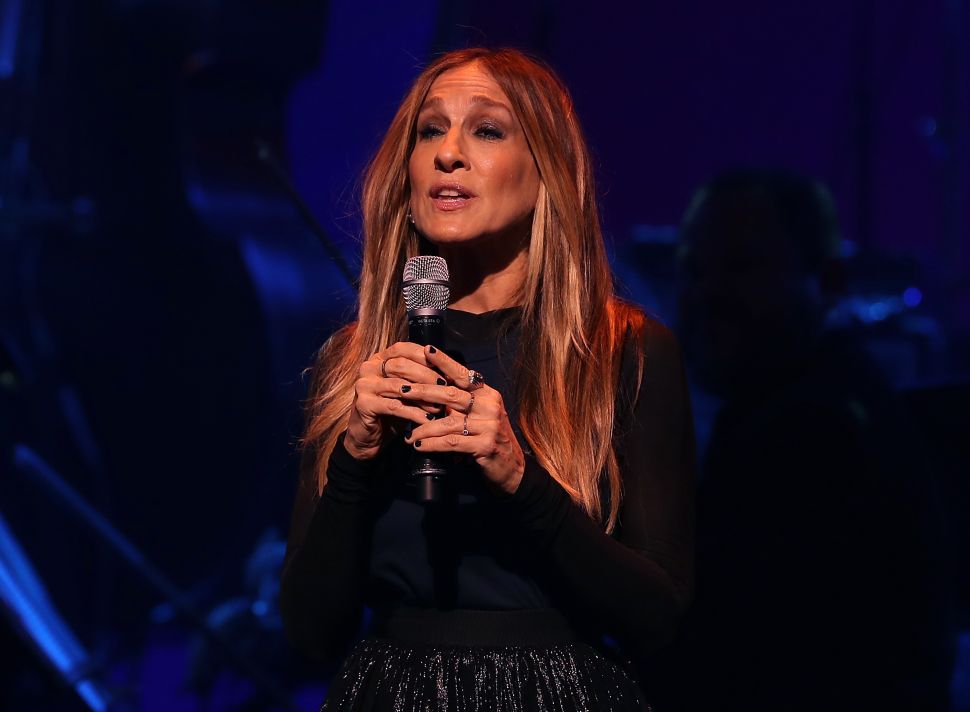 Actress Sarah Jessica Parker said that actress and education activist Cynthia Nixon, who is challenging New York Gov. Andrew Cuomo, has been "good for the conversation" in the 2018 gubernatorial race and that a challenger "is always good" in any race.
Speaking before a crowd of nearly 500 people at the Tribeca Film Festival in Tribeca on Friday night, Parker—who endorsed her friend Nixon last month—told former professional tennis player Mary Carillo, who interviewed her, that she has already made her mark.
"I think she's already been good for the conversation," Parker said. "I think this is what's exciting about primaries is that people can inspire an incumbent to reconsider the policy that they have… and just have a robust conversation."
Indeed, she praised Nixon, arguing that challengers to incumbents are healthy for democracy.
Since Nixon declared her bid a little more than a month ago, Cuomo brokered a Democratic unity deal for the state Senate and signed an executive order that restores voting rights for 35,000 parolees.
"She's formidable, she's really brave, she's excited about this race," Parker continued. "It's challenging, but she seems enormously energized and I think it's good for us to have. I think a competitor is always good. It's always good. A challenger is always good."
And she told the nearly 500-strong crowd that she was unaware that Nixon was going to challenge Cuomo.
"I didn't see [it coming], I didn't know that she would seek a gubernatorial seat, no," Parker added.
She noted that she and Nixon have been friends since they were 11 years old and that they often auditioned for parts at the same time, even being "literally always up against each other for parts." Parker said she "liked her" and "always admired her."
Parker, who portrayed Carrie Bradshaw, and Nixon, who played Miranda Hobbes, starred on Sex and the City from 1998 to 2004.
Although she did not know that she would run for governor, Parker maintained that Nixon has been an activist "her entire life," and that she is "incredibly bright" and "loves this city."
"She's been involved in conversations about policy… education, public schools, housing, there's a whole host of things that she has spent her time participating in advocacy… subways, among many things that affect people in the city, but I think also the larger issues that are part of conversations that affect us here and upstate as well," Parker said. "So she shared with me that she was gonna announce about a month before. I was incredibly excited. I'm proud of her."
At the end of March, Parker took to her Instagram account to endorse Nixon for governor. Just a day prior, Parker indicated that she was not ready to endorse her yet, saying that she looked forward to discussing her gubernatorial bid.
During the sit-down discussion, Parker discussed her latest movie, Blue Night, directed by French director Fabien Constant—her first film in three years—in which she stars as a singer who grapples with a life-changing diagnosis, as well as her experiences starring in the TV shows Divorce and Sex and the City.