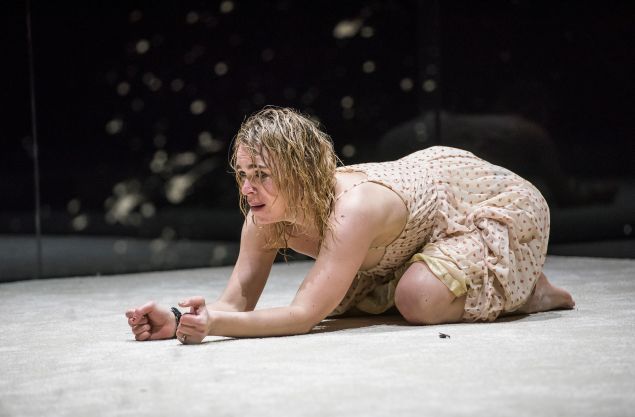 [Spoiler alert: This piece reveals the ending of Yerma at the Park Avenue Armory…and the 2017 release Ingrid Goes West.]
Currently at Park Avenue Armory, Simon Stone's loose adaptation of Federico García Lorca's 1934 play Yerma has reimagined its lead: a woman whose desire to bear a child turns into an all-consuming obsession. In what isn't exactly a natural leap, Yerma, a Spanish olive farmer's wife, is now a high-powered London-dwelling blogger and lifestyle editor simply called "Her."
When the play begins, the character (a flooring performance by Billie Piper) is moving into a big new flat with her partner. They contemplate aloud their feelings on how their edgy lifestyle has given way to an all-out embrace of bourgeois comforts. (They say things like, "we have so many floors" and that they "follow[ed] the lesbians" for affordable newly gentrified real estate.) Their new, spacious location also seems to suggest something unprecedented for Her: the desire for kids.
As various procreative means seem to be failing—and as people around her bear children with tragicomic ease—paranoia over the inability to reproduce grows into a fight between Her, Her and her husband's bodies, and the world around Her. It escalates towards tragedy over years of biological failure to achieve the stated goal. The lifestyle blogger can't obtain the lifestyle of which she dreams.
Set within a crowd of neoliberal faux-woke-media-folk, the procreative pressures Lorca depicted (and the character's harrowing response) definitely risk seeming disproportionate. Moments of this play are. Lending the setup some grounding in the contemporary setting, however, is the way the character's obsession with becoming pregnant mirrors her experience of the ultimate pressures of almost any writer today: maintaining online relevance.
Yerma, sometimes sharp and gutting, sometimes hyperbolic, certainly fits nicely within the increasingly pessimistic portrayals of the blogger/"influencer" character across the last 20 years (or, since "blog" first took on meaning beyond belch onomatopoeia). The path towards the upsetting end of Yerma is paved by umpteen movies and TV shows about the empowering/exhausting nature of oversharing that has become fundamental to the blogging "lyfe."
The over-sharing bourgeois blogger, often envisioned for and embodied by white women, has had quite the arc through the early aughts to now. She started as a glorified figure, morphed into a cautionary tale, and has found some sort of allegorical ending in Yerma as the central figure in a wild psychological horror story. Where did she start, and why do we now, rather than glorifying her, seem to be more interested in depictions of her public demise?
Sex columnist/proto-blogger Carrie Bradshaw was introduced to the world in 1998;  Sex in the City's debut was sandwiched between the years when the term "weblog" was coined (1997) and elegantly shortened to "blog" (1999). At the same time, free online publishing sites Blogger and LiveJournal were just coming into being, announcing that even you had a platform for self-representation, dissemination, and affirmation. And thus, the trope of how one could glamorously make a living off sharing one's issues was born.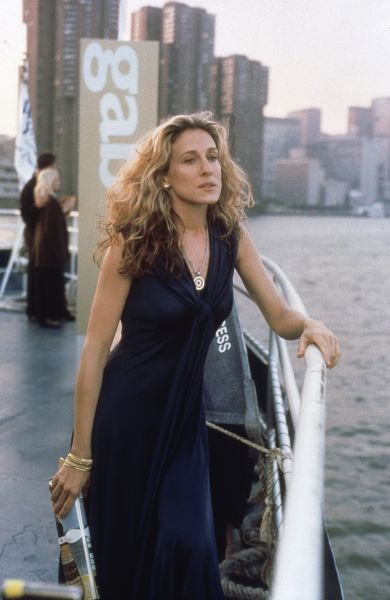 Bradshaw wrote for the imaginary print publication The New York Star (though in real life, Bushnell was writing for yours truly). But the chatty way Bradshaw would type out confessions and puns, smoking her cigarette in her apartment at her laptop, depict her as the glorified ur-blogger: a writer who works in isolation while an invisible audience hangs on every revelation about her personal life. She centers the self within sex-positive social analysis, with a post-feminist bent. The show was completely aspirational: from the clothes Carrie wore to the bars she hopped to her lovable archetype friends. HBO was selling her lifestyle.
In 2009, Nora Ephron's Julie & Julia depicted blogging as a form of self-care (that could even connect you to the essence of Julia Child!). Though as in Yerma, the all-consuming act of sharing oneself with the Internet leads to serious tensions in Julie's marriage, she and her husband rectify things before it's too late. This is still a story with a happy ending.
In 2013, Hannah Horvath was born. Though many people saw Horvath as a paragon of privilege, Girls, at its smartest, viewed her this way as well. Hannah Horvath, and the show, seemed caught unevenly between an earnest of slice-of-life-depiction of aimless white hipster culture and a satire of the entitlement it represented. The satire was what worked—the privileged narrative of the ease in which one could simply live off divulging one's private life was wearing thin. Unlike Bradshaw, particularly as the show continued, Horvath-ism didn't seem like something that Girls meant for audiences to aspire to.
The most sinister and closest parallel to Yerma of an online media influencer is the central character in 2017's excellent Ingrid Goes West. By that point in time (er, election-ish), the Internet had clearly long been so integrated into society's makeup as to create mindsets and anxieties, rather than simply be a platform for reacting to them.
Elizabeth Olsen plays an Instagram celeb/lifestyle blogger called Taylor Sloane, with whom Aubrey Plaza's titular character becomes totally obsessed. Sloane's social media images and copy ooze material signifiers of post-hipster Californian ease with effortful effortlessness—avocado toast, desert-y décor, vintage dresses against the barren landscape of Joshua Tree and meaningless Joan Didion references.
Through the film's focus on her stalker, Ingrid, we find out that Taylor is of course miserable and a complete phony. It's all projected perfection; she lives life for what she broadcasts online. Meanwhile, Ingrid's escalating obsession results not in harm towards Sloane, but in self-harm: she attempts suicide. The film's darkly ironic ending is that, after having recorded her attempt, she survives and gets the notoriety she's been craving: her suicide message goes viral.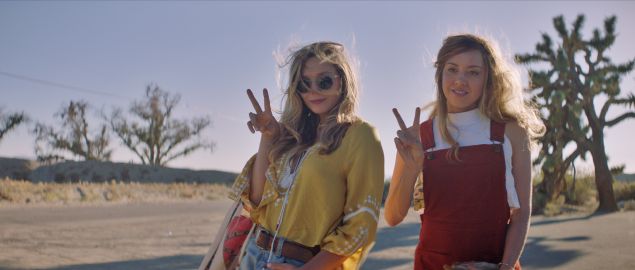 The path of descent from the glorified Bradshaw to the self-destructive story of Ingrid/Taylor, brings us to Yerma, and its own story of a decline into a vaguely classical theatrical form of Madness. It's probably both the most vivid and unsubtle depiction to date of personal tell-all sharing as a facet of neoliberal hell—a facet we are now, in certain ways, pressured to take part in, and thus feel compelled to critique, relishing in stories that present this not as a glamorous way to live a life.
Billie chillingly transitions from a self-possessed woman to someone crumbling under the unpredictable animal biology of the human experience. Yet she still tries to smartly narrate the experience online, even as she begins to realize her inability to predetermine the outcome. The social pressure is manifested in the spare staging: the set, by Lizzie Clachan is a claustrophobic glass terrarium straddled on either side by the audience. There's little for viewers, or the characters, even, to see besides the audience staring in.
In this adaptation, as early reviews pointed out, the ideal of having children, which becomes a very genuine, aching need for the character, seems a reflection of a society in which the mind is trained to view all facets of self—even biology—as part of a competitive market. A personal rebranding to be shared. The character refuses to even consider adoption: her and her husband's bodies need to conceive to achieve. At one point, prior to breaking from reality, as she struggles to get pregnant, she writes about her husband's erectile dysfunction. She posts a confessional blog entry about wishing her pregnant sister would miscarry—to which her millennial coworker says, "we're going to go viral—3,000 hits per minute!"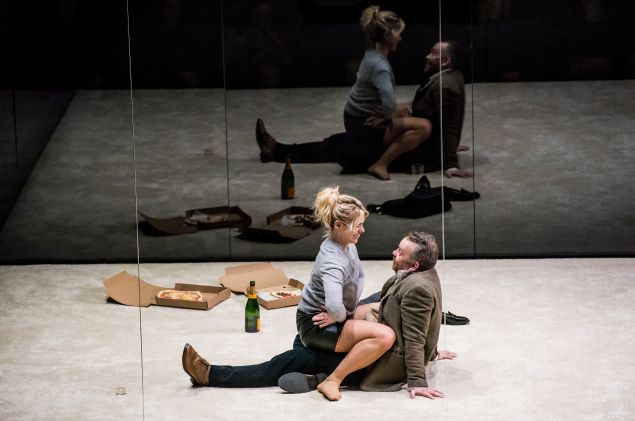 As her life falls into disarray, the disarray then becomes the brand she must perfect—the popularity of her writing about her hardships with fertility seems to grow. Still, this is a narrative she must control, but can't. Her inability to direct certain fundamental aspects of her life reaches a scary if exaggerated conclusion where her obsessive self-reflexivity leads to self-harm. The story could not be perfectly packaged.
Unlike Lorca's play, which ends with Yerma strangling her husband, here the character only hurts herself. She stabs herself in her empty womb, and dies. The over-the-top ending, an extreme in the increasingly dark way in which the bourgeois blogger character has been depicted, imagines a twisted, dark conclusion to our need for control fueled by our perception-based online world. The randomness of life and having a body can't be neatly contained. Here, the ultimate way to get narrative control over an unwieldy self is to self-destruct.