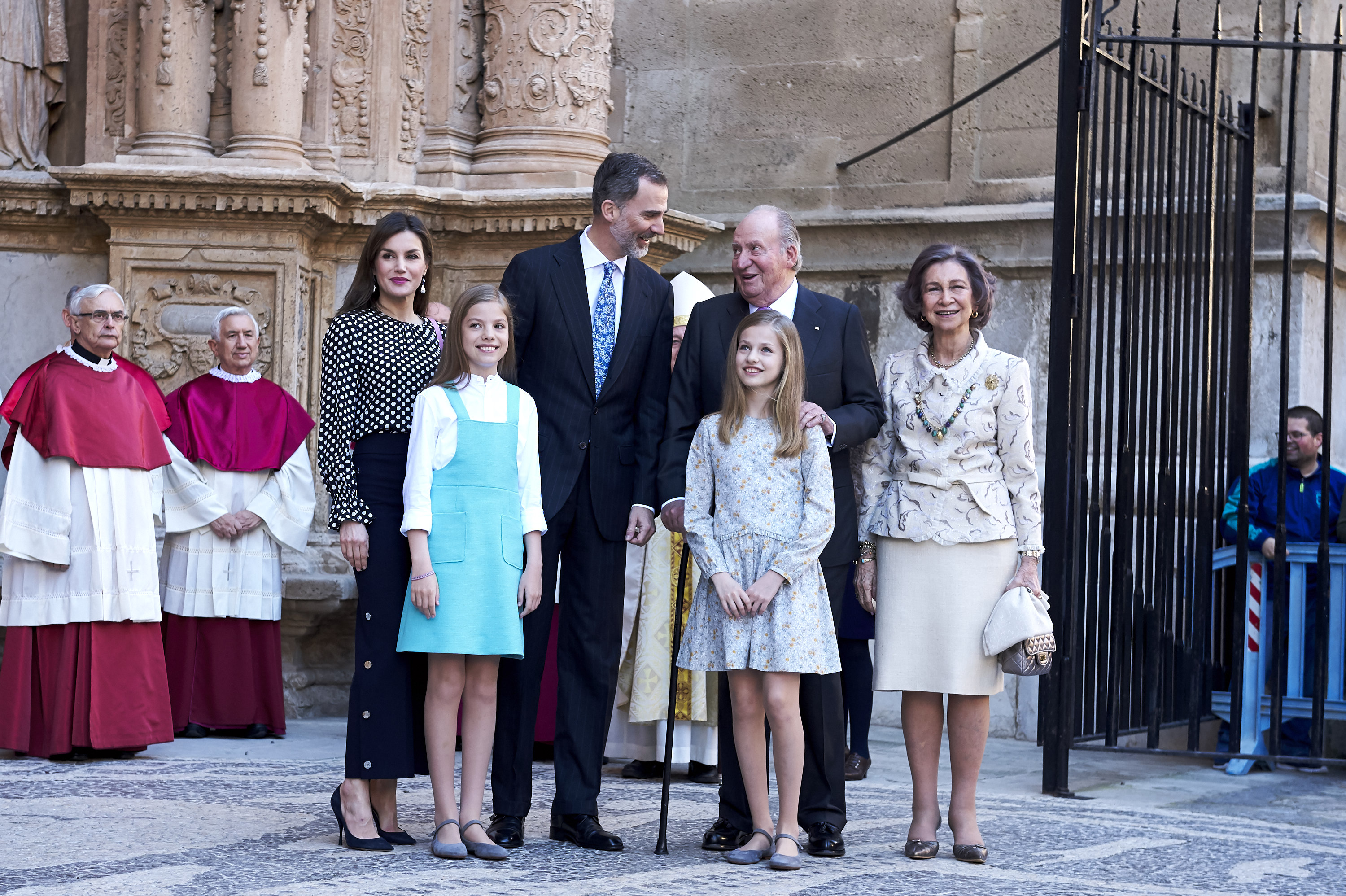 As far as royal families go, Spain's monarchy is relatively low-key. They don't announce multiple engagements in one month and there's certainly no Meghan Markle. Still, a cringe-worthy moment captured on camera brought Spain's two Queens to the forefront of regal feuds.
In a short video clip, which was filmed during Easter Mass, Queen Letizia is seen attempting to prevent her mother-in-law, Queen Sofia, from snapping a picture with her tween daughters, Princess Leonor and Princess Sofia.
As Queen Sofia tries to place her arms around her young granddaughters, Queen Letizia quite obviously blocks the photographer's view. Princess Leonor even got in on the action, pushing her grandmother's arm aside far more violently than she should've when dealing with a monarch—or even an ordinary matriarch.
The drama was more Real Housewives than regal—indeed, it was the royal equivalent of table flipping.
However, the Easter holiday didn't end with this literal brush-off. A second, equally tense video has emerged, showing Queen Sofia bestowing a kiss on Princess Leonor's head. In an act befitting an actual 12-year-old, Queen Letizia then aggressively wipes the kiss away. The tension in this family feud is palpable.
Queen Letizia, a former journalist, was covering an oil spill when she met her now-husband, King Felipe. She was an unexpected addition to Spain's tight-knit royal family back in 2004, as she was both a commoner and divorcée. She often receives comparisons to Kate Middleton, due to her middle-class upbringing.
It's worth noting that when the couple met, King Felipe was just a Prince. King Juan Carlos abdicated the throne in 2014 but the O.G. King and Queen were allowed to keep their former titles, even when King Felipe ascended to the throne.
Now, royals around the world are weighing in on the latest crown controversy. Princess Marie-Chantal of Greece, who's married to Queen Sofia's nephew, Crown Prince Pavlos, threw some shade on Twitter. "No grandmother deserves that type of treatment! Wow she's shown her true colors," she wrote, in response to a tweet by Vanity Fair Spain's Society Editor.
Princess Marie-Chantal most recently shared a family photo with the caption, "Happy grandparents! Family is what it's all about." Royals, they subtweet just like us!
To combat the speculation, a spokesperson for Queen Letizia announced: "She is very committed to taking care of her daughters, with the protection of their image, she worries who takes photos of them, she worries where they come from, who approaches them." Apparently, she has to protect them from her mother-in-law, first and foremost.
No one knows what's going on behind palace doors, but speculation is plentiful. Some believe the tension began when Queen Letizia gave birth and wanted to mark her territory as the dominant royal, despite sharing a title with her mother-in-law. Others think the arguments are a regular occurrence since King Felipe was at the ready to do damage control and Queen Sofia was angered so quickly.
The feuding Queens have since embarked on a none-too-convincing publicity tour in an effort to smooth over the two videos—complete with lots of forced smiles. The unlikely pair remained glued to each other's side while visiting King Juan Carlos, who is recovering from knee surgery in the hospital.
To truly overcome comparisons to a new Jersey Shore episode, Queen Sofia also posed with Princess Leonor and Princess Sofia, who held their grandmother's hands. Dressed in matching Burberry trench coats, the two princesses looked like they were there under duress.
Now that the Spanish royals are watching their throne, à la Kanye, someone needs to alert Ryan Murphy so he can start filming the next season of Feud.