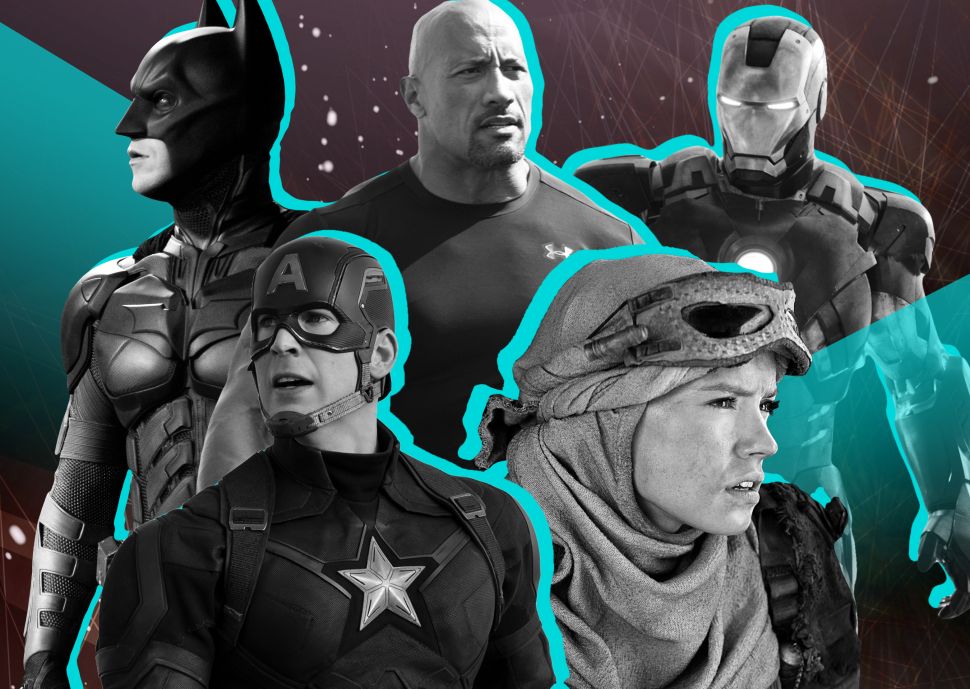 The first fast food restaurants in the United States began with White Castle in 1921 and A&W in 1923. Nearly 100 years later, as this country's obesity rates can attest, consuming fast food has remained a national past time.
America's preferred cuisine is the epitome of entrepreneurial franchise building.
Similarly, Hollywood's release schedules are dominated by franchise entries that come from pre-existing material. Of the 10 highest-grossing films of 2017, nine of them were a part of established movie series. Star Wars: The Last Jedi was the Big Mac and Wonder Woman was the Double Whopper.
On a related note, I'm now very hungry.
But is it possible in today's film industry, where successful movie series are an absolute must-have to stay alive, to develop an original franchise? Can a movie studio usher in a shared cinematic universe without the help of Marvel, DC, Star Wars or any other pre-existing IP?
"I think they can," Paul Dergarabedian, senior media analyst at comScore, told Observer. "Every time I see a really good movie, that gives me hope. In any given year, the hundreds of wide releases are all over the map. Creatively produced content is going to have its ebb and flow. A big star plus a great movie can make magic, a combination that is irresistible. At the same time, some of the best movies have little-known actors."
"Most franchises can be accidental," he noted.
That certainly applies to the J.J. Abrams-produced Cloverfield movies. The 2008 original earned more than $170 million worldwide off a $25 million budget and 2016's 10 Cloverfield Lane took in $110 million off a $15 million budget. Both earned cultural cache for their innovative styles and bang-for-buck economics, though neither is banking Tony Stark money.
The fourth entry in the series, arriving in theaters later this year, will provide a shot at redemption after Paramount Pictures sold The Cloverfield Paradox to Netflix earlier this year. Why did they sell it? Because they knew they had a stinker on their hands. But unlike, say, Marvel, which can survive the dumpster fire that was Thor: The Dark World, we have no idea if the Cloverfield series still has power at the box office.
Elsewhere, it wouldn't be a surprise to see a late-career Will Smith return to his original superhero creation from Hancock. Though Sony never moved forward with a sequel, the film did earn $624 million worldwide. That's more than Marvel's Ant-Man ($519 million) and Warner Bros.' Pacific Rim ($411 million) both of which have sequels.
And Sony could really use a dash of franchise love these days.
Outside of Dwayne "The Rock" Johnson's Jumanji: Welcome to the Jungle, which shocked the entire industry by legging it to $941 million worldwide, and Spider-Man, the studio is virtually bereft of valuable IP (check back on this after Chirs Hemsworth and Tessa Thompson's Men in Black reboot).
"You can build things to franchise," Wall Street Journal entertainment reporter and author of The Big Picture: The Fight for the Future of Movies Ben Fritz told Observer. "The best example is always Fast and Furious, which started as a little movie and has grown and grown. There's The Purge and other low-budget franchises. Blumhouse Productions is great at making those, but they aren't making Marvel money obviously."
There's also the option of reviving properties that you may not have thought of in terms of repetitive cash flow (i.e. sequels).
"Jumanji kind of came back from the dead to become a franchise," Fritz noted. "It's really hard but I think people certainly have to keep trying. It's extremely hard because there are already so many established franchises that are sucking up so much of the oxygen, so to speak. It can't be impossible, but it's very, very hard."
So is originality dead in Hollywood? No, not necessarily.
It's just taken on a new form.
Sequels, reboots and revivals may dominate the release schedule like a Jaeger battling a Kaiju, but that doesn't mean there is no longer any room for something new and unexpected. It's not that studio executives don't want to make original films, they are just simply responding to audience demand.
As a result, original creativity has taken on a new form. The re-quel, a psuedo reboot-sequel that reinvigorates interest in an older franchise by continuing the story in a new direction, has become popular in recent years. Notable examples of successful re-quels include hits like Creed and Jurassic World.
Thanks to the rise of the MCU and other popular Disney properties, truly original concepts have become about as rare as an Infinity Stone, especially compared to the last 30 years of the 20th century. Most franchises these days are based on prior literature (Harry Potter, Hunger Games, Maze Runner). Sure, a Fast and Furious, Toy Story or Despicable Me may pop up every now and then and even threaten the $1 billion mark. But the days of revolutionary franchises—Star Wars, Indiana Jones, Back to the Future—emerging from the ether are long gone.
You could argue that Avatar, the world's highest-grossing film of all time, fits the criteria, but we've yet to see if that franchise can sustain the success of the original going on 10 years later. Pacific Rim is something of a niche hit, and its performance in China underscores the global box office battle that is waging at the moment, but it's by no means at the forefront of the cultural conversation.
Animated and kids franchises have been moving in on the original franchise territory since the mid-90s. With nostalgia proving to be a powerful marketing tool (hello, Stranger Things), spending initiatives have begun to to target those who grew up watching these titles and now have disposable income to play with. That's why we're getting a Toy Story 4 and The Incredibles 2.
Viewers are much more inclined to slap down full-price for IMAX 3-D if they're familiar with the character, concept and series. If original movies still made money like they used to, you'd see a new story in theaters every week. Unfortunately, the marketplace has changed.
It's a lot harder to will something fresh to life these days, but a few glimmers of hope remain. Innovation is still possible. Hell, if Burger King can invent the Chicken Fries, then surely Hollywood's best and brightest still have a few worthy nuggets left.