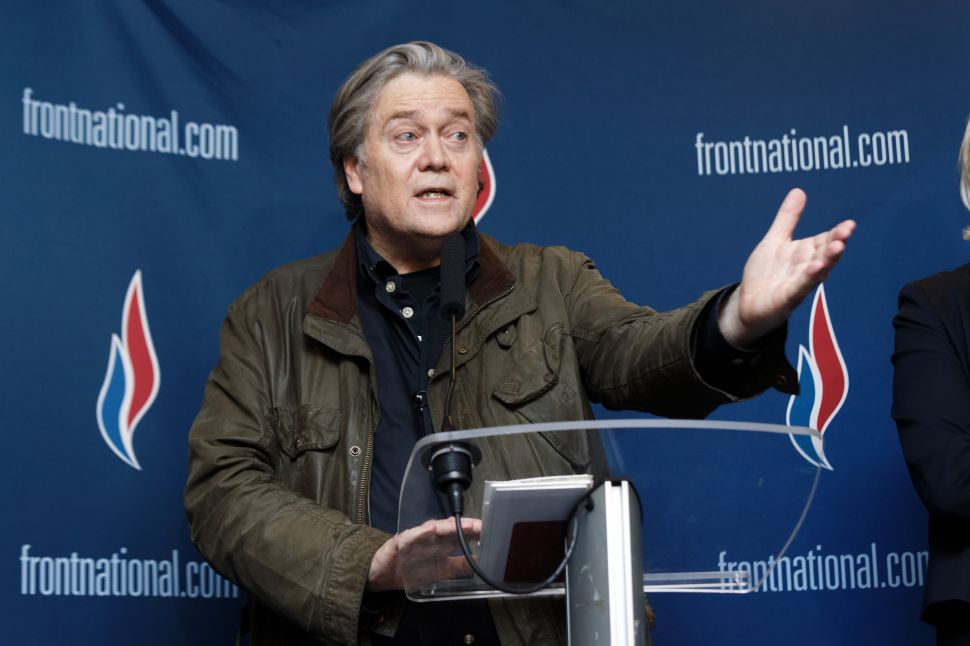 Steve Bannon shopped opposition research on then-candidate Donald Trump's mafia ties during the 2016 election. Simultaneously, however, the political operative claimed residency in the home of a mob associate accused of sexual assault, even after entering the White House.
According to an investigative report by The Herald Tribune—a local newspaper in Sarasota, Florida—Bannon listed his address in multiple filings under property belonging to Andrew Badolato.
Badolato, who describes himself as a "classical liberal" and "entrepreneur" on Twitter, has a shady past: Court documents obtained by the Herald tie the figure to financial crimes and mob families.
"According to a federal court document, for example, [Badolato] borrowed $12,500 at 500 percent interest in 2008 from Luis Caputo, a Sarasota resident who claimed ties to the Gambino organized crime family," reads the report. "He eventually helped the FBI bring down Caputo on extortion charges by taping their meetings and exchanging marked bills… Badolato was so afraid of Caputo, records show, that he requested after-hours protection by the Sarasota Police Department."
Badolato founded a company in 2006 entangled in a pump and dump scheme, wherein one of the employees later testified under oath.
"I conspired with individuals including Andrew Badolato to commit securities fraud and commercial bribery," said former Sarasota resident Jonathan Curshen in a New York court in 2009.
Bannon and Badolato entered business together overseeing penny stock companies. In 2010, a company formed by Badolato listed Bannon as a board member alongside attorney L.B. Moon, "who was barred from practicing law by the Oklahoma Supreme Court for threatening to kill an adversary, place his body in a shredder and have his daughter raped."
Badolato has never been charged with a crime, but was questioned by authorities that same year over sexual assault allegations made by three women, according to a sheriff's report.
Badolato contributed pieces to Breitbart and allowed Bannon to use his address on his Sarasota County voter registration form to establish residency in Florida; the political operative also claimed another of Badolato's addresses for a film company.
The association between the two raises security concerns over the vetting process for White House officials, and the extent the FBI knew about Bannon's involvement in Badolato's criminal enterprises. February's resignation of Rob Porter, following accusations of domestic violence made by the former White House aide's ex-wives, sparked national concern over how staff with murky histories promoted U.S. interests without security clearances.