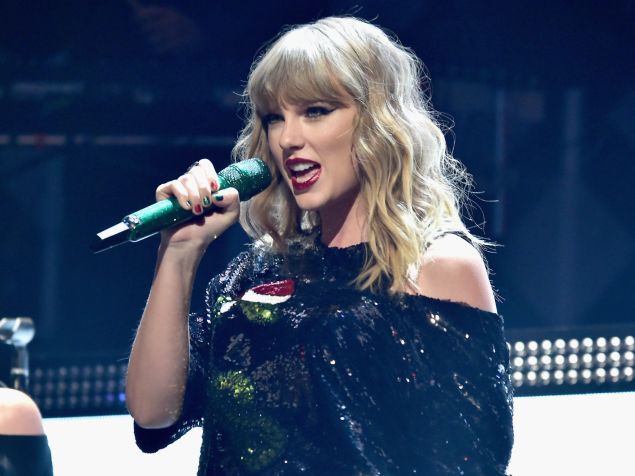 Taylor Swift is having a hard time excluding herself from the narrative known as celebrity stalkers. The pop star recently discovered that sometimes seven-foot-high walls aren't enough to deter her creepiest fans.
Indeed, on Sunday, a man the Los Angeles County District Attorney's Office has identified as a transient, Justin Christoph Lilly, attempted to scale the walls of her Beverly Hills home. Lilly repeatedly tried to climb the barrier, despite Swift's security team ordering the intruder to stop. When Lilly refused, the police were called, and the man was subsequently arrested. Luckily, Swift wasn't home at the time of the incident.
Lilly has been charged with one misdemeanor count of trespassing, as well as refusing to leave private property. If convicted, he could face up to six months in jail.
Swift previously went to great lengths to protect her $25 million mansion from intruders. It was once owned by Hollywood legend Samuel Goldwyn, and is now known as the Samuel Goldwyn estate. Its historic nature (and perhaps the allure of a tax break) resulted in Swift applying for and receiving local landmark status for the house, which she bought in 2015.
Perhaps more interesting than its landmarked nature, however, is that Swift acquired building permits to construct a 6.5-foot cinder block fortress that wraps around the front porch—in addition to a seven-foot-tall wall by the tennis court.
Alas, the security at Swift's Beverly Hills residence isn't her only problem. Last week, a man in Connecticut claimed he robbed a bank in order to impress Swift, whom he repeatedly said he had a crush on. The man, Bruce Rowley, demanded money from a teller at an Ansonia bank and then allegedly drove to Swift's Rhode Island residence (you probably remember it from all those celeb-packed Fourth of July parties and as the site of Tom Hiddleston's infamous "I Heart T.S." shirt).
It has not yet been confirmed if Rowley actually made it to Swift's Watch Hill home, where he says he threw money over the fence in hopes of impressing her, but he's been arrested for second-degree robbery and fourth-degree larceny. Honestly, we think giving Swift a cat or anything anti-Kardashian would have been better received than a handful of cash. Really, anything other than Kim Kardashian's contour kits.
Since Swift wasn't at her Beverly Hills estate nor her Rhode Island retreat at the time of these crimes, it seems safe to assume she's currently holding court in New York or Tennessee. She was definitely in Nashville over the weekend, as she gave a surprise concert at the Bluebird Cafe, one of the places where she first performed as a teen. Next, she'll likely head back to one of her Tribeca digs, either her duplex penthouse, the spare loft or the $18 million townhouse, all of which are on Franklin Street. That is, unless she's heading to London to visit Joe Alwyn.
She does need to take care of that pesky lawsuit with Douglas Elliman, as the brokerage is claiming one of their agents was deliberately cut out of a sale and is owed commission by one of Swift's management companies. Swift's team has filed a claim to dismiss the suit, but it seems Elliman isn't backing down, per public records.