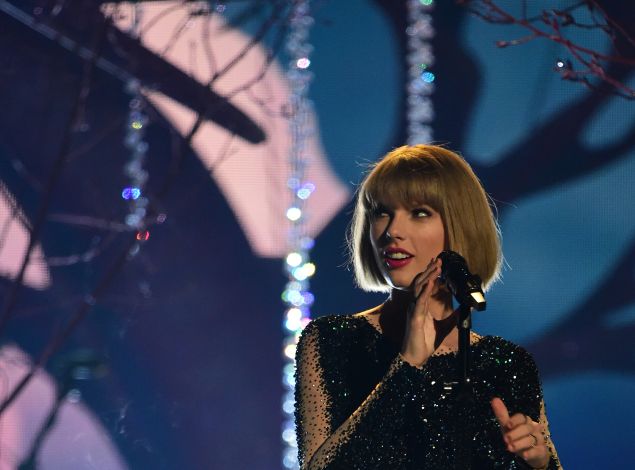 Taylor Swift is dealing with yet another highly disturbing stalker. This Saturday, a man attempted to break into her Beverly Hills home—while wearing a mask and rubber gloves.
Swift's security called the police after they saw a man, who has since been identified as Julius Sandrock, in front of her home, according to AP. Sandrock told the officers he made the drive from Colorado to Los Angeles just to see Swift. After interviewing Sandrock and a search of his car, BHPD arrested him on suspicion of felony stalking.
Police reportedly found an empty gun holster, ammunition, a knife, latex and black gloves, multiple masks and some rope during their search of his car.
They also discovered medications, including oxycodone, and Sandrock confirmed to police that he has depression, bioplar disorder, OCD and manic episodes. Sandrock also admitted to owning three handguns and is currently on probation in Colorado due to "disorderly conduct and discharging a firearm." As such, police successfully obtained a temporary restraining order, blocking Sandrock from having a gun.
Sandrock was released from police custody on Tuesday, and a court hearing to extend the restraining order is scheduled for May 9. Luckily, Swift was not home at the time of the time of the stalking event; police said she was in New York.
Swift has long been a target for stalkers. She spoke candidly in a Rolling Stone interview back in 2014 about how she is unable to drive alone and can't leave her house without being greeted by a surge of fans. In fact, some disturbed Swifties are convinced her song lyrics contain hidden messages.
"Think about it," she told the publication. "Romeo, take me somewhere we can be alone? Take that, add 'crazytown' to it, and it sounds like an invitation for kidnapping."
Indeed, this isn't the first time a man has tried to break into Swift's home, which she bought for $25 million in 2015. Although Swift built walls that range from 6.5 to seven feet around parts of the home, obsessed fans haven't been deterred. Less than two weeks ago, Justin Lilly, a transient, tried to scale the aforementioned barriers; Swift's security team repeatedly ordered him to stop, and when he continued, police were called. Lilly was arrested on charges of trespassing and refusing to leave private property.
Unfortunately for Swift, the stalkers aren't only targeting her Beverly Hills residence. Earlier this month, a Connecticut man was taken into custody after robbing a bank and claiming he drove to Swift's Rhode Island home, where he threw handfuls of the stolen money over the gate. He said he did it all to impress the pop star. Swift, understandably, maintains notoriously strict security measures and is always accompanied by at least one bodyguard.