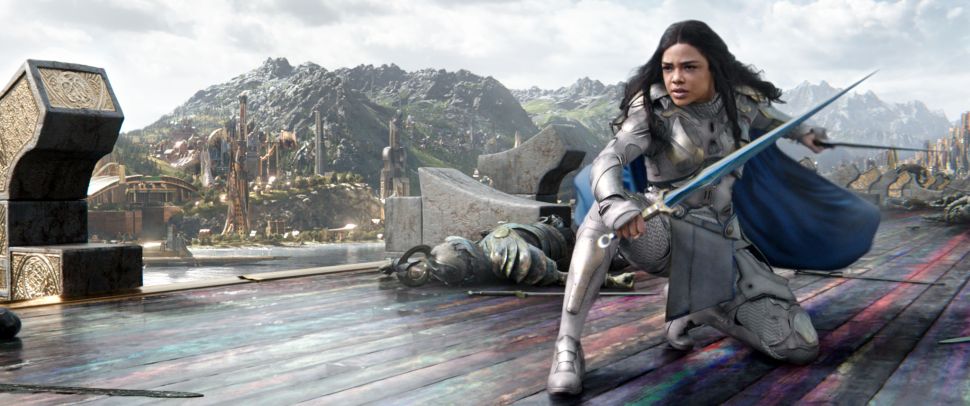 Last November, Thor:Ragnarok star Tessa Thompson, who played the scene-stealing Valkyrie, generated massive excitement among fans when she revealed that the women of the Marvel Cinematic Universe (MCU) had pitched an idea for an all-female MCU blockbuster to studio president Kevin Feige.
The prospect of seeing Valkyrie, Black Widow (Scarlett Johansson), Gamora (Zoe Saldana), Scarlet Witch (Elizabeth Olsen) and Captain Marvel (Brie Larson) all together in the same team-up was practically too much for Twitter to handle.
Alas, it may have been too good to be true.
While speaking with Thompson at the Tribeca Film Festival, where her fantastic neo-western Little Woods premiered, the Marvel, Creed and Westworld star admitted that the excitement around an all-female Marvel movie may have been a bit premature.
"I don't know. That was kind of an offhand thing, and then the press really ran with it," Thompson told Observer. "The extent to which the press ran with it is also an expression of what ripe a time it is for something like that. That people are hungry for it, that people are interested in it."
Admittedly, Marvel does seem to be making more of an effort on that front when you look at the studio's upcoming release schedule.
"I think, regardless, Marvel is making their Black Widow movie and they are doing Captain Marvel and the female characters in the big team-up movies tend to be, at least for me, some of the strongest elements," she said.
Still, we would have loved to see all of those badass heroines duking it out on-screen.
While Thompson didn't rule out the possibility entirely, fans will need to look forward to Marvel's exciting upcoming features in the meantime, as it doesn't sound as if the all-female team-up is a high priority at the moment.
Larson's Captain Marvel will be the first female-led blockbuster from Marvel following the massive success of rival Warner Bros.' Wonder Woman. The character is expected to make her debut in a brief appearance in Avengers: Infinity War and her 2019 solo adventure, the only MCU flick in-between Infinity War and Avengers 4, will take place in the 1990s and will likely set up the final film with this current roster of Avengers.
Variety reported back in February that Marvel had hired screenwriter Jac Schaeffer to pen a script for a Black Widow solo film. Fans have been clamoring for Johansson's character to receive her own spinoff for years, but the previous Marvel regime was reluctant to give the project a greenlight.
We'll continue to hold out hope for Thompson's vision (no pun intended) to become a reality.