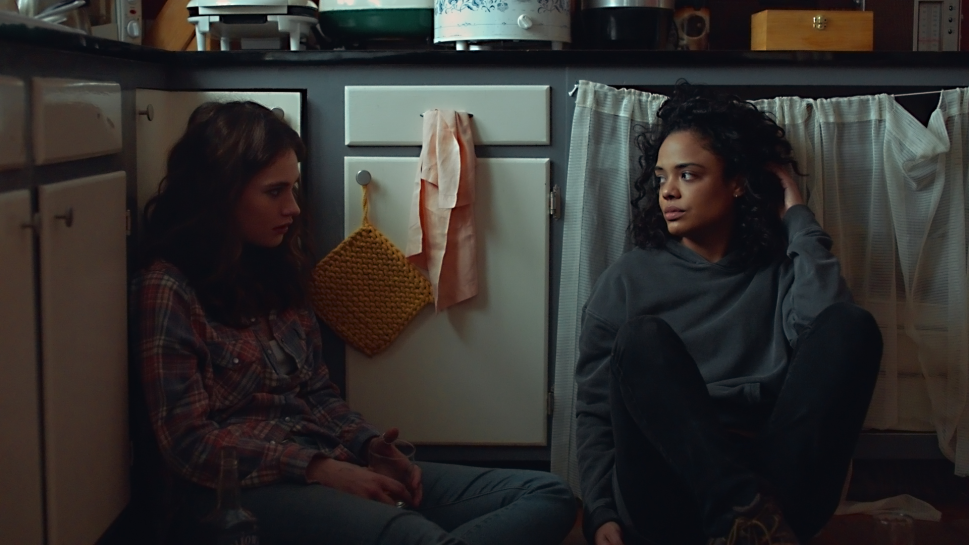 Of all the films I've seen at the Tribeca Film Festival so far this year, Little Woods has been my favorite.
The neo-western from first-time writer/director Nia DaCosta stars Tessa Thompson and Lily James, two talented actresses who aren't known for their work in smaller projects such as this.
Thompson stars in the Creed franchise, made her Marvel Cinematic Universe debut as Valkyrie in Thor: Ragnarok and has a main role in HBO's Westworld. James first burst onto the scene in the popular Downton Abbey and has since appeared in box office hits and awards-friendly fare such as Disney's Cinderella, Baby Driver and The Darkest Hour.
But once you see Little Woods, you can see why they were convinced to jump on board.
The film is set in the economically depressed Little Woods, North Dakota, where Ollie (Thompson) is trying to survive the last few days of her probation after getting caught illegally running prescription pills over the Canadian border. But when her mother dies, she is thrust back into the life of her estranged sister Deb (James), who is facing her own crisis with an unplanned pregnancy and a deadbeat ex.
The story offers both actors a chance to do something different, while appearing in an increasingly relevant tale. It's also an impressive feature film debut for DaCosta, which was one of the enticing motivators behind the acting duo's decisions to join the project.
Little Woods is a smaller project than fans might associate with you both recently. What drew you to the movie?
Tessa Thompson: I met Nia… Nia got into the screenwriter's lab and subsequently the filmmaker's lab, so I met her there essentially workshopping the piece with her. I just really loved the script. I really relish the opportunity to work with first-time directors. I've gotten to do it over the length of my career, and I find it really satisfying. Every so often you get really lucky and you get to be a part of something that feels like the emergence of an important voice.
I think Nia is just that. My heart leapt. I just hoped that when she got it green-lit—movies are little miracles—that she would still want me to be involved. Luckily, we stayed in touch and stayed in a creative relationship and conversation. Getting to make it with her really feels like… I haven't had a darling like this in a long time.
Lily James: I came on board way later. I got the script and I read what it was sort of about and I immediately called my agent after and was like, "I really, really… this is something I feel so passionate about. I've been so drawn in."
Then when I spoke to Nia, it was like… the whole thing was so refreshing. It was so inspiring being around the group of people that made it. All our producers and I fell in love with… it felt like such a departure for me, and it's the first time I've worked with a first-time filmmaker. I feel like that's a really important thing to do. As Tessa said, you're a part of something that feels so new, and everyone is so important and being what Nia has done with this… I've just been so blown away by her.
What kind of message did you want to send to the working class Americans that this film depicts?
TT: I think at the heart of the movie it's just this idea of family and the lengths that we will all go to preserve and protect that love. I think there is a light in that. I feel like that's the thing people can relate to. I think particularly in the sort of times that we find ourselves in, America is sort of humanizing things that are often politicized, so when we talk about the decline of the middle class and working class Americans and what they look like, I feel like there's something really beautiful of presenting them as real humans. Not a statistic, not an idea, not an abstraction. But people that love and deal with loss and suffer and cry and laugh and get too drunk and try to all figure it out together.
LJ: Make choices, make bad choices, good choices, whatever.
It has these recession undertones and it touches on the opiod crisis and there's a lot of relevance to the film. Is there anything else you're hoping audiences will take away from it?
LJ: I do know that once we shot the film and I was in England and I was reading the papers about Planned Parenthood and everything that is going on, and I just thought "Fuck. It's so potent. It's so relevant." The story sort of needs to be told. It needs to open up conversations. I don't know what I want them to take away. I do think that the heart of it… about family, about just trying to get by. The strength of that.
TT: I think also that Lily was the first person Nia dreamt of and the first person she wanted for this character. She had seen Lily on stage in London and spoke so highly of this experience and watching her perform. As soon as Lily came onto the project, we had our movie in the sense that, for me at least, it felt like a love story really between these two sisters who lose their way and then come together. So inside of it, there is some bleak stuff that gets them there. I think to me, the heart of the movie is when you see a real reconciliation between these two sisters.
LJ: I had never done, ever, [a film] that centered around two women. Like a story that has scenes with another actress to have that be the heart of what the story is about. It's so refreshing. All the stories I've done have always been about love. This is a different kind of love. It was just so… I just loved it.
TT: It's remarkably rare to still see that in general. Our whole team, the producers are all women, so many of the heads of departments are…When you're working inside of experiences that are pretty male from top to bottom, it's not that anyone means to, but you're sort of other-ized because you're the woman in it. So when you take away all of that, I think it's just the way that you get to relate as a human that feels really refreshing, at least it did to me.
This interview has been edited and condensed.