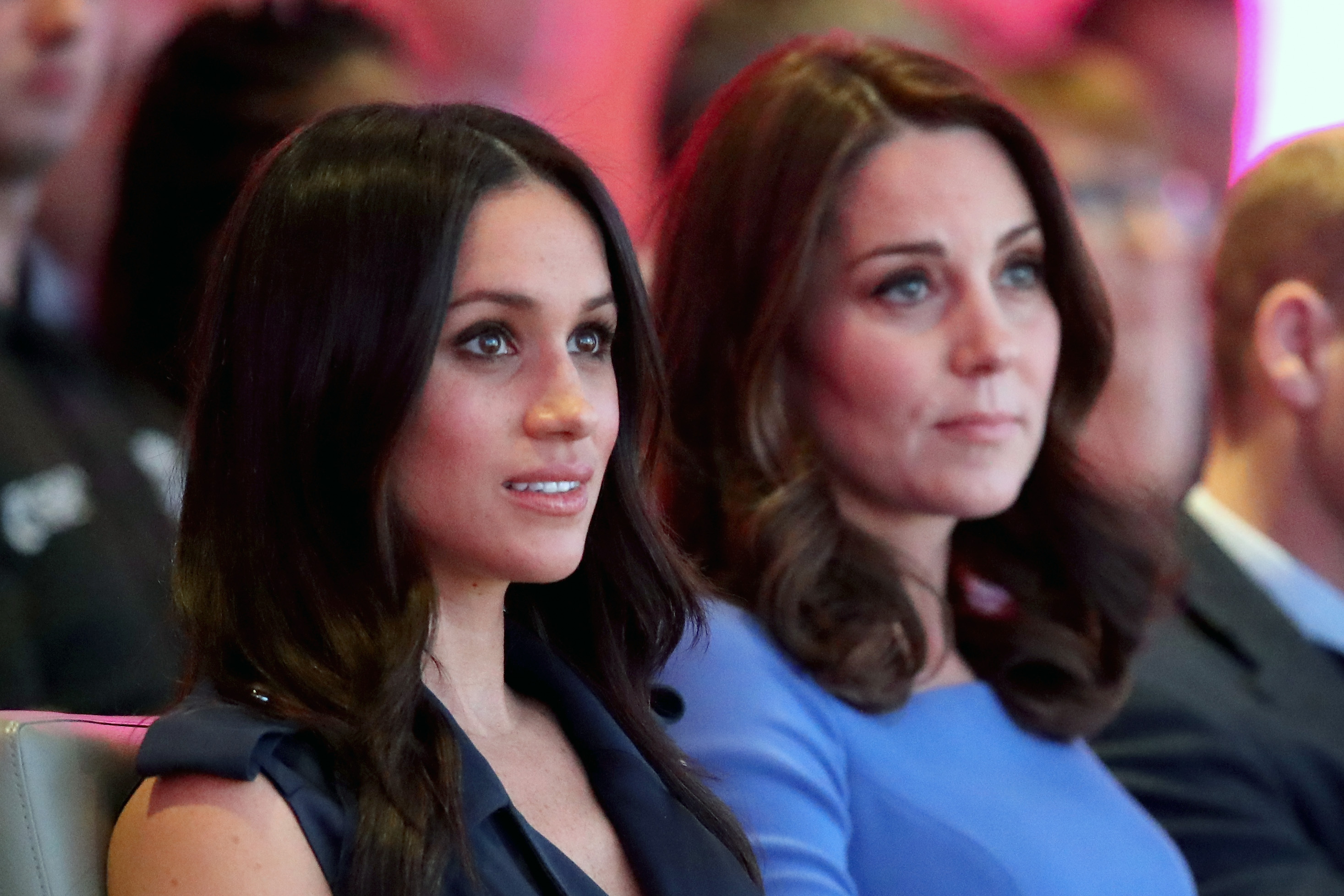 There are just 31 days left until Meghan Markle and Prince Harry tie the knot, and naturally, royal wedding fever is at an all-time high.
Today's buzz focuses on the Meghan Markle Effect, which is the impact that the soon-to-be royal's wardrobe has on the public. The theory was thoroughly analyzed by Women's Wear Daily, where the outlet confirmed what has already been made obvious: Markle's fashion choices are immensely influential, at least in terms of sales numbers. Per London consulting firm Brand Finance, her net present value to brands hovers somewhere around £150 million, which comes out to about $212.1 million at current exchange rates.
So, how does that compare to the valuation of her future sister-in-law, Kate Middleton?
In 2012, Newsweek estimated that the Duchess of Cambridge was worth £1 billion ($1.647 billion) to the fashion industry in the U.K.
But with Markle's popularity steadily rising and the public's positive response to the outfits she's worn since announcing her engagement, the former lifestyle blogger is on track to surpass Middleton's very lucrative reach. Plus, Markle has a penchant for trendier items, that aren't quite as traditional as Middleton's attire, which resonates with a younger audience.
When Markle decides to start a little royal family of her own, her value will likely increase, as it did for Middleton and her brood. In 2017, Observer reported that Princess Charlotte's influence is worth £3 billion ($3.86 billion), while Prince George's is valued at £2.4 billion ($3 billion). Keep in mind that at the time, Middleton's kids were just two and three.
While analyzing the effect that Markle's public wardrobe has had, a few common threads have popped out.
For example, how Markle prefers to wear designs from niche brands that aren't quite world-renowned. That includes P.A.R.O.S.H., whose forest green dress she wore for her engagement announcement; designer Paolo Rossello says he is now facing the strongest sales since he started the brand in 1985. Then there's Strathberry, a handbag range that was founded only five years ago and added 100 retail points of distribution after a boost from the future royal. Markle also favors delicate diamond earrings and rings from Zofia Day, a fine jeweler from Los Angeles that has just under 2,000 Instagram followers.
Markle's style has, at times, been casual and unapologetically approachable. For her first official appearance with Prince Harry at the Invictus Games, Markle opted for a simple pair of Everlane jeans and a tote bag from the direct-to-consumer company.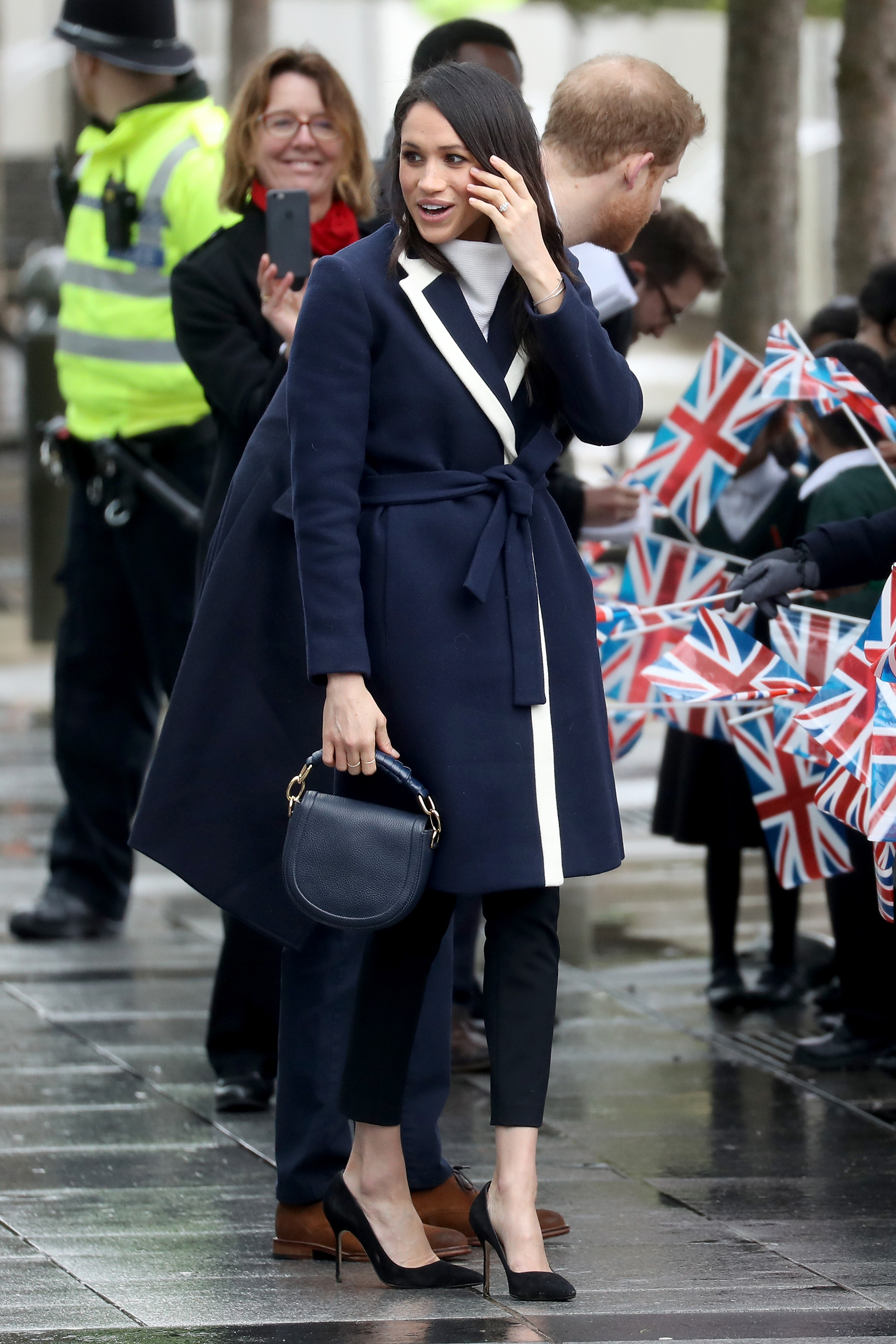 It's also worth noting that the California-born Markle hasn't been spotted in many established American brands since stepping into the spotlight on Prince Harry's arm. Earlier today, she did wear a striped Altuzarra dress, and she's previously donned threads from Jason Wu, but the rest of her sartorial choices have hardly included tentpole fashion labels. Instead, Markle seems to opt for easy and affordable items from J.Crew, Misha Nonoo and Theory.
That pales in comparison to the British brands that Markle has worn over the last few months, including an Alexander McQueen suit, a Stella McCartney coat and a Victoria Beckham sweater. She also, rather famously, selected a $75,000 frock from the London-based Ralph & Russo for her engagement shoot.
In a nod to her time spent up north while filming Suits, Markle seems to have developed a soft spot for Canadian designers, including Mackage, Aritzia and Sentaler. She also reportedly still relies on the Toronto-based stylist (and her BFF) Jessica Mulroney for clothing advice.
However, most of the brands Markle has supported since her engagement have decided to remain mum on what her support means for their bottom line. Indeed, when Observer reached out to Aritzia and Theory, neither label wanted to provide a formal statement regarding the upcoming royal wearing their designs; WWD got similar non-statements from Misha Nonoo, Jason Wu, Jimmy Choo and Ralph & Russo.
It's not clear if those labels have confidentiality agreements in place with the future royal. Or, perhaps they just want to respect Markle's privacy, but we're sure that each and every one of them is reaping the benefits of her regal support.