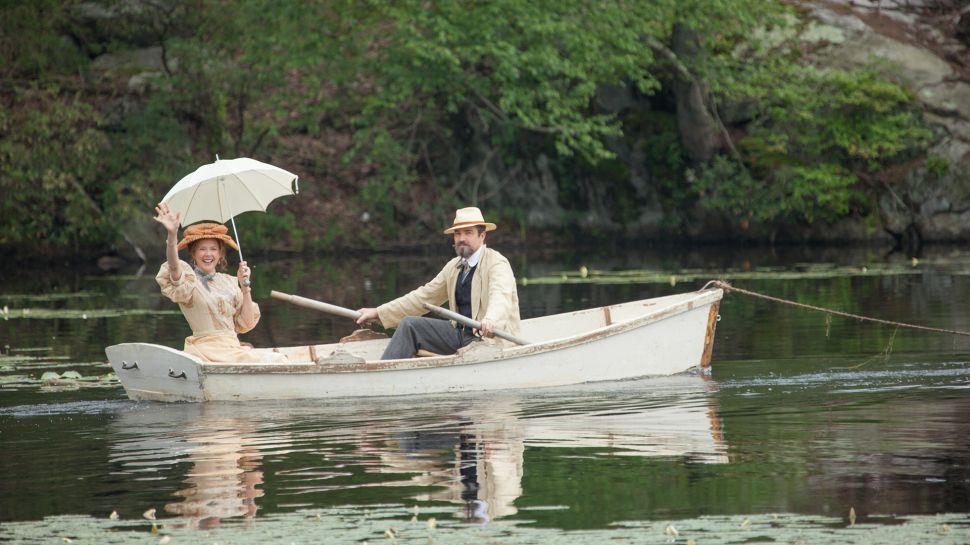 The Seagull, based on the Anton Chekhov play of the same name, will continue Sony Pictures Classics' recent winning streak that includes Brigsby Bear, Call Me by Your Name and Film Stars Don't Die in Liverpool.
The Seagull is both laugh out loud hilarious and tragically sad, sometimes in the same scene. It details how insecurities can eat us alive and how we simultaneously praise those with fame, while also trying to tear them down to our level. We wrestle with the idea that celebrities and those in power are better than us, so we search high and low for flaws to reveal their true nature, often finding them easily.
Generally, it can be difficult for plays to translate well to the screen, but thanks to the clear direction and writing of Michael Mayer and Stephen Karam, respectively, and a phenomenal cast, The Seagull pulls it off beautifully.
To that last point, The Seagull really did line up an all-star group of talent.
The cast includes (deep breath): Saoirse Ronan (Lady Bird), Annette Bening (Film Stars Don't Die in Liverpool), Corey Stoll (Ant-Man), Billy Howle (Dunkirk), Elisabeth Moss (The Handmaid's Tale), Jon Tenney (Major Crimes), Brian Dennehy (The Blacklist), Mare Winningham (American Horror Story), Glenn Fleshler (Barry) and Michael Zegen (The Marvelous Mrs. Maisel).
Lucky for us, Observer had the chance to speak with a handful of the stars at The Seagull's red carpet premiere at the Tribeca Film Festival.
Hollywood is so dominated by franchises, superhero movies and sequels, which can be great, but what can a smaller and more personal film like The Seagull offer fans?
Annette Bening: Well, I hope it gives them a little bit of a window. Movies are so extraordinary, how you can be transported into another time and inside of a group of people or even inside of one human being's private moment. I love that experience, personally, when I go to the movies and I'm moved by something. Chekhov was a genius and these plays… they're long, hard to do, but worth trying. I hope it's entertaining.
What do you like most about doing period pieces, like this with fanciful settings and costumes, and more contemporary projects?
Corey Stoll: It's variety in every way, that's what I like. If this was my 10th Chekhov film, I'd probably be really bored. We become actors so we can live different lives. That's more interesting to me than living slightly different lives over and over again. To be in a different setting with different actors with different ways of speaking and different ways of relating to each other… that's challenging.
Was there any trepidation adapting a Chekhov play or did you just jump right in excited?
Glenn Fleshler: I would say the latter. We jumped in pretty excited. There's always fear in projects, but you can't really lead with that. That's kind of a given with anything that you do. As soon as they say "action" there might be a little fear, but anything worth doing is a little bit scary.
Some people are scared by Chekhov. I always find it really fun and accessible and I find it really funny. I think people forget that because it's got this reverence to it, and people think it's this dark, heavy thing but it's actually very funny. He wrote plays that were like paintings of the time. It's so relatable now, and it actually felt really easily adaptable to cinema.
Can you tell me a little about your character?
Billy Howle: I've talked about this in other interviews but toxic masculinity and our idea of masculinity and feeling undermined by people in authority. Parents and, in this case, his mother. And the kind of Oedipal thing that Chekhov is hinting at, he's kind of flipped it on its head and made it this overbearing female character. That's where it's fascinating to me, it was really fascinating to Stephen Karam and Michael Mayer as well.
For me, the jealousy and the insecurity that Konstantin feels and the need to prove something of his own masculinity and assert some parts of himself as a creative, or as a lover, or whatever, that's something I think is easily relatable to young men today, actually universally, any young man. So that's something I thought about a lot and how that really, hopefully, is clear to see and translates to the big screen from Stephen Karam's writing.
If you could have dinner with one fictional character, who would it be and why?
Michael Zegen: Oliver Twist because I feel like he'd be hungry.