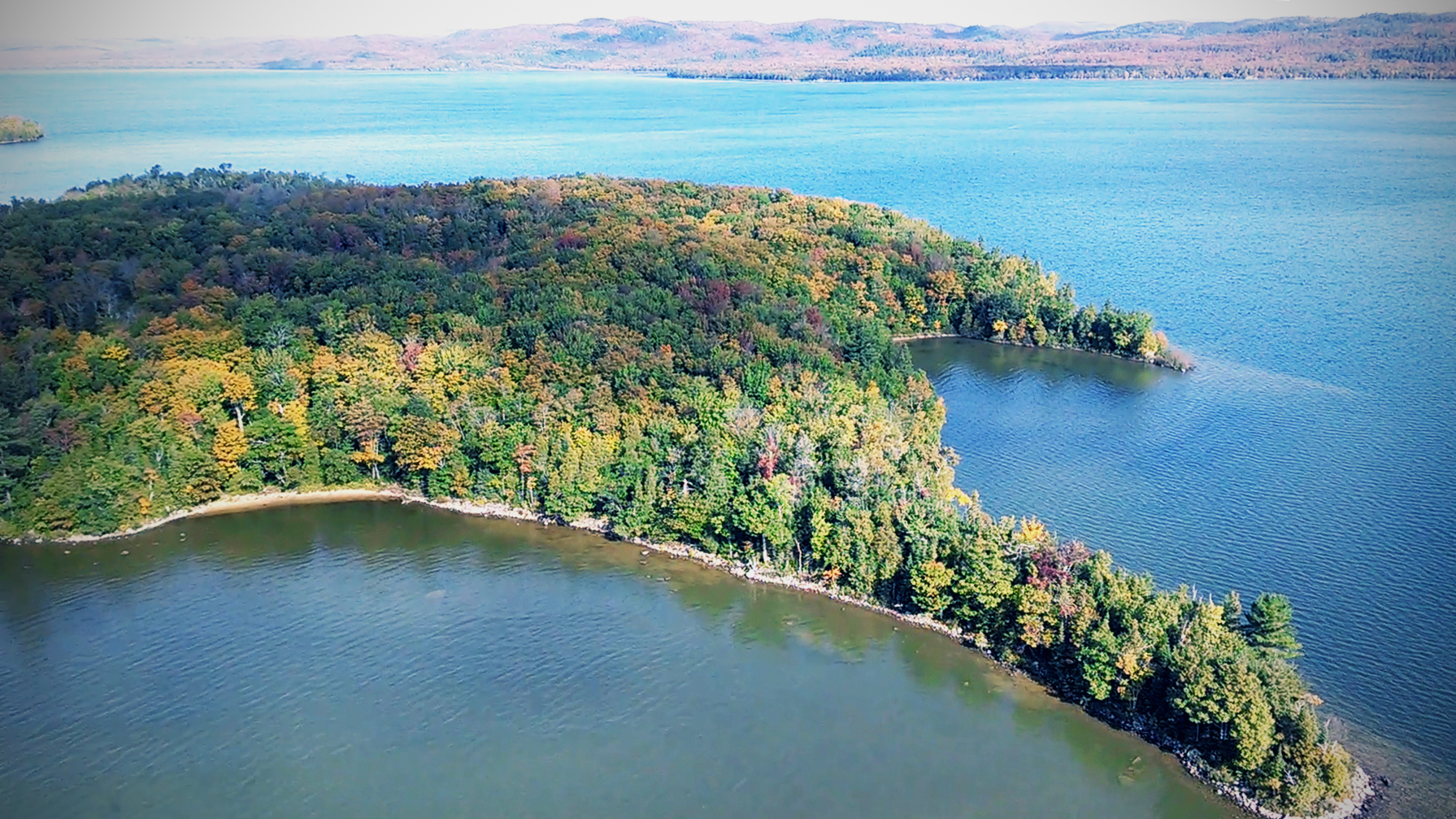 Looking for a summer escape with an extensive backstory and acres upon acres of unspoiled wilderness, so you can sip rosé in peace and quiet? Consider looking north, to Canada.
For a cool $14.95 million CAD (which comes out to $11.57 million USD), Ontario's Batchawana Island could be yours. Sure, dozens of private islands are available across Canada, but few have a backstory—or 5,000-acres of wilderness—quite like this one.
The real intrigue of the island, which was once occupied by the Batchawana First Nations tribe, begins in the Prohibition era. That's when Batchawana became a crucial stop for underground liquor distributors and bootleggers on a smuggling route from the quiet Canadian wilderness to northern Michigan. Illegal goods were moved back and forth in this region of Lake Superior, where local legend has it that Al Capone maintained a hideout among Batchwana's untamed wilderness.
But as the years went on, the bay and its namesake island remained relatively uncharted, despite being logged for construction lumber in the late 1960s.
Batchawana Island went into private ownership through a Belgian investment group in the 1970s and in the early 2000s, was acquired by American developer Joseph Acheson. He had grand plans to build a member's only five-star, 20-bed sporting resort on the island. Offering a variety of activities from clay shooting and archery to fishing and kayaking—and of course, hunting—Acheson also wanted to install a landing strip for private jets. Dubbed Stormview Lodge, it did, indeed, sound like a very rustic version of Soho House.
But developments on the hotel dragged on and last year the project faced protests from local residents, who alleged that building the property would lead to pollution, harm the natural ecosystem and endanger boaters and swimmers in the area. Acheson eventually decided that building the concept "was more than he was able to bite off," according to listing agent Mark Lester of Unique Properties, and he decided to part ways with the island.
Acheson was unavailable for comment by press time, but local residents piped up, with plenty to say about the failed project.
"The big issue was that there would be a lot of equipment moving back and forth through the bay," says local resort operator and resident Frank O'Connor, "but ultimately, it's up to the owner on what he'd like to do with it."
He makes a good point since the land still isn't ready for construction. Batchawana Island has been largely untouched since its last logging, but a large-scale environmental rehab is necessary, should any type of construction take place here. A high-level survey of the land by natural resource contractors R&B Cormier, Inc. reports that it would take anywhere from two to five years to make the land environmentally sustainable—and that includes the gradual removal of more than 3 million cubic feet of mature timber.
Then, there's the total lack of running water and electricity on the island.
Lester couldn't put a cost estimate on the rehab and the development of those modern necessities, but it's safe to say they would cost a small fortune.
If development was on a future owner's mind, it's worth noting that the island currently has no attachment to mainland Ontario. There's a marina on the southern shore of the lake in the neighboring town of Haviland that's an easy 4.3-mile boat ride to the property. In a cold winter, enough of Lake Superior freezes over that you can actually Ski-Doo or drive a vehicle over to the island, which, you guessed it, has no roads on it.
Another option—and the general consensus among locals—is for the future owner to leave the island—and its heritage—exactly as is.
"There is a history in the area (bay and island) that is integral to our people," says Batchewana First Nations Chief Dean Sayers, whose tribe has continued to govern over surrounding lands through the 20th century.
"We want to see it preserved for all Canadians to enjoy," O'Connor adds.
Lester notes that discussions with Ontario Parks to do exactly that could take place down the road. But, because of upcoming elections and the island's new introduction on the market, those have not begun yet.
In any case, if you have $11 million burning a hole in your pocket, it might be best to seek out any other private island to purchase—or even a large home in the Hamptons.