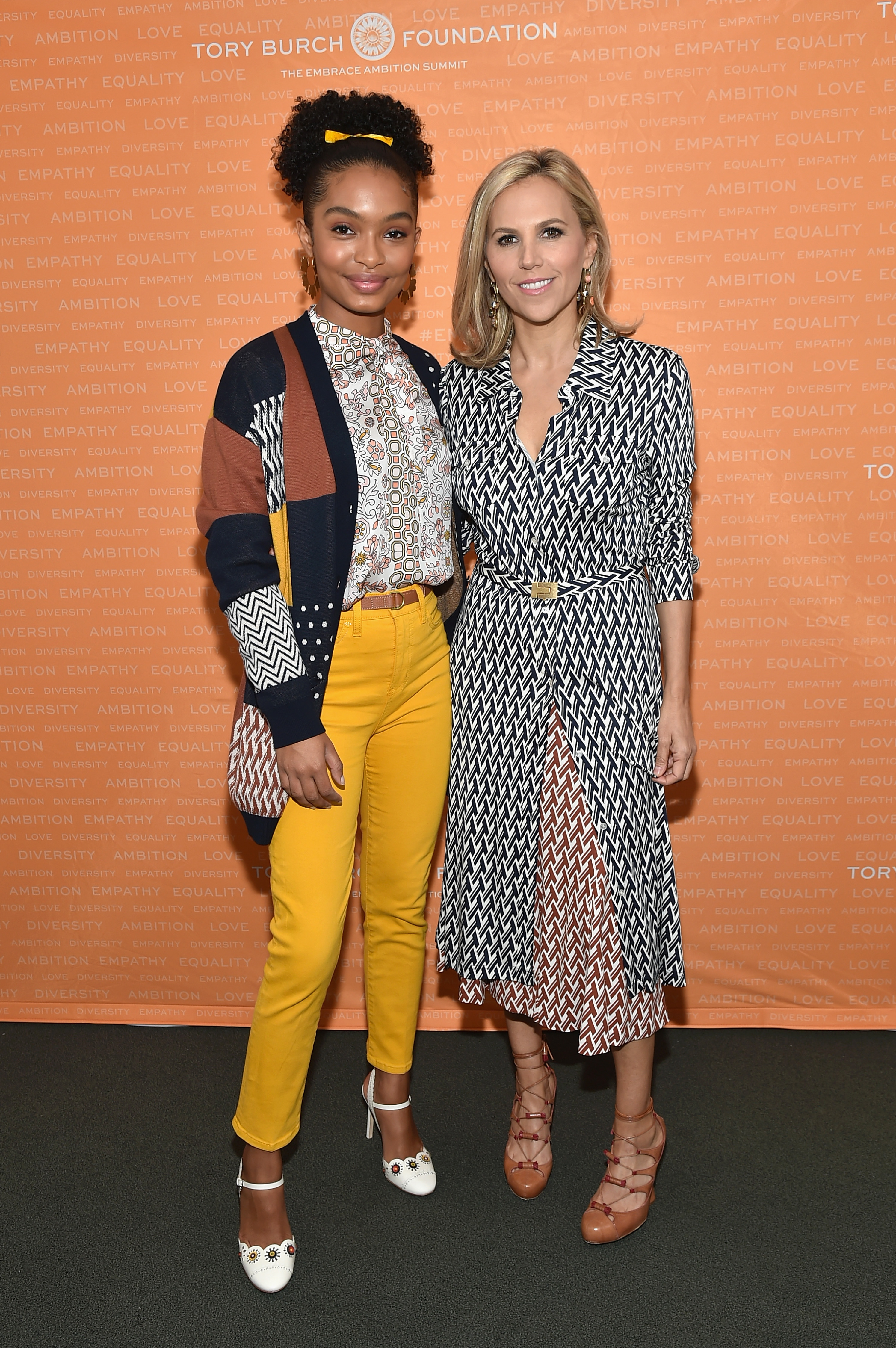 It always seems to be a perfect spring day in Tory Burch world—and Tuesday's Embrace Ambition Summit, hosted by The Tory Burch Foundation, was no exception. After months of grim winter weather, sunshine finally poured into Alice Tully Hall and onto a sold-out audience of Burch enthusiasts, decked in bold-colored prints and Reva flats.
The conference was a well executed extension of the fashion entrepreneur's beloved, cheery brand. Mini bunches of sunflowers filled the room and Fleetwood Mac's "Dreams" floated in the background.
Columbia professor Valerie Purdie Greenaway took the stage, introducing the audience to the science of stereotypes and unconscious bias. The theme for the day? "No excuses, people." The speakers who followed preached from white rattan club chairs that seemed to be plucked from a Palm Beach heiress' home. Olympian Lindsey Vonn, author Margaret Atwood, TV journalists Katie Couric, Deborah Roberts and actresses Julianna Margulies and Yara Shahidi all echoed a similar sentiment: Open your eyes, open your world. Don't let racial or gender stereotypes stand in your way. We are not victims, we are empowered. 
The Tory Foundation, as it is colloquially known, provides training, mentorships and access to affordable loans for female entrepreneurs. The foundation's Capital Program, powered by Bank of America, has provided over $36 million in loans to over 1,775 women. An additional 170 women have completed an in-depth business education program sponsored by the Goldman Sachs 10,000 Small Businesses initiative. According to Burch, the foundation sets the bar high: "Once a business hits $1 million in revenue, we know they are sustainable," she told Observer.
And although the Embrace Ambition Summit is most definitely a PR push for Burch, it also highlights her bottom line, which encourages women to take charge of their lives, their futures and, most importantly, their businesses. Here, Burch tells Observer more about her empowering mission and why she won't be parlaying this stance into a political role—at least not anytime soon.
Did you really create your lifestyle brand with the intention of eventually starting a foundation to empower women?
Yes. Thirteen years ago, investors didn't like it when I told them that if the company was successful, I was going to support women entrepreneurs. I was repeatedly warned by one of our first investors: don't use business and responsibility in the same sentence. But I did it anyway.
Eight years later I called him, after a Forbes and Time conference, and I said to him, "I just had to tell you, businesses now are not innovative and interesting without purpose." He laughed and said, "OK Tory, what do you want?" He was a good sport and wrote a check.
I recall a man once telling me that it was more important to be respected than to be liked. Do you think a lot of women are reluctant to describe themselves as ambitious because they want to be liked?
I think it would be disingenuous for me to say that I don't want to be liked and respected. I think everyone wants to be liked; both men and women. Everyone has insecurities and those insecurities manifest themselves differently. But to me, it's pretty simple; the best way to be liked and respected is to treat others with kindness and respect. I was raised to treat everyone equally, whether it was a taxi driver or the Queen of England. I don't want to be around people who don't treat others with dignity.
Do you think women need to embrace success, in the same way they need to embrace ambition? 
Absolutely. For me, success doesn't change who you are. My closest friends today are people I've known since high school. The women I know who are successful really worked hard to get there and are proud of their success. And they should be.
For example, women often attribute their success to luck…
That's true. I used to say that a lot in the beginning. But it wasn't luck; it was a lot of hard work.
How you compare the approach of The Tory Burch Foundation to other female-empowered movements?
I think some people have tougher situations than others, so you can't take that away. A lot of our entrepreneurs have suffered greatly. So, I focus on: how do you move forward and get past the parts that can hold you back?
It's also important to say that I don't look at our foundation as charity work. I look at it as helping women help themselves. These are brilliant women, doing incredible work. They are changing their family dynamic, they are the first to invest in their communities, they are repaying their loans. And that's something that is very important, particularly when women have a much harder time gaining access to capital. People need to understand that because its real.
What is the greatest challenge you see women entrepreneurs facing—aside from lack of access to capital?
Confidence is the number one thing we talk to our entrepreneurs about. Getting them to believe in themselves and their ideas. Getting them to believe it's ok to say, "I'm ambitious!" That's something I myself have had trouble with in the past.
Are there a few essential qualities you look for in the applicants who apply for grants and mentoring?
Absolutely. It has to be an incredible idea of course. But also, tenacity, integrity and honesty.
I'm sure this is like asking you to name your favorite child, but are there any entrepreneurs you're especially proud of?
There's a lot of them! There are two who are now fellows, one is [Kate McAleer] of Bixby Bars out of Maine. Another is [Paris Sabo] of Dr. Brite, a former surgical oncologist who was worried about chemicals in her children's products.
Earlier, Erin Loos Cutraro, founder and CEO of She Should Run, a non-partisan organization encouraging women to run for office in the U.S., gave the audience a directive. She asked everyone to think of one woman they know who makes things happen. "If you know a woman who gets things done," she said, "send her a text right now and encourage her to run for office."
That explains it! I was wondering why I was getting all those texts!
So now I have to ask, would you ever run for office?
I don't know. I'm passionate about our country and politics, that's all I can say. But right now, that's not part of my future.