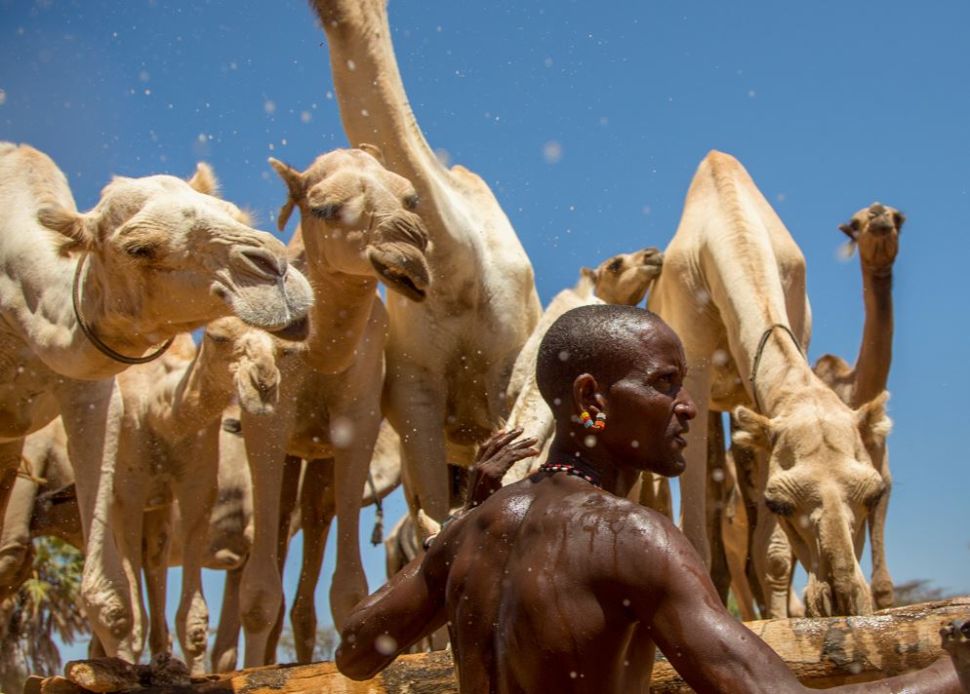 As he walked through the press preview for the Tribeca Film Festival's Virtual Arcade, festival co-founder and Hollywood legend Robert De Niro looked totally lost and ill at ease among all the immersive entertainment options.
Bob, I'm right there with ya.
While the exhibits and "storyscapes" in Tribeca's virtual reality section show that VR technology has made great strides in recent years, they also lay bare its shortcomings as a storytelling tool.
The best films in the showcase focused on keeping things simple and educating viewers. My personal favorite (which is coincidentally the shortest movie on offer) was Coral Compass: Fighting Climate Change in Palau.
This four-minute short from researchers at Stanford University takes viewers to the titular island nation, where residents are protecting the coral reefs from global warming.
The camera swoops through the tropical waters, bringing viewers face to face with the wear and tear of global warming. Tourists swimming in the palatial seas infect the reefs with all manner of garbage, which then washes over the viewer.
My Africa is a similarly transporting film (albeit with a more earthbound focus). The nine-minute video narrated by Lupita Nyong'o takes viewers inside the life of an elephant keeper in Kenya.
The effects in this film range from cute (a baby elephant licking the camera) to terrifying (a wildebeest stampede right out of The Lion King). It's education with a twist, which is one of VR's big advantages.
Problems arise when things get too weird, however—and plenty of Virtual Arcade films illustrate this.
Dinner Party focuses on Betty and Barney Hill, an interracial couple who reported being abducted by a UFO in 1961. They undergo hypnosis after their experience and then listen to a recording of their session at a dinner party.
At least, that's what the summary in the festival program says it's about. The actual experience is rather different.
The Hills' dining room is surrounded by blackness, with the viewer floating above them as a sort of omniscient guide. As everyone sits down to eat, Betty breaks a dish, prompting her to flash back to the abduction.
We're also plunged into the couples' hypnosis sessions, where they seem to be floating through deep space until they disintegrate into points of light.
Because of these strange devices, Dinner Party is a very frustrating, confusing film to sit through.
Things get really complicated, however, when the viewer is expected to not only see and hear the film—but also feel it.
Such is the case with Spheres: Pale Blue Dot, a "cosmic journey" narrated by Patti Smith. Viewers unravel the history of the universe as they experience the Big Bang and see the planets form before their eyes in striking visuals.
Or in some cases, they have to form it themselves. At certain points during the movie, Smith tells the viewer to "reach out and touch" certain celestial bodies so they move.
This is almost impossible, however, because the joystick with which viewers are supposed to do this is very sensitive. The viewers' hands are dramatized as comets or fireballs (it's hard to tell which) that shoot toward the object.
By the end of the 15-minute film, I had a basic idea of how the process worked. But it's hard to imagine a casual observer warming to an experience where your own hands are against you.
This feeling reaches its nadir in The Day the World Changed, an immersive look at the bombing of Hiroshima. Participants hear firsthand accounts from survivors of the Japanese attack, which are certainly moving.
The problem comes with the interactive part of the experience. Viewers are expected to pick up virtual objects on the burnt ground and interact with fellow survivors (the experience is meant for three people).
But much of the film is so blurry that you can't see what's in front of your own face, let alone someone else's. Viewers only get a clear image if the helmet is situated on a specific spot of their heads.
One reason for the particular problems with some of these films may be that they utilize HTC Vive headsets, as opposed to Oculus Rifts.
Market tests have shown that the Vive is noticeably heavier than the Rift, with extra cables coming out of the headset. That puts more strain on the viewer's face.
No matter which headset you're wearing, however, the fact remains: virtual reality is not a comfortable space to be in.
Sure, once the movie begins you get sucked in. But when that heavy headset is first on your face and you're surrounded by darkness, it's a very unpleasant feeling.
The headphones are less of a nuisance, given that just about every music lover knows how they feel already. But VR earphones still don't cancel noise as well as they should.
At one point during Coral Compass, the narrator invites the viewer to "breathe in the silence" of the reef. But that was impossible for me, because I could still hear the chattering from the press junket outside.
This may sound like a grumpy old man grousing about newfangled technology—and I admit, I had virtually no VR experience before last week.
But if filmmakers want casual moviegoers to embrace this new storytelling technique, they're going to have to make it a lot more comfortable and easier to operate.
Until then, most viewers will be like De Niro, looking quizzically at a VR headset as if to ask "You talking to me?"