My friend needs a dollar. Actually, let me rephrase: a "Friend" needs "$1." The capital F is important, although I wouldn't exactly call him MY friend. He's more like an extremely distant acquaintance who I only really know through Twitter. But according to him, my dollar—in his pocket—will "send shockwaves around the world."
Unfortunately for President Donald Trump, I'm poor; however, I might be inclined to donate a dollar if it would help him re-hire the one slightly competent designer who made Trump's campaign emails look somewhat professional for about a week—until he or she was, presumably, fired.
Yes, Friend, it's time for us to dive into and (at least try) to unpack the occasionally hostile and frequently farcical emails that Trump's campaign/team/family regularly send out to MAGA supporters.
Donald Trump Has Friends—Probably, Definitely, Maybe
Let's start our journey by addressing the campaign's unapologetic use of the word "Friend" (always, always capped).  
It would appear that all of the White House turmoil and West Wing turnover has left our president despondent and lonely—every single email I've analyzed (63 total, beginning March 31, 2017) leads with the greeting, "Friend." However, a Trump campaign email sent out on April 7, with the subject line "Alone," reassures me that this is not the case. 
Although to be fair, it appears that Trump still needs me to contribute $1, if I want him to continue his presidential journey not "alone."
What's actually stranger than the above email is that his campaign sent out the EXACT SAME EMAIL literally 24 hours later on April 8—only this time with the subject line "Show the media." 
Deadlines Are Actually Dead (#RIP)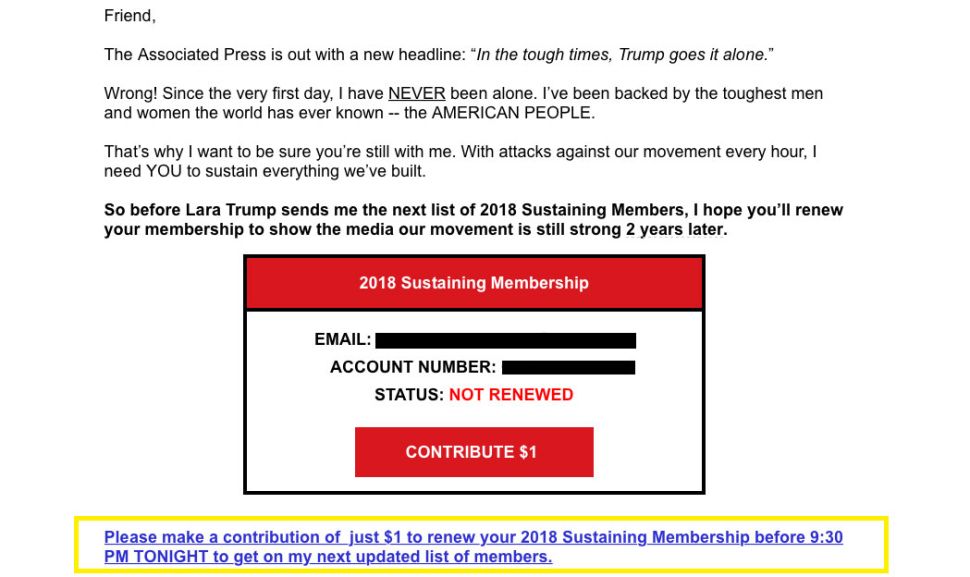 Notice anything strange about those identical emails sent two days apart? 

Now, I don't know if Trump's email coordinator doesn't understand time or if time simply no longer matters, at all, but the above "before 9:30PM TONIGHT" deadline was never really an actual hard cutoff… Three days later, the link to donate on the Republican National Committee's "Authorized Website of Trump Headquarters" (we don't know what that means either) STILL said, "Please make a contribution to renew your 2018 Sustaining Membership before 9:30PM TONIGHT to get on my next updated list of members." 
On April 11, that deadline was changed to 11:59 PM TONIGHT—a clear and distinct due date, obviously—which was then changed to 9:00 PM TONIGHT for a few days (April 17 – 19), before returning to 11:59 PM in the most recent campaign emails and on the donation site.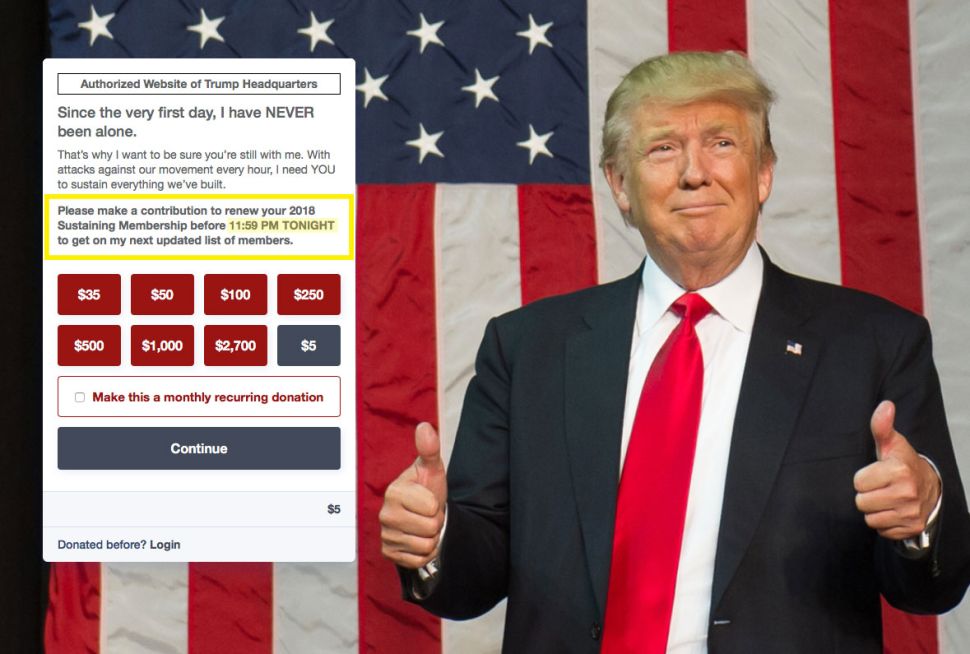 Dates, times, deadlines: nothing matters any more.
Good Grammar Is the FAKEST Fake News Out There
Especially words… words definitely don't matter. They are just stupid byproducts of the Obama era. 
In the pre-Trump years, the word "tonight" (or TONIGHT, if you prefer) denoted the evening of the present day. Now, tonight is forever, and I'm here looking up the most basic terms on Merriam-Webster's website to make sure I haven't gone insane.  
"Friend" used to mean something. Capitalization used to designate a word as either the first in a sentence or a proper noun. But in the world of Trump, "Friend" is just as much of an ultimatum as it is a salutation. There are shades of No Country for Old Men Javier Bardem, minus the -o. 

"The President has requested a list of every person who renews their membership, and we wanted to be sure your name was on that list, Friend," reads a September 2017 email signed Team Trump. Now, the idea that Trump reads lists containing the names of every single person who contributes to his campaign is laughable at best, but honestly, the nebulous threat is more than enough to keep my money in my pocket. 
Lists of names are for the Gestapo and Santa Claus, and I don't see Trump climbing down any chimneys to spread holiday cheer. Plus, friendship doesn't usually require a credit card number or valid billing address. 
And, in case you've already forgotten, these are the emails he sends out to HIS SUPPORTERS.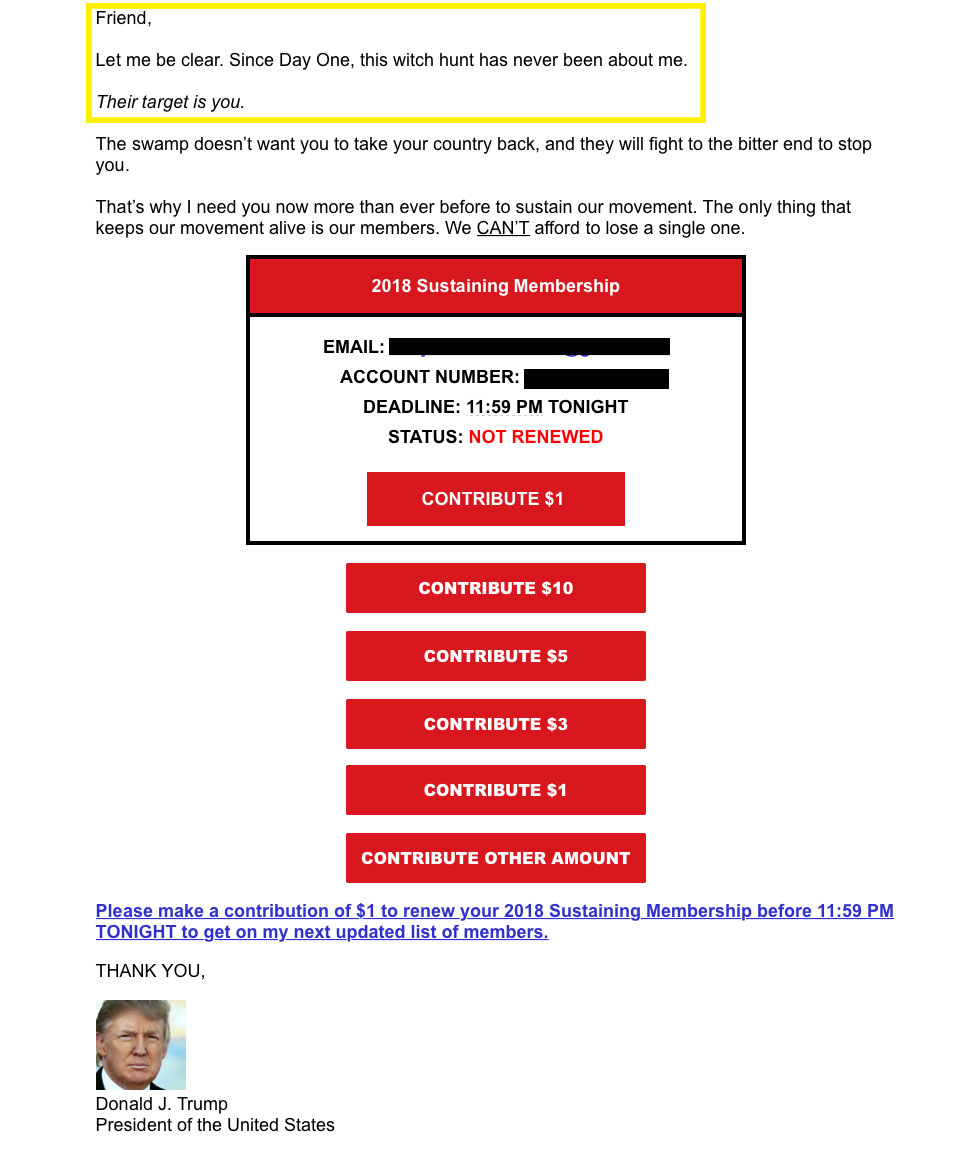 Friends don't let Friends use poor grammar, but if I've learned anything from combing through Trump's campaign emails, it's that arbitrary EMPHASIS on certain words is not only OK but ENCOURAGED. 
Trump Toys! Get Ya Trump Toys Here!
Over the past year, the purpose of Trump's campaign emails has seemingly evolved. 
Early 2017 was apparently a time for blatant cash grabs. Our favorite? The peddling of an official Trump tailgate package (the president's personal feelings toward football be damned). 
There was a contest to win one of five inauguration photos signed by Trump (a contribution of just $1 is all you needed to "ENTER TO WIN A PIECE OF HISTORY").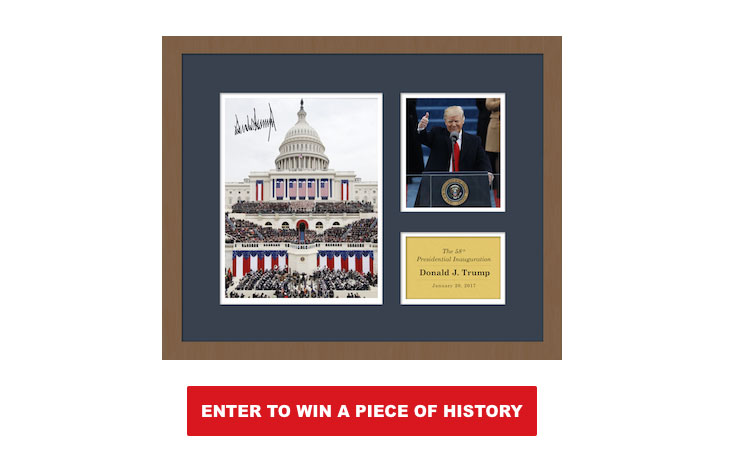 There was a Labor Day sale…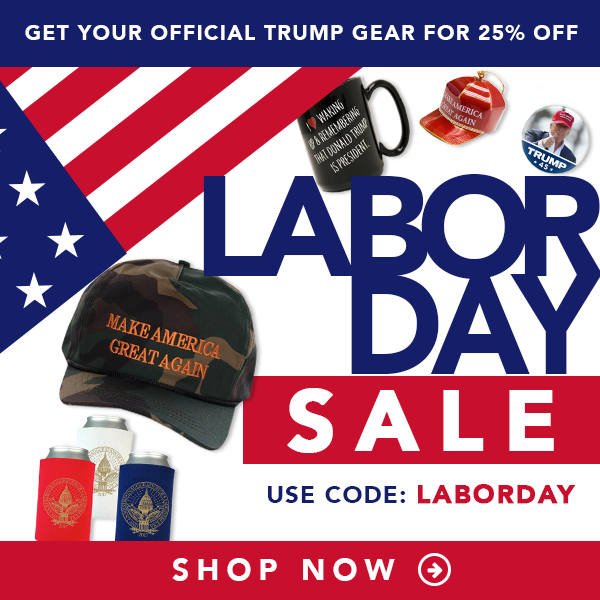 An Easter sale (Promo Code: BUNNY)…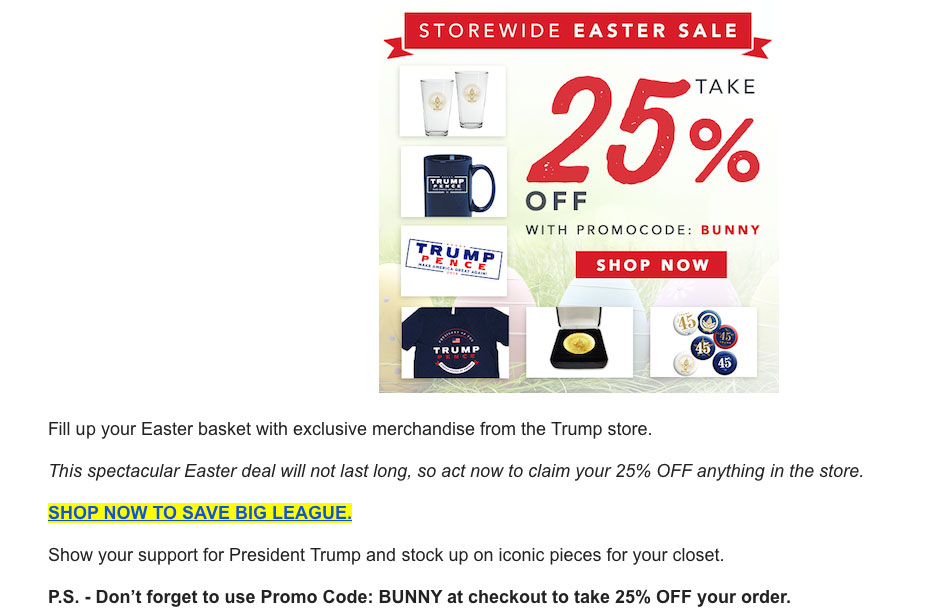 The debut of the Limited Edition, Made in America, Commemorative Presidential Medal (notably lacking the part that goes around your neck)…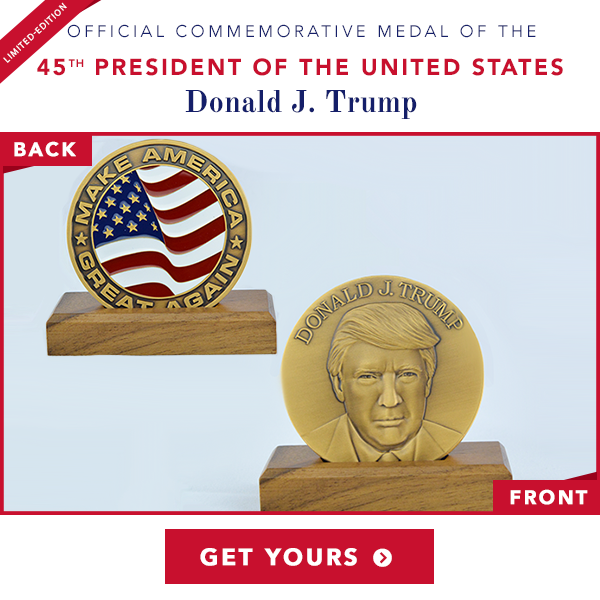 And the arrival of the Official Trump-Pence 45 mugs ("we've reserved one specifically for you!").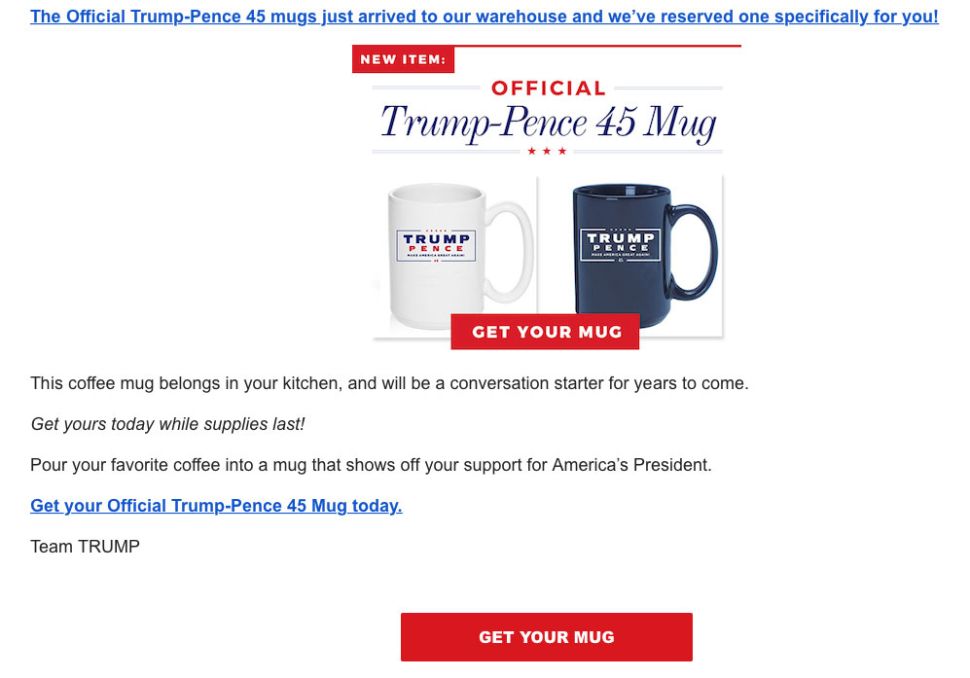 However, what began as *mostly* merchandise promotions has slowly transitioned into policy pushes, political petitions and partisan polls (with one exception, but we'll get to that later).
Political Updates From Trump's Campaign Emails vs. the Rest of the World
Recent emails have asked me to sign petitions to "build the wall," to "end the diversity visa lottery," to "support Pro-American Tax Cuts," and to "Tell the Liberals: STOP OBSTRUCTING." 
This week, Trump addressed the DNC lawsuit, assuring me there's been NO EVIDENCE OF COLLUSION. You know, because it's easier to believe things that are shouted at you in all caps.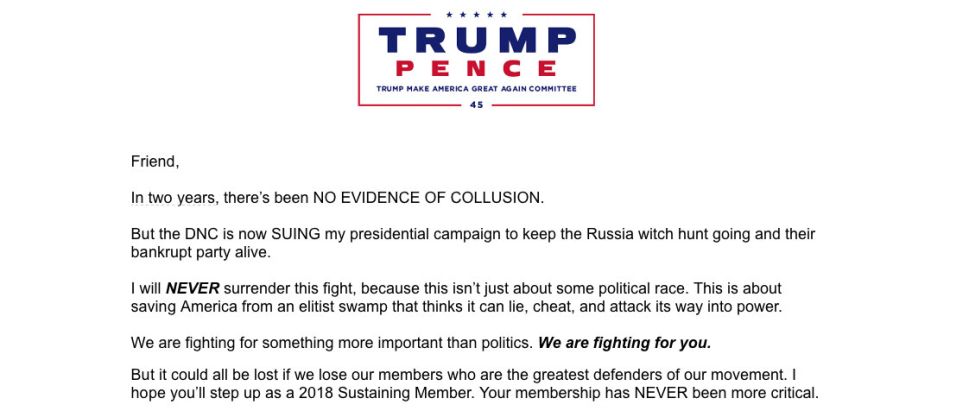 The president was also quick to jump on the James Comey attack bandwagon last week, after the release of the former FBI director's tell-all book, A Higher Loyalty. In fact, Comey got not one—but two—assault emails. The first subject line: JAMES COMEY

The second? Comey vs. Friend. (Personally, my favorite subject line out of all of the emails I examined.)

Highly Scientific Polling 
The campaign also sends polls—created by the "Official Team for Polling Accuracy"—with the latest asking me to rate President Trump's job performance. My options? Great, good, okay and other. Hmmmm… Seems receptive to negative feedback.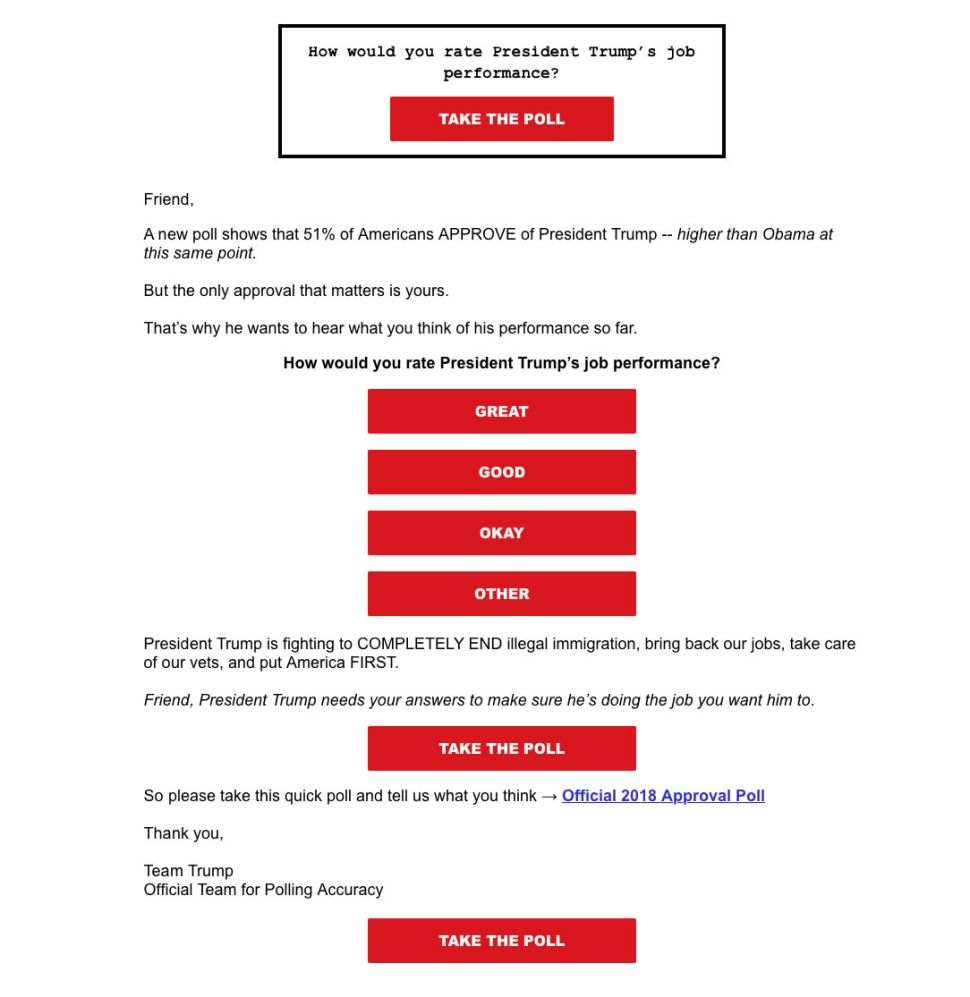 Approval poll, indeed.
Donald Trump and Mike Pence: Two Wild and Crazy Guys… I Guess
As previously mentioned, there's been one major exception to Trump's recent efforts to push policy over product through his emails. Sending all the "witch hunt, swamp monster" propaganda is one thing; trying to make me hang out with Donald Trump—or Mike Pence!—is another altogether.  
Since April 13, I've gotten seven different emails inviting me to participate in three different sweepstakes.  

For a $1 contribution, I can enter for the chance to win a meeting with Trump in Florida. He'll definitely take a photo with the winner, but despite one subject line that reads, "Are you coming to dinner?," whether or not you win an actual meal with the president remains ambiguous.

The campaign apparently really wants me to enter this particular contest. So much so that I somehow "unlocked a special double-entry" (a clue? maybe Dean Wormer is the one behind all these things??) through zero action of my own. Like all things in Trumpland, there's a deadline, but it doesn't matter. I can still enter. The more I read about this specific sweepstakes, the more certain I am that the winner will get dinner—restaurant reservation and all—but not with Trump.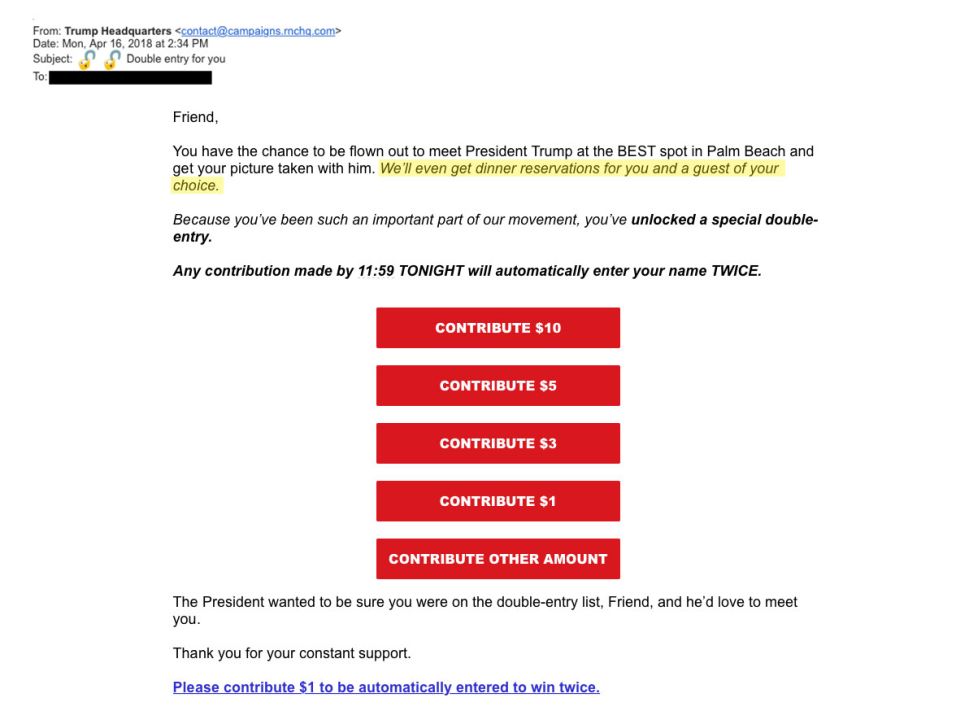 For an entirely separate $1 contribution, I could have entered a sweepstakes to have dinner with Mike Pence. Probably because he's the uptight VP and not the fly-by-the-seat-of-his-pants Prez, Pence's dinner actually mentioned a reservation date, April 20, which I assume means that the deadline has already passed.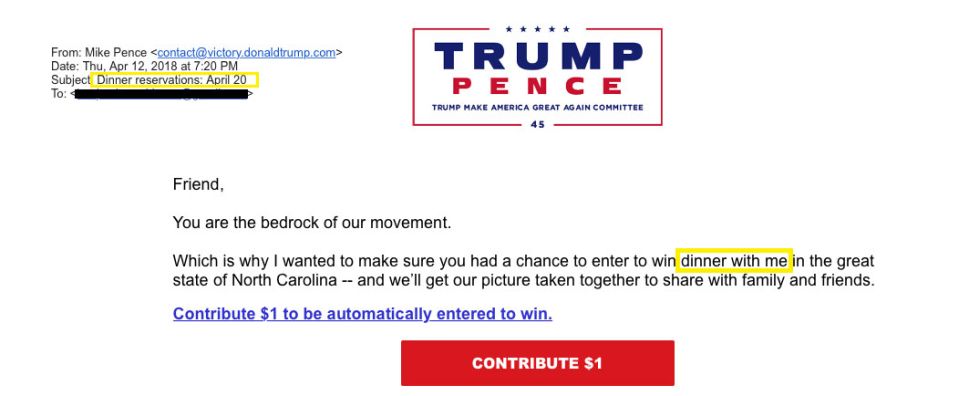 But honestly, maybe he meant April 20, 2019. Who knows? Who cares?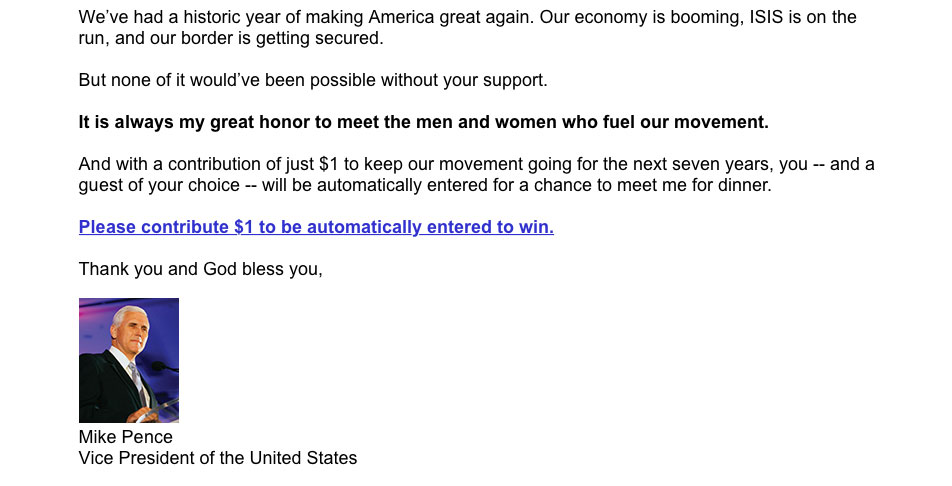 He does tell the same blatant lie in both emails promoting his contest, and he very kindly bolded it himself in each message. You've got to appreciate consistency! Don't see it? It's right there.. next to "the men," but it wouldn't have been included at all if Pence had written the email himself. Yes, I'm talking about "the women." 
Before you get all pissed about this one comment because… ¯\_(ツ)_/¯ … feminism, you should know that Mike Pence hates women. He DEFINITELY does not hope to meet females who aren't his wife for dinner. His position on women's rights is so archaic that he's been called "the biggest threat to women in a generation." Just saying.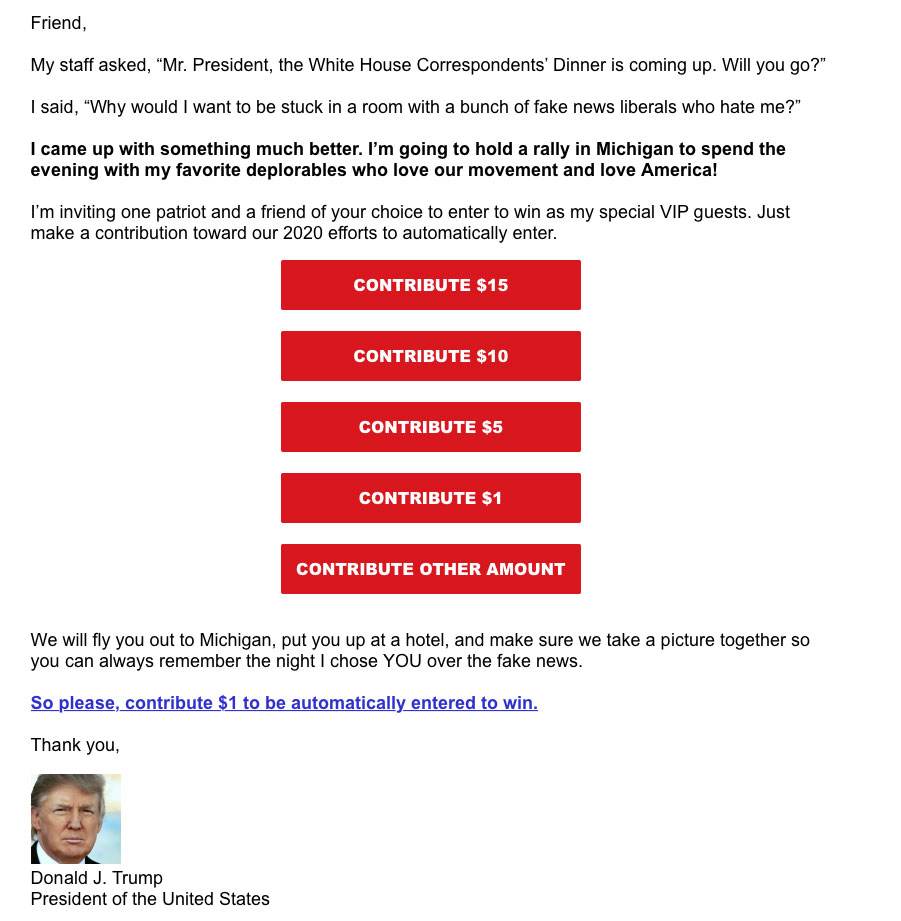 The last presidential sweepstakes for April was in response to the annual White House Correspondents Dinner, which Trump again skipped. As Brett Samuels of The Hill noted, Trump chose to focus on fundraising with a campaign email attacking "fake news liberals." Instead of the dinner, he decided to fly one lucky winner out to Michigan for a rally and a photo op—plus, he makes a point to mention that he'll put that person up in a hotel. 

So nice, so friendly. Of course, you would have had to contribute yet another dollar to even think about entering the contest. 
(Side Note: If you're an actual Trump supporter and you've read this far, CONGRATULATIONS! Contribute at least $1 to my personal Venmo account, and you'll be entered for the chance to meet me. I will not take care of any travel expenses and a photo is not guaranteed.)
How to Design a Newsletter for Dummies
While the quality/consistency/accuracy of content in Trump's emails may (theoretically) still be up for debate, the aesthetics are not. 
Clearly designed in a shed with poor lighting during the early 1980s, the messages themselves are not pleasing to the eye. From the layout, to the font choices, to the haphazardly bolded and highlighted phrases, Trump's emails look like they were modeled after his hair—simply bad.  
For about a week in September 2017, that changed… sorta. There were graphics and photos and GIFs and some semblance of artistic taste. 
We can only assume that whoever created those emails was immediately fired for failing to create visual chaos that matches Trump's Twitter-like tenor. As soon as the prettier emails appeared, they disappeared just as quickly. 
Was it Middle America demanding a more rugged approach to their presidential communiqués? Was it some unruly intern who decided to jazz up Trump's messages in a last-ditch effort of resistance? We may never know. 
Despite the brief dalliance with artful conception, Trump's campaign emails have remained 100 percent consistent in one specific area—tone.        
The campaign emails read exactly like the president's tweets, which is either very concerning, very charming or both. They are paid for by the Trump Make America Great Again Committee, "a joint fundraising committee authorized by and composed of Donald J. Trump for President, Inc. and the Republican National Committee." The emails come signed by a host of characters—the president himself, Eric Trump, Lara Trump, Mike Pence, Team TRUMP—but it feels as if the Donald is tweeting directly into your inbox.        
In fact, sometimes he is. 

On April 9, I received a Trump campaign email with the first cross-platform tweet inclusion I had seen since starting my journey through all of these inane emails. Thank god Trump made sure I saw it. 
If I had to wager a guess, I would say Dan Scavino must be behind these Trump campaign emails in some way. If he's not in charge of them, he must be helping out or giving some type of input. Scavino, the White House social media director who you've never heard of, was recently profiled by The New York Times as "The Man Behind the President's Tweets." 
So, it makes sense. 
He's got the tone and voice down pat. He's clearly one of Trump's most trusted and valued aides. He stays out of the limelight and ghostwrites tweets with reckless disregard for grammar, vocabulary, style or facts. 
Spelling? Screw dictionaries! Who needs them? CAPS LOCK? OH YEAH, IT'S THE BEST. Corralling the alt-right, Middle America, nationalists and contest lovers all into one place? A challenge, maybe, but now that the Trump Train has left the station fast and hard, these campaign emails won't stop coming anytime soon.