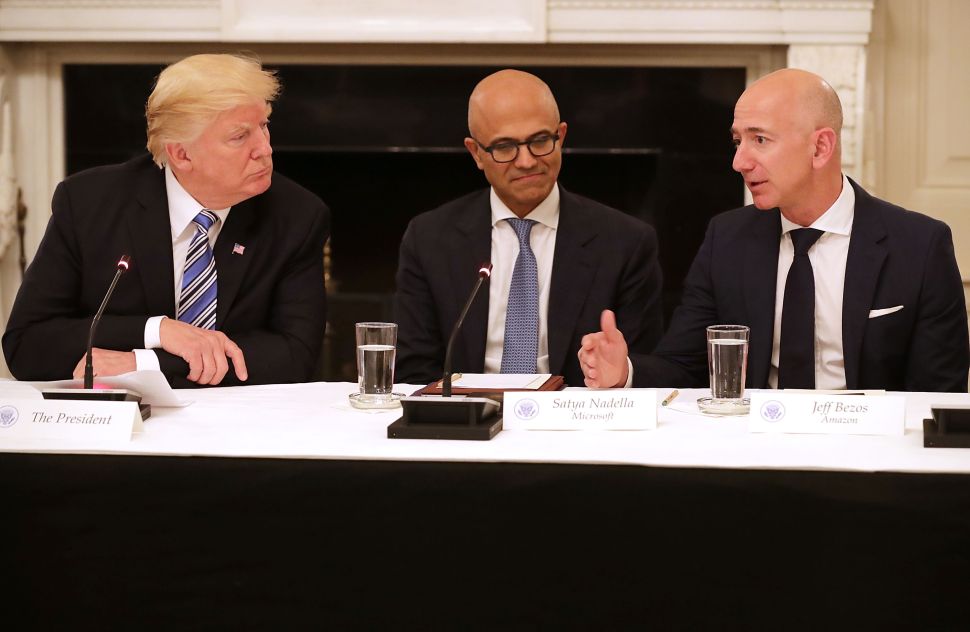 President Donald Trump is "obsessed with Amazon (AMZN)," one White House source who works with the president told Axios, "Obsessed."
In the past seven days, Trump has bashed Amazon in five tweets, each one progressively more hostile than the last. And more specific. 
In a Saturday tweet, he claimed that the U.S. Postal Service would lose $1.50 on each package it delivers for Amazon. In another one, he said, if the Postal Service increases its rates, Amazon would have to pay $2.6 billion extra in shipping costs.
So, the question has to be asked: Where did all this information come from?
Some of the quoted statements that Trump referred to in those tweets were from some of his favorite "fake news" outlets, The New York Times and The Washington Post (owned by Jeff Bezos). Other sources were less obvious.
His claim that the Postal Service loses $1.50 on each Amazon package was seemingly from an April 2017 analysis by Citigroup on the Postal Service's pricing model. The report was cited in a Wall Street Journal article in July 2017.
However, shipping industry experts warn that Trump's conclusion based on Citigroup numbers can be misleading.
The Postal Regulatory Commission, which reviews pricing for the Postal Service's shipping service, set a rate-calculating formula in 2006 that would prevent the shipping agency from setting rates below its costs. However, the formula assumed that parcels would make up no more than 5.5 percent of the Postal Service's total shipment. In recent years, as the Postal Service's mail volume continued to decline while parcel volume increased, parcels currently account for 25 percent of USPS' total shipment.
Because the original rate formula didn't factor in the parcel cost at such a high proportion, the old price schedule leads to an average loss for each package delivery.
That doesn't mean Amazon is causing the Postal Service's loss.
According to the Citigroup study, the Postal Service loses an average of $1.46 on each package in its "competitive products" service, which includes all parcel services for retail customers and business clients, which not only includes Amazon, but also other large retailers like Walmart and eBay.
A White House source told Axios that "the whole post office thing" is "very much a perception he has. It's been explained to him in multiple meetings that his perception is inaccurate and that the post office actually makes a ton of money from Amazon."
"Trump's wealthy friends tell him Amazon is destroying their businesses. His real estate buddies tell him—and he agrees—that Amazon is killing shopping malls and brick-and-mortar retailers," Axios wrote.
Amazon stock took a slight hit last Thursday following Trump's bashing tweet but began to pick up on Tuesday despite another tweet yesterday morning.
Wall Street analyst Michael Olson recommended that it's time to buy Amazon stock and disregard the president's Amazon "chatter."
Here are all of President Trump's tweets about Amazon over the last seven days.