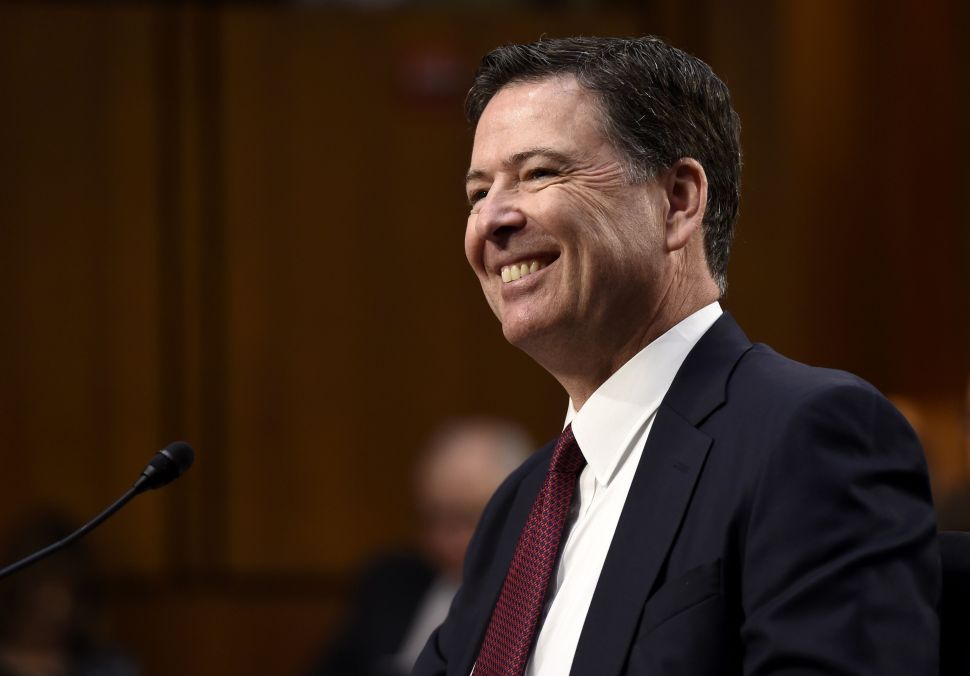 Despite the national magnifying glass hovering over the James Comey-Donald Trump narrative, America turned out to be more interested in the Academy of Country Music Awards than the former FBI director's tell-all interview.
Comey's exclusive talk with ABC News' George Stephanopolous scored an impressive 9.8 million viewers in the 10 p.m. slot. However, cbs still won Sunday night's primetime battle with the CMA's scoring a three-year overall audience high.
Priorities, America's got 'em.
Besides the Academy Awards earlier this year, which was the least-watched in the ceremony's history, the Comey interview delivered ABC its biggest non-sports audience in the Sunday night 10 p.m. time slot since the 2016 Emmys, according to TheWrap. How's that for a backhanded compliment?
The Comey interview did, however, prove to be the news network's biggest total viewers attraction since Caitlyn Jenner's interview from April 2015. If only some of that interest could have floated on down to American Idol, which fell to a series low on Sunday.
Could ABC be feeling some buyer's remorse after reviving the singing-competition from Fox?
Although nearly 10 million viewers is a nice big chunk audience, it pales in comparison to how many people tuned into 60 Minutes' Stormy Daniels interview. That segment scored the program a 10-year high with more than 22 million viewers. Granted, Daniels benefitted from the stronger lead-in of an NCAA Tournament Final Four overtime game, but the point still stands when you're more than doubling Comey's audience.
Again, America's priorities are intact.
A considerable amount of attention has been paid to the growing rift between Comey and President Donald Trump, who fired the former FBI director in May of last year. Since then, the public seems to be divided into two sects: one that believes Comey is a narcissist who inserts himself into roles he perceives as being at the center of events and one that believes the same applies to the president.
ABC was hoping to leverage that interest into a big ratings win and while those numbers are impressive, they might not be quite as large as the network hoped. Either way, it's clear this country still has a healthy appetite for White House-related drama.