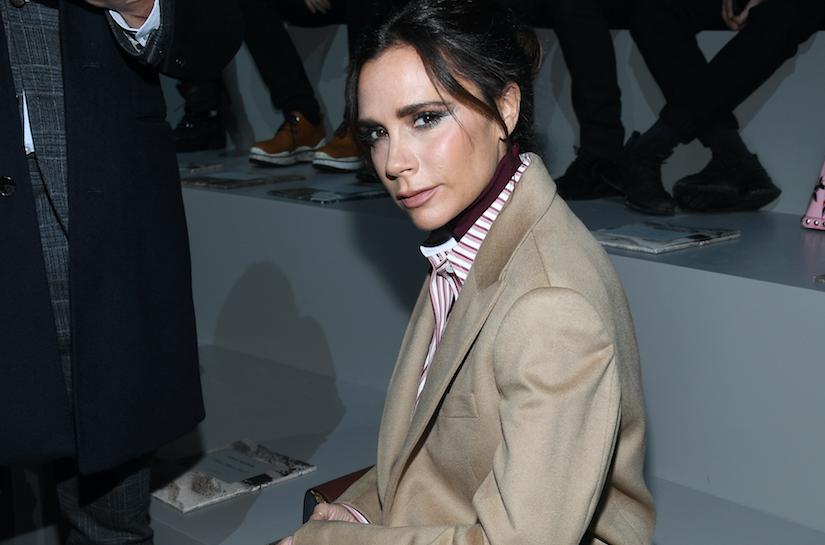 If you were betting on Victoria Beckham designing Meghan Markle's wedding dress, you might want to put your money elsewhere.
The former Spice Girl and current fashion designer fielded some hard-hitting questions about the upcoming nuptials yesterday, during a visit to The Late, Late Show With James Corden.
"How is designing Meghan's dress going? Is it going very well?" the show's host inquired. Beckham awkwardly laughed and joked, "Well, maybe you know something that I don't." She then claimed, "I'm not doing the dress, I'm not."
Later on in the interview with Corden, Beckham admitted that she was "sadly not" the chosen designer, so perhaps she's feeling a little snubbed by Markle's choice.
Beckham and Markle reportedly became friends after the future royal relocated to the U.K. According to Vanity Fair, Beckham offered up some words of sartorial wisdom to Markle, in addition to a bit of beauty advice—including a recommendation to her personal facialist, Sarah Chapman.
"Victoria's quite proud of the fact that she and Meghan have become chummy and seems to want people to know they are friends," a source told the publication.
So, who's still in the running to design the royal wedding dress?
Ralph & Russo is in the lead of Paddy Power's betting pool, per The Sun, followed by Alexander McQueen, Erdem, Stewart Parvin and Roland Mouret.
Elle is also gambling on a handful of designers, having recently speculated that Erdem could be the brand behind the matrimonial gown. The fine fashion line, which was founded by Canadian-born, London-based Erdem Moralioglu, has been quietly expanding their publicity team. In addition to moving their PR representation in-house, they also appointed a new public relations manager. The moves are seen as an effort to prevent leaks on the super secretive bridal design.
Ralph & Russo was seeking a new PR assistant as early as last week, per a posting on LinkedIn, so naturally, Elle has also placed them in the running for Markle and Prince Harry's big day. Design duo Tamara Ralph and Michael Russo were responsible for creating the intricately embroidered tulle dress that Markle wore in her engagement photos, so it's clear the bride already has an emotional link to the brand.
Since Beckham is clearly not designing the frock, will she still be invited to Markle's wedding? It seems likely. When Corden asked if she would be in attendance, the English designer got very flustered.
"Do you know, I…I…I don't know," she stuttered. Simply a moment away from blushing up a storm, it was obvious that Beckham was taken aback by the question. According to Corden, that response was "the biggest yes" he's ever heard.
Now that Beckham is essentially a confirmed attendee, we're just waiting to hear about the rest of the Spice Girls' invitations. Perhaps those rumors about Posh, Scary, Sporty, Ginger and Baby Spice using Markle and Prince Harry's wedding as a venue for their reunion are even more substantiated than we thought.