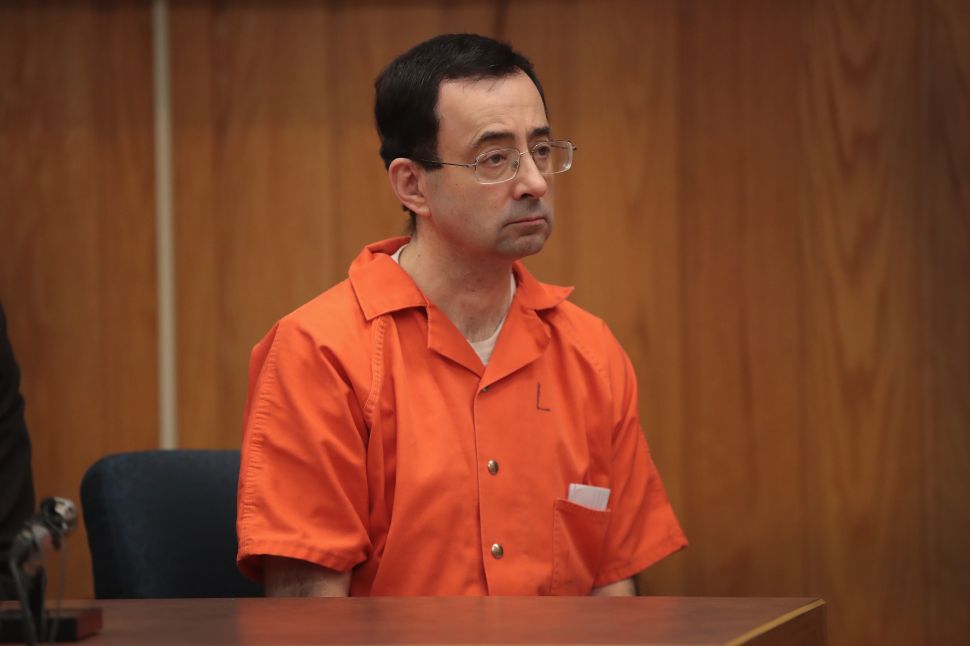 Eagle-eyed Wall Street Journal readers may have noticed a small change to the company's style this weekend that could have a big impact.
Honorifics are one of the staples of legacy media companies, and the Journal is among the papers that uses them most frequently. Stories in the News Corp flagship are littered with abbreviations like "Mr.," "Ms." and "Dr."
But in an article this weekend about Olympic gymnast McKayla Maroney and sex abuse in the gymnastics world, the paper did not use the doctoral honorific when referring to team physician Larry Nassar—it simply referred to him as "Nassar."
Given that more than 200 women and girls have accused Nassar of sexually abusing them, it may seem like a no-brainer to strip him of an elevated title.
But it's actually very rare to deny an honorific to a living person, and the Journal's decision is just one more indication of the severity of Nassar's crimes.
Journal reporter Rebecca O'Brien explained on Twitter that medical doctors typically remain "Dr." on second reference unless their degree has been revoked. That hasn't happened for Nassar yet, though his medical license was revoked last year.
In light of this, the Journal wavered between referring to Nassar as "Dr." and "Mr." The paper's standards department said in February that the doctoral title was "a reminder of the trusted position he once held, and abused."
Furthermore, losing an honorific is a dishonor typically reserved for terrorists and mass murderers like Osama bin Laden, Timothy McVeigh and Charles Manson.
But the fact that Nassar was sentenced to 175 years in prison earlier this year made the Journal's decision easier in the end. And given that sports stories typically don't use honorifics anyway, scrubbing Nassar's "Dr." title wasn't a big loss.
"Our editors decided that Nassar's crimes had been sufficiently horrific… to merit dropping the 'Dr,'"O'Brien said. "It's a high bar of notoriety, but I think our coverage over the past year has shown that the change was merited."
It's not clear whether the Journal will retroactively remove "Dr." from all articles about Nassar. At the moment, the honorific is still showing up in old stories.
Observer has reached out to other newspapers like The New York Times to clarify their Nassar policies. We'll update this post if they respond.