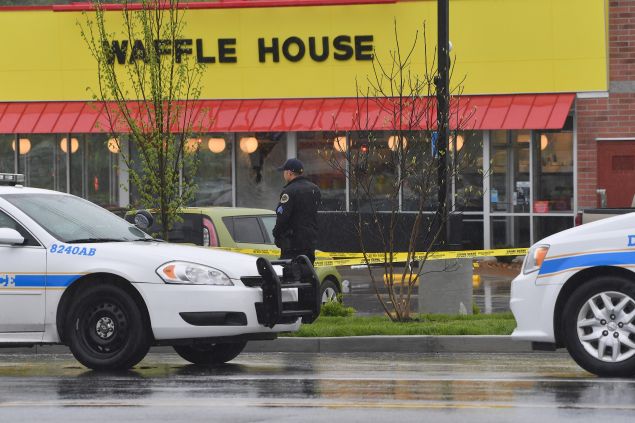 The life Travis Reinking lived before Sunday—when he is alleged to have walked into a Waffle House in Nashville, Tennessee, wearing nothing but a green coat and carrying (what else?) an AR-15 military-style rifle, with which he shot six people, killing four—was a life of nonsense.
He believed Taylor Swift was stalking him. He thought his family hacked his cell phone. He flashed his genitals at police. He attempted to walk into the White House to demand a meeting with President Donald Trump.
This last transgression led to a brief revocation of his Second Amendment privileges. One of the minority of Americans who own most of the country's 250-300 million firearms, Reinking was made to surrender his weapons—including the AR-15 used in the massacre—to his father, who subsequently gave them back to his son.
Sifting through these scattered data points in order to determine a motive—to figure out why someone would murder perfect strangers, entering someone's life only to end it—is the task now facing Nashville police. It sounds like a fool's errand. Even if a manifesto appears or is produced by the suspect in custody, how much stock can be put in the workings of an addled mind? (For their part, police admitted Tuesday that finding a reason why is proving elusive.) It might be better to consider the context in which this act was done.
He was a "sick boy," in the words of his grandmother, losing his grip on a world immersed in gun culture—where both hate crimes and mass shootings have been on a steady uptick since the election of Donald Trump.
Here are some more data points. Reinking is white. All six of his victims were people of color—five of them black.
It is too early to suggest that hateful ideology appeared through the mist of his madness and motivated Travis Reinking, a white man, to select a target frequented by black people and inflict harm and death solely on people of color. Such a declaration would require evidence, as well as some sign that "sense," however violent or twisted, had sway over Travis Reinking's addled life.
However, it's past time to acknowledge this ideology's presence, its corrosive effect, and its logical outcome—violence—and ask if there is a connection.
Very little of the immediate coverage of Sunday's shooting is giving this notion voice. But here are some more data points. As the Washington Post reported, Antioch, Tennessee is in a region "with a history of racial tensions." Last September, there was another mass shooting there, this one also with racial overtones. A month after that, there was a white supremacist rally.
Most of Reinking's neighbors at his apartment complex were black. According to an unconfirmed tip received by the writer and activist Shaun King, a week before the massacre, Reinking walked into the supermarket across the street from the Waffle House. He shouted racial epithets, the tipster claims, including something to the effect that black people don't belong in America.
"It just kind of crossed my mind, like: 'Wow, did he just target the black people?'" as one of Reinking's neighbors told the Post. In this context, this is a reasonable hypothesis. It cannot be dismissed out of hand.
Now remember what makes a mass shooter. There isn't a unified profile, but there are some commonalities. Nearly all mass shooters are men. Many of them are white. They are motivated by envy, revenge, or to assuage a feeling of powerlessness, like the fear voiced in the 14 words.
Finally, consider these facts. Hate crimes have been on the rise since Trump's election, which was widely celebrated by white supremacists, who encouraged racial violence that ended in murder in Charlottesville, Tennessee. The talking points spouted by the white men rallying by torchlight were parroted by the murderer of 17 people at a Parkland, Florida high school.
Trump himself is cited in one-fifth of hate crimes perpetrated against South Asians, among whom Muslims figure prominently.
Yes: Aside from ISIS, Trump has not called for Muslims to be slaughtered. But by denying war refugees safe harbor in the U.S. and indiscriminately slapping a travel ban on Muslims, on the grounds that they pose a threat, he is attacking their personhood. They are dehumanized.
And what does one do with a non-person who is a threat, in a country like ours, a militarized country, a country teeming with weapons?
Remember the scene at another Waffle House, on the very same day. Police intervened in a consumer complaint over a plastic spoon and arrested the complainant, a black woman. Ponder this, and it doesn't take long to answer the question, or identify what many of us—and more so under Trump—consider the "threat."
Reinking's behavior prior to Sunday was not that of a rational being with a moral calculus dictating his violent actions. To suggest so would be another fool's errand. To dismiss out of hand his surroundings, and declare they had no effect, would be even more foolish.