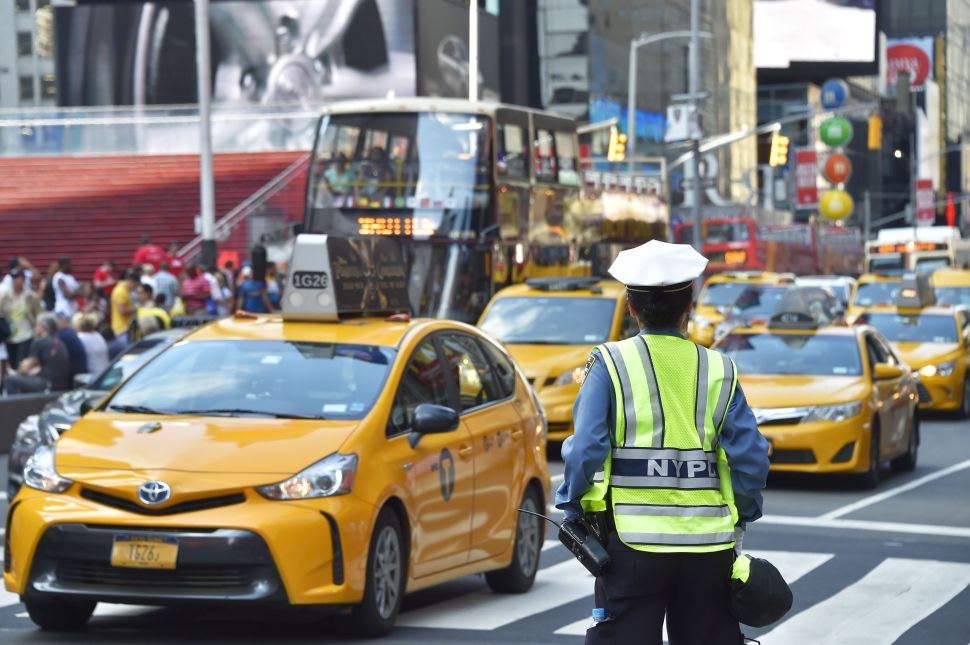 Yellow cab drivers and everyday New Yorkers are up in arms over a new state fee that will impose a surcharge on yellow taxis and for-hire vehicles like Uber and Lyft to fight congestion and fund subway repairs, arguing that it is an additional financial burden and that it will hurt the yellow taxi industry.
On Friday night, Gov. Andrew Cuomo announced a fiscal year 2019 budget that includes a $2.75 surcharge (the cost of a subway ride) on for-hire vehicles, $2.50 for yellow cabs and 75 cents for pooled trips below 96th Street in Manhattan..
The fee, which will go into effect starting January 2019, will not only affect drivers but also anyone who gets a yellow taxi or a for-hire vehicle in that district. Riders will be forced to pay the surcharge for each trip they take.
The funding will go toward a Metropolitan Transportation Authority (MTA) "lock box" and support MTA Chairman Joe Lhota's subway action plan, transit improvements in the outer boroughs and a New York City general transportation account.
When he announced the budget, Cuomo said the fees would generate $415 million in annual funding for the MTA, as well as a bus plan.
But yellow taxi drivers say the fee will hurt them.
Mohammed Ali, a Bronx resident and yellow cab driver, noted that Uber, Lyft and taxicab apps like Via have already introduced competition and that the fee will make it worse.
While Uber charges a 25-cent service fee (a commission) for every ride, yellow taxi drivers have additional financial burdens, Ali explained. The price of a taxi medallion is now around $200,000.
Whatever law Albany passes is "pushed down the throat of yellow cab drivers," he said, adding that four yellow taxi drivers have committed suicide in the last few months.
"When they pass the law, they don't care about the drivers," he continued. "How many yellow cab drivers have committed suicide within these two months? More than three people have committed suicide because they couldn't make ends meet… the business is harder now for you to get passengers [than] it used to be."
Khalilullah Waziri, 54, another yellow cab driver, told Observer that the fee is "very ridiculous." He noted yellow cab drivers have numerous expenses, including supporting their families, paying for food, their children's education, mortgage and insurance.
"It's very bad," Waziri said. "Before Uber, it was all business for yellow cabs. Every yellow cab [driver] has family."
Bourema Niambele, a Bronx resident and limousine black car driver who works for Via, told Observer that elected officials did not discuss the fee with taxi drivers or the customers who will also be impacted by it.
He is concerned customers will blame drivers for the fee and anticipates that yellow taxi drivers will be hurt more "greatly in the beginning" than other drivers.
"People don't see Albany, they only see the person who takes them," Niambele said.
He reiterated the need for an advisory board composed of Taxi and Limousine Commission (TLC) drivers and companies such as Via, Lyft and Uber, as well as yellow taxi drivers who can meet with the TLC and elected officials.
"They're supposed to have conversations with the taxi drivers and have a conversation with the people who are affected by this decision," Niambele continued.
Michael Woloz, a spokesman for Metropolitan Taxicab Board of Trade, the city's largest yellow taxi trade association, told Observer the fees represent "a massive failure of leadership and a moral failure."
"These fees are a cruel and devastating blow to immigrant taxi owners and drivers, many of whom are already financially ruined and have resorted to desperate measures, including four recent suicides that represent the enormity of their plight over the last few years as Uber and its competitors have grown exponentially without limit," Woloz said in a statement. "Rather than assist these drivers—who face unprecedented need—Albany has thrown salt on their wounds."
He noted taxis have already given more than $500 million to the MTA through a 50-cent surcharge that has been in place since 2009, while Uber has "paid nothing directly to the MTA."
He also said Uber and other ride-sharing companies have grown 250 percent in the last few years and are now "widely blamed for the increase in congestion in Manhattan"—congestion he said will worsen given that "thousands" of new Ubers, Lyfts and others are licensed every month.
Taxis, Woloz said, have been carefully limited—through environmental regulation—to roughly 13,500 vehicles, partially to reduce congestion. And he added that taxis perform nearly six times as many fares a day as Ubers.
"Uber will absorb these fees, just as they absorb the differential between the actual cost of a trip and the cost to their customers," he continued. "The result will be a massive blow to taxi drivers who cannot afford to simply absorb fees. Taxi passengers, who benefit from reliable and affordable metered rates and choose a much more efficient mode of travel than Uber, will also lose."
Regular New Yorkers are not pleased either.
"It's definitely going to affect me because my pennies are counted every day for rent, so an extra fee is just totally uncalled for right now," Staten Island resident Marisol Hernandez, 42, a paralegal, told Observer. "I know we have to fight congestion, but Jesus, they're already getting monies from our ride."
Jared Blake, 28, who lives in the Bushwick section of Brooklyn, called the fee "terrible."
"I think it's really bad," Blake said. "I think it's really, really bad."
Still, there were some yellow cab drivers and everyday New Yorkers who were supportive.
Pedro Luces, 65, a yellow cab driver, told Observer that "somebody has to do something."
"I agree with that because the city gets too much congestion," Luces said. "A lot of people don't know what to do."
And he noted that New Yorkers often complain about the traffic and that less traffic will allow him to "work much better."
"[For] New Yorkers, [it] doesn't matter how much it's gonna cost," Luces continued. "The thing is, when they wanna go fast to the place, they agree [to] take the other road. It's gonna be like the same, because when you come from [the] 70s or 80s to downtown, I have to take the best way, like [the] FDR or some flexible avenue, to come down."
Felice Wechsler, 56, who lives in north Brooklyn, was also enthusiastic.
"I think there's way too many cars in the city," Wechsler said. "I personally use public transportation virtually all the time, so it's not gonna affect me personally that much, but as an overall way of developing revenue that could be used for infrastructure and for cutting down on the massive congestion caused by all these vehicles, I think it's a good idea and I think it's worked in other cities."
When asked about New Yorkers and yellow cab drivers' frustrations, she said she still supports the fee because there are "too many cars" in the city and said people need to be encouraged to use public transportation whenever possible. But she contended the fees should be higher for services like Uber and Lyft.
"I feel bad for hardworking taxi drivers who barely make a living and try to support their families in this way, but maybe they should be organizing to limit Uber and Lyft's access to their passenger base," Wechsler continued.
For his part, Cuomo said that congestion pricing is a "concept whose future has come" and that the fee for yellow taxis takes into account the financial issues they are encountering.
"Yellow cabs have a harder financial burden," he said on Friday. "These are owners, operators that have the medallion. The medallion has now dropped in value. So there's a somewhat reduced price for yellow cabs."
On Monday night, Cuomo said he "pushed as hard as I could push" and called it a "major, major achievement."
The governor's office did not respond to a request for comment.
De Blasio recently said he is thinking about reigniting a proposal that would cap the number of for-hire vehicles in the city—one that failed during his first term. The governor backed that idea on Monday. 
The mayor also agreed to finance the city's half of an $836 million short-term plan to fix the city's subway on the grounds that the state budget meets the mayor's demands, but the governor insists that the state "finally got the city" to pay.
On Monday night, de Blasio told NY1's Josh Robin that the fee on for-hire vehicles is "progress" but is not "enough," renewing calls for his millionaires tax on wealthy New Yorkers. In addition, he said he is "serious" about capping the number of for-hire vehicles.
"We've got a massive congestion problem, and we've got a problem afflicting the yellow cabs and the folks who have… worked their whole lives to have the value of that medallion, to see it plummet, is really tough on people and their families," he said.
Alix Anfang, a spokeswoman for Uber, said the company supports the measure but said congestion pricing should be implemented for all vehicles—a plan that some advocates have also called for.
"Uber supports the agreement between the governor and the legislature to target a per-trip fee on Manhattan riders where there is convenient access to public transit and to adopt a first-in-the-nation tax discount on shared trips," Anfang said in a statement. "We will continue to advocate for the adoption of a comprehensive congestion pricing plan that is applied to all vehicles because it is the best way to fully fund mass transit and reduce traffic in the central business district."
Lyft took a similar position.
"We look forward to continuing to work with the governor and the legislature on implementing the comprehensive recommendations as outlined in the FixNYC plan to ensure New Yorkers have access to a spectrum of affordable, reliable and convenient transportation options," Campbell Matthews, a Lyft spokesman, said in a statement.