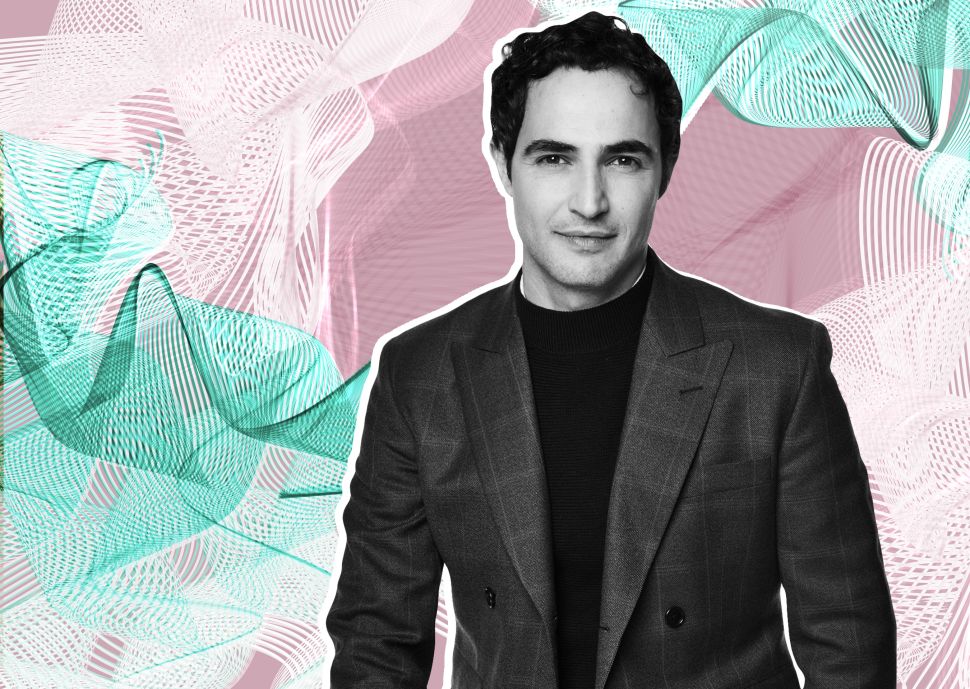 Zac Posen has been self-studying artificial neural networks lately.
"I'm fascinated with this," he told Observer.
A fashion week wunderkind who made his meteoric rise at the age of 20, Posen is better known for designing handcrafted, red carpet-ready dresses than researching how algorithms imitate the human thinking process.
Nevertheless, he is deeply curious and optimistic about the potential impact of cutting-edge technology on the fashion industry. Posen is an avid follower of leading tech shows from Japan, and has even worked with engineers and the creative staff of Microsoft to develop software that could virtually synthesize his hands-on draping process.
"Artificial intelligence and bots are part of the evolutional story of life on earth," he said. "AI is going to touch every part of our life—communication, medical fields and even trading commodities. They are living, functioning minds."
"From a fashion sense, I think the curation of an algorithm is a really fascinating and interesting game… [for algorithms] to be able to compile personal data to tell people what they like," he added.
AI-powered fashion is a concept both tech companies and traditional fashion retailers are aggressively experimenting with.
Stitch Fix, a seven-year-old startup, attracted millions of users to its fashion subscription service that can accurately predict what clothing items a user will like, thanks to a machine learning algorithm, based on "keep-and-return" records on Stitch Fix and other social media activities.
Amazon recently introduced a new device called Echo Look. Between any two outfit photos, the device (through it's Style Check feature) can judge which one is more "stylish," based on standards devised from a trove of fashion photos and fashion styles on the internet. The e-commerce giant is also exploring a fashion line entirely designed by robots.
Even more traditional fashion brands are jumping onto the AI bandwagon.
Earlier this year, Tommy Hilfiger partnered with IBM and the Fashion Institute of Technology (FIT) in New York on a project that utilizes IBM's 3D design tool to speed up the retailer's trend forecasting, design and supply chain overall.
Consumers seem to be welcoming these advancements with open arms. A January study by IBM showed that 52 percent of Generation Z women would like to see tools that allow them to customize products for themselves.
While all these initiatives are great strides toward digitalized fashion, most of them take place in the retail space and feel somewhat distant from the haute couture world where Posen lives.
"I find it hard to imagine that AI algorithms can produce anything avant-garde or creative on purpose," Natalie Nudell, a fashion historian who teaches at the FIT, recently told Observer.
Few people in fashion value creativity more than Posen.
As Neiman Marcus' fashion director Ken Downing said in 2017 documentary House of Z, "[Posen] wanted to be a creature, as opposed to just a fashion designer."
In that sense, Posen is acutely aware of the possible weakness of robots overtaking a designer's job.
"AI will not be able to synthesize the irrational surprises that only humans have. On a daily basis, a human brain processes so much experiences and influences that can lead to changes in taste and choices immediately and irrationally. That's something I don't believe AI or algorithms can be as quick or reactive yet," he explained.
"For example, when I'm creating draping, there are mistakes and unexpected things that happen. A fan in my office can be blowing. It can blow a fabric in a certain direction that captures the moment that I want to capture. That kind of situational, spontaneous moments of beauty is disappearing when things are formulated and automated," Posen continued.
In House of Z, supermodel Crystal Renn said, if she could only have one word to describe Posen, it would be "the builder."
"He takes this fabric, which is ultimately a dead piece of fabric, and he builds it and manipulates it into this piece that, even standing alone, is alive," she said.
That's exactly what makes Posen's work irreplaceable by robots.
"Technology can't systemize something that's emotional. And fashion is emotional. After all, AI is not wearing the clothes," he said.
Another problem Posen sees in AI-assisted fashion is the boundary it sets for trend forecasting, an area where many retailers and scientists believe AI will make a real difference.
"I respect trend forecasting. That's important if you are running a business. But I find it kind of irrelevant for the creative mind," Posen said. "You can go on Pinterest and study a topic. But, at a certain point, the image stream you see is going to repeat itself.
"My point is, basically any imagery that wasn't inputted into a computer before the internet existed becomes irrelevant," he added. "That unfortunately kills creativity."
That said, in the vast landscape of fashion, there will likely be a space dominated by androids, sooner or later.
"The design process will become virtual. You will have brands that are designed by AI in the future," Posen said. "As scary as it is, it's exciting to be living in a time when we can see how tech becomes part of our evolutionary journey."