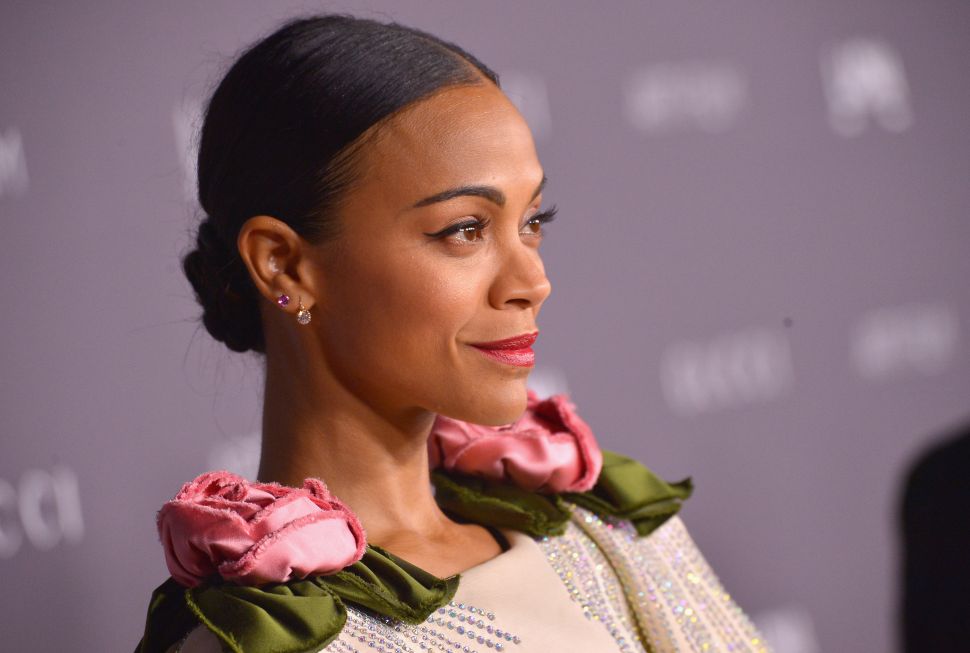 Anyone acting all high and mighty when it comes to distinguishing between popcorn blockbusters and Academy Awards contenders should keep their opinions to themselves, at least around Guardians of the Galaxy star Zoe Saldana.
The Marvel lead recently spoke with fashion site Net-A-Porter and revealed that some in the industry have not taken her seriously as an actress due to her work in major tentpole franchises. But Saldana argues that providing role models to children is equally as important as turning in critically lauded prestige pictures.
"Whenever you see pictures of people in this industry who donate their time to children in need, it's these actors that live in the world that you feel is selling out," she said. Saldana has appeared in the Star Trek and Pirates of the Caribbean franchises along with her role in Marvel's Guardians series.
"It's these actors that understand the role that they play inspires a five-year-old who has one dying wish to meet a superhero. That actor takes time out of their life and sits down with that five-year-old and says, 'I see you, I hear you, and you matter,'" Saldana said.
She added: "Those elitists should be a little more cognizant about what playing a superhero means to a young child. Because you're not just dissing me, you're dissing what that child considers important in their world. I feel so proud to be living in space, to be playing green and blue aliens, to inspire, primarily, the younger generations. I remember what it was like to be young and to feel completely excluded out of the mainstream conversation of life because I was just little and unimportant and 'other.'"
The actress explained the sense of empowerment she felt when she saw Sigourney Weaver in Alien and Linda Hamilton in the Terminator franchise as her initial draw into the sci-fi genre and how those characters represented a leap forward culturally.
"I work with filmmakers who gravitated to this genre because they were exiles in their own right, excluded from a mainstream conversation," she said. "They found their world and they were able to imagine the unimaginable. Everything about how they create, and how they invite characters to join them, is absolutely inclusive."
Beyond the progressive sentiment, Hollywood insiders really have no business looking down on blockbusters.
No, I mean they really have no business, as the prestige adult-skewing drama has been squeezed out of existence. Star-vehicles that tackle tough material are no longer the money-makers they used to be in the last century. Box office totals continue to slip, and the only thing keeping Hollywood afloat are these massive tentpoles.
So next time someone wants to knock the latest superhero movie, just remember that Best Picture winner The Shape of Water may not have been possible for Fox Searchlight without some of the money made from all of those X-Men movies. Just a thought.
Saldana will next appear in Avengers: Infinity War.