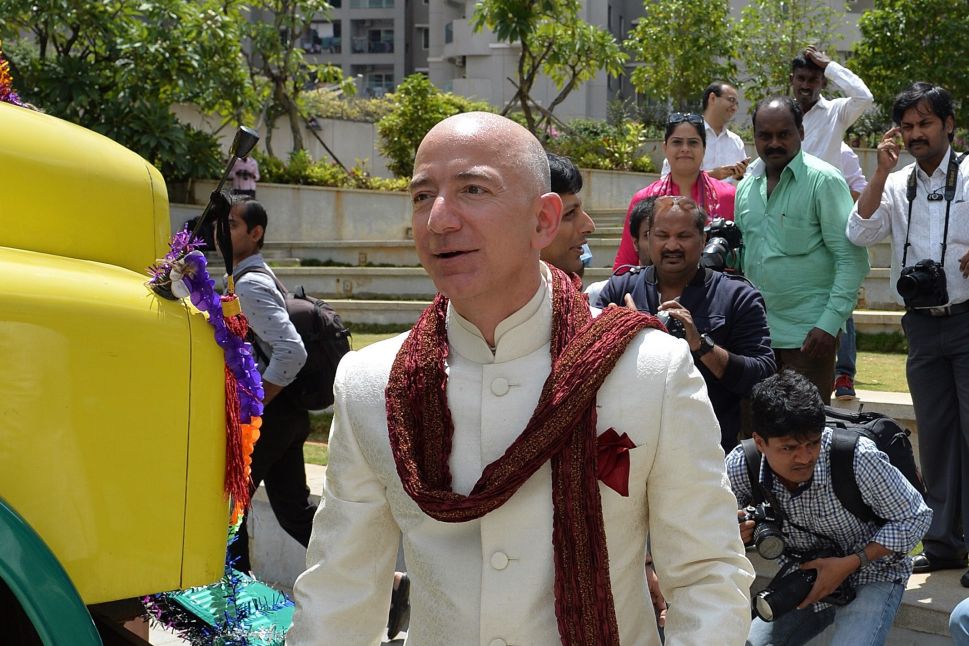 Both Walmart and Amazon are hungry for a piece of India.
On Wednesday, Amazon officially put in a bid to purchase 60 percent of India's e-commerce giant Flipkart, CNBC's India affiliate CNBC TV18 reported. The offer came as Walmart was reportedly in the final stages of acquiring a third of Flipkart for up to $7 billion.
Specifics of Amazon's bid weren't disclosed, but CNBC estimated that it was on par with Walmart's offer. In addition, Amazon was offering Flipkart a $2 billion breakup fee in case the Walmart deal fell apart. As part of the deal, Amazon was also seeking a non-compete agreement from Flipkart's founders.
But, as it turned out, Jeff Bezos had hesitated for too long.
Bloomberg reported Friday morning that Flipkart's board has reached an agreement with a Walmart-led group to sell 75 percent of the company for approximately $15 billion, citing people familiar with the deal.
Japan's investment powerhouse SoftBank, which owns about 20 percent of Flipkart, will sell all  of its shares to Walmart. Google parent company Alphabet will likely join Walmart in the acquisition, although final terms might still change, sources said.
American retail giants are in a cutthroat race to win a piece of the fast-growing merging markets. However, as such attempts have grown increasingly unattainable in China, where homegrown companies like Alibaba and Jingdong dominate the country's e-commerce scene and government is more protective of local ventures than ever, India has become a lucrative target, thanks to its booming middle class population.
"In the developed world, the number of people with 'middle class' buying power has remained relatively stagnant and, in some cases, has even declined. However, in many emerging economies, the opposite is true. By 2025, the middle class is expected to have increased by 153 percent around the world, with the greatest increases coming from countries in the Asia-Pacific region," said Byron Matthews, CEO of sales consulting firm Miller Heiman Group.
Between 2004 and 2012, India's middle class (defined as persons who spend anywhere between $2 and $10 per capita per day) more than doubled in size to 600 million people, about half of its population, according to a 2016 study.
Jeff Bezos had said a while ago that India is his largest target outside the U.S., but he didn't make many clear moves in the retail sector until the last-minute Flipkart offer. His most notable investment in India so far is a $5.5 billion commitment earlier this year to a loan company run by a trusted friend of his.
Per Bloomberg, Flipkart's board ultimately decided that a deal with Walmart will likely face less antitrust regulatory hurdles because Amazon is currently the second biggest e-commerce company in India behind Flipkart and its primary competitor.