As so many have done before him, Antonio Banderas is getting ready to pack it up in New York and go to Los Angeles full time. He must not be planning on frequent, lengthy stays in the city, as he's listing his longtime co-op at 50 Central Park West for sale.
The established actor, who has one daughter with ex-wife Melanie Griffith, isn't just going to California in search of roles. "He is moving out west to be close to his family," Corcoran broker Bernice Leventhal, who shares the $7.95 million listing with Sarah Thompson, told Observer.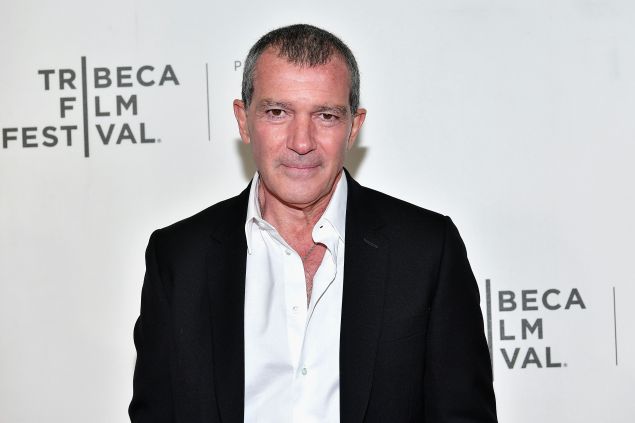 It can't be easy for him to say farewell to the four-bedroom, four-bathroom abode; he's owned it for 13 years. Banderas originally purchased the apartment at the Prasada with then-wife Griffith, for just under $4 million in 2005. Less than a year after finalizing their divorce in late 2015, Banderas paid Griffith $2.28 million for sole ownership of the residence.
"It's an elegant home," Leventhal opined of the space, which has 11-foot ceilings and 50 feet of picture windows throughout. "This is classic, gorgeous New York." Banderas renovated the apartment at some point; it's not clear exactly when.
He's definitely made the place his own, starting in the entry—the ceiling is painted a fiery orange, with a dangling modern light fixture.
"The dining room is my favorite room in the house," Leventhal noted. "It's a sultry, sexy room, and you're looking directly at the park." Indeed, the walls are painted with black lacquer, as are the beamed ceilings. A decorative fireplace sits at the head of the room, while a bay window with a patterned bench seat shows off the cityscape.
"The direct Central Park view from the living and dining room is unparalleled—it's gorgeous," Leventhal said.
There's another decorative fireplace in the living room, as well as custom banquets and built-in window seating.  The windowed kitchen is finished with custom cabinets and stainless steel appliances, as well as a small dining area currently furnished with a round white table.
The bedrooms are removed from the rest of the home. "You have total privacy," Leventhal explained. "There's a long hallway that all the bedrooms are off of, so there is a really great separation from entertaining and living rooms to bedrooms."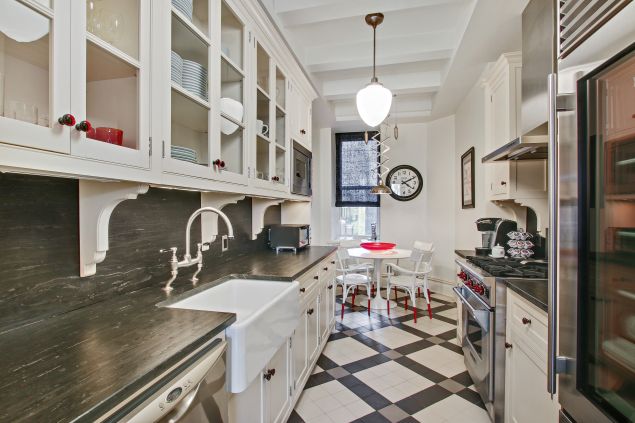 Leventhal and Thompson have already received calls about the apartment, and the actual building is a factor. "People wait for the Prasada," Leventhal said of the 12-story, Beaux Arts-style dwelling.
Hopefully, Banderas  finds a buyer a bit more easily than former Prasada resident Amy Irving. Irving listed her four-bedroom, six-bathroom co-op in the building for $11.5 million in September 2015; it went on and off the market at various prices for two years. It finally sold in September 2017, for a significantly discounted $7.54 million.