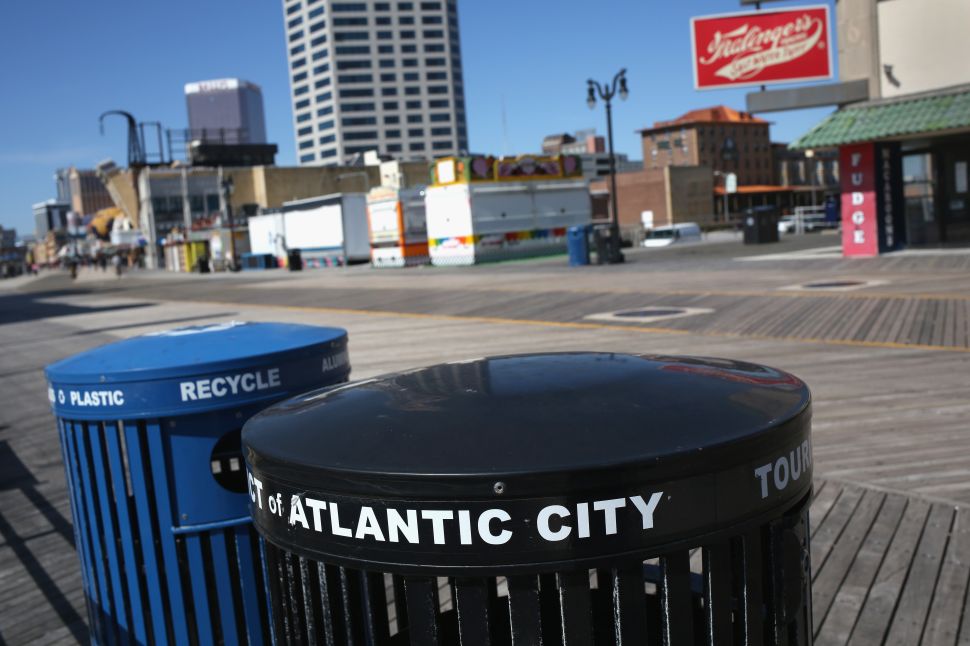 The U.S. Supreme Court's decision to strike down the federal ban on sports betting was seen by some this week as a game-changer for Atlantic City, the East Coast gambling mecca that lost five casinos in two years and once teetered on the edge of bankruptcy.
But whether legalized sports wagering can significantly improve the fortunes of New Jersey's notoriously broke city could largely depend on whether sports betters become loyal tourists, or if they follow the trend of other gamblers who now submit wagers online or at a casino closer to home, according to industry experts.
New Jersey lawmakers are expected to pass a sports betting bill on June 7, likely giving the Garden State a head start and a brief regional monopoly on the new industry. But other states won't be far behind, with Pennsylvania also planning to implement sports betting.
Industry experts interviewed by Observer agreed that Atlantic City will see an immediate boost in tourism and gambling from sports betting, but they disagreed on what happens once other states get in on the action.
Anthony Marino, a local casino analyst who has closely followed the industry for 40 years, predicted Atlantic City will immediately benefit from having sports betting at its casinos, but will ultimately lose some customers when the wagering is allowed elsewhere.
"Sports betting will initially attract new people to actually see the new Atlantic City because there are other things happening also," said Marino, referring to the upcoming openings of the Hard Rock and Ocean Resort casinos. "But I think by next year, you're going to find with increased competition for online gaming and for sports betting from Pennsylvania and New York as they ramp up, it's going to have the competitive effect that hurt brick and mortar casinos in Atlantic City. It's going to take away some of Atlantic City's market."
Former Sen. Ray Lesniak, who led the effort to legalize sports betting in New Jersey, disagrees. To Lesniak, the sports better "is a different breed" than the traditional gambler, who he said stays for less than 10 hours at a time during day trips to the city.
"The sports better will stay for long weekends, even weeks sometimes, depending on the sporting event," Lesniak said, citing the NCAA basketball tournament, NFL playoffs and World Cup soccer tournament as examples. "Atlantic City has the best venue for someone who wants to go and do more than just place a bet. They'll dine, they'll rent rooms, they'll go to shows, they'll shop. This is ideal for Atlantic City."
For decades, Atlantic City had an East Coast monopoly on casino gambling, with the industry worth $5.2 billion at its peak in 2006. That year, the first casinos in Pennsylvania and a racino in New York opened, and Atlantic City's gaming market steadily fell as competition increased in nearby states. The industry was worth $2.6 billion as of December 2017.
Four casinos closed in 2014 and another shuttered in 2016, though two are scheduled to reopen under new owners in June.
Daniel Wallach, a sports gaming expert, said there will be less nearby competition with sports betting in the short term. New York may still need to amend its constitution and go through a period of legislative deal-making before the state offers sports wagering, he said. In the meantime, Wallach said the sports betting market will be big enough for New Jersey and Pennsylvania.
"I'm not saying Atlantic City is going to return to the glory days of the 1940s, '50s and '60s," he said. "But it does enjoy its proximity to the ocean and its close reach to New York and Philadelphia and many of the major northeastern markets."
Marino, the local casino analyst, said sports betting won't bring a dramatic long-term benefit to the city, especially if a bulk of the wagers are made online. As online gaming has increased in recent years, he said, visit trips continue to decrease in Atlantic City.
He believes the real winners of legal sports betting will be New Jersey's major racetracks, which he said will not only get a new product but could also lay the groundwork to lobby lawmakers for another amenity: slot machines.
"It gives them a real foot back in the door to open up what I call casinos in Central and North Jersey," he said of the racetracks. "I think that will be the major, long-term unintended consequence of sports betting."
As Atlantic City's gambling market plummeted, so did the town's tax base, which dropped from $20 billion in 2010 to $6 billion in 2016. Under former Gov. Chris Christie, the state took over the city in 2016 as the local government racked up hundreds of millions of dollars in debt, mostly to cover costly casino tax appeals.
Now, Lt. Gov. Sheila Oliver is in charge of the city's affairs through her other role as commissioner of the Department of Community Affairs, which oversees the state takeover.
Sports betting, she said, will enhance Atlantic City. But for the city to succeed in the long term, she said it must break from its reputation as a vice town. She cast doubt on Mayor Frank Gilliam's idea of making a "marijuana zone" in the city if the state legalizes the drug.
"For Atlantic City in the long term to be a resort and family entertainment resort, it cannot build and define itself around gambling," Oliver said. "If we're trying to sustain an economy there and we're trying to sustain an entertainment venue, [a marijuana district] is going to be a turn off to some families."
She was optimistic about a new Stockton University campus that's scheduled to open this fall, something she said can turn the city into a college town.
"I love that Stockton is there," she said. "That's a game changer."