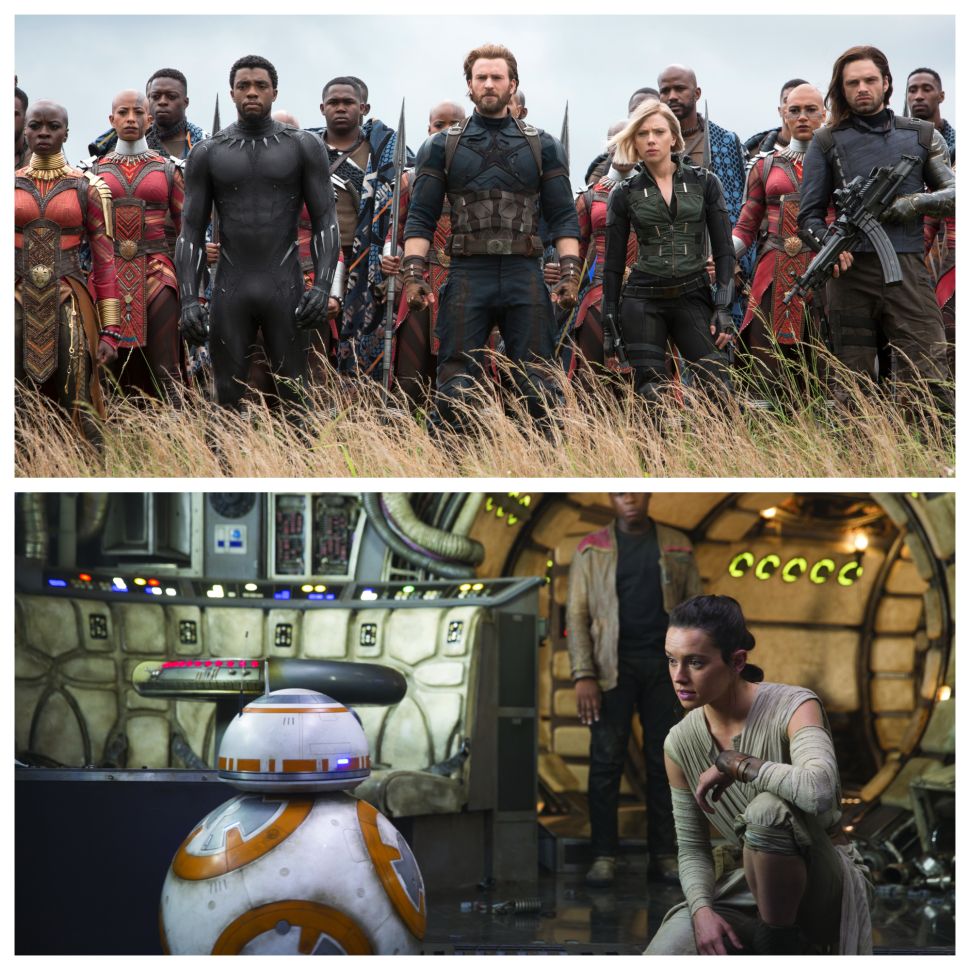 Star Wars is the most popular film franchise and the most iconic movie series of all time, but after Avengers: Infinity War's record-breaking opening weekend, we have to revisit the hierarchy.
Has Marvel officially established itself as the Star Wars of the millennial generation? Or, dare I say it, has the Marvel Cinematic Universe (MCU) managed to supplant Star Wars as the biggest and best film franchise of all time?
Let's break it down.
History
The Star Wars franchise rightly benefits from its long-standing cinematic history. The original film was released in 1977, and 41 years later, the series is still going strong with ambitious expansion plans in the works under Disney (which owns both Lucasfilm and Marvel and is just laughing at us as they sit on glorious thrones made out of bundles of box office money).
Today, nerdom has gone mainstream (I don't mean to brag, ladies, but Mark Hamill has liked a couple of my tweets) with sci-fi becoming the dominant genre in storytelling these days, but that wasn't always the case. Along with Steven Spielberg's output in the 1970s and '80s, Star Wars helpd to change the paradigm around "cool" and birth the popcorn blockbuster.
Fun space battles, heroes vs. villains, the lasting pull of the quasi-spirituality of The Force, the strength that comes from knowledge of self, love overcoming hate. These ideas proved to be influential in tentpole filmmaking in the ensuing decades and embedded themselves in the hearts and minds of audiences.
Conversely, the Marvel Cinematic Universe is practically an infant at just 10 years old, though the sheer volume of the series (19 films and counting) dwarfs the soon-to-be 10 entries in a galaxy far, far away.
While the MCU is the single-most consistently successful creation in entertainment history in terms of box office revenue and critical acclaim, we haven't yet been given the proper distance to formulate a consensus on the franchise's legacy. The prodigious output of the series also clouds our idea of the MCU's place in history.
How can we reflect on its latest blockbuster when we're already barreling toward the next chapter?
It's more difficult to appreciate something on a grand scale when you're still in the thick of its peak run. However, the history of Star Wars can also paint the originals as outdated to certain audiences.
Quality Consistency
There have been nine total Star Wars films, with Solo: A Star Wars Story arriving in theaters later this month to make it an even 10, and three of them have been terrible.
I know there are die-hard prequel defenders out there, like uber-fan and journalist Bryan Young, who craft incredibly well thought-out and articulate arguments that highlight the value of the prequels, but I am not a convert. Those movies straight up suck.
The disappointing prequels frayed the franchise's reverence in the eyes of many fans (I'm not bitter, you're bitter) and dulled a bit of the shine generated from the original trilogy. They also hurt a new generation of potential fans. Imagine the first new Star Wars release in your lifetime was The Phantom Menace; how would that theater-going experience shape your opinion of the series? (Full disclosure: I saw Phantom Menace 11 times in theaters, but I was also seven years old, so…)
While the sequel trilogy and Rogue One have been pretty great overall, so far, they don't live up to the highs of The Empire Strikes Back for fans who fell in love with the original trilogy first.
That's where Marvel has Star Wars beat as they continue to top themselves with each successive phase. The MCU is composed of 19 films, so far, and you can really only say that three of them (The Incredible Hulk, Iron Man 2 and Thor: The Dark World) are out and out bad. Most comic book readers never imagined that their favorite stories would be brought to life so wonderfully.
Marvel can be saturated with action movie fluff, but it can also serve up more mature themes at times (The Last Jedi did a good job of this as well). Characters in the MCU battle in worldview with ideas as much as they do with fists, which can be more appealing as an adult. The overall consistency of this universe in terms of quality is staggering.
You could argue that the MCU is the epitome of the popcorn blockbuster model that Star Wars first developed, a natural progression of the genre.
Impact
We've already touched on this a bit, but it's worthy of its own section.
Before Star Wars, the sci-fi genre was reserved for niche creations that were never fully appreciated in their time; 2001: A Space Odyssey was released in 1968 to mixed reviews and a financial faceplant. Before Star Wars, the sci-fi genre was never considered a viable moneymaker in Hollywood; the original became the highest-grossing film ever at the time. Before Star Wars, filmmakers never would have dreamed of pushing the boundaries of visual effects in cinema to such ground-breaking extents.
Without the world of Jedi and the Dark Side, we would have never been treated to Alien, Blade Runner, the Lord of the Rings trilogy or any other stunning piece of entertainment in that vein. Epic doesn't even begin to cover it.
George Lucas has become something of a punchline due to the prequels (I may or may not have contributed some jokes of my own), but we wouldn't be anywhere close to where we are today with CGI, special effects and scope/ambition if it weren't for him. Say what you want about his scriptwriting and direction, but the man is a visionary and a true pioneering genius in film.
As for Marvel, studio head Kevin Feige brought the most popular aspect of comic books—the ability to interweave other characters and stories into main event crossovers—to the big screen and officially birthed the shared cinematic universe, a concept every other major movie studio has been chasing ever since.
Ironically, he accomplished this by adopting television's long form serialized storytelling approach—one chapter that feeds into the next—while television has borrowed the movie-like limited series model in the Peak TV era.
Throw $300 million at the final product and you've got yourself a cinematic conglomerate that every other studio is trying to copy. It says something about Feige and Marvel's foresight and ability that Warner Bros.' DC Extended Universe, Universal's Dark Universe and Paramount's Transformers continuity have all attempted to erect similar models with far less success. They have redefined the Hollywood landscape.
So is Marvel the Star Wars of this generation? I guess it all depends on whether you consider yourself an Avenger or a Jedi. Personally, I'd rather use The Force than go hunting for Infinity Stones.