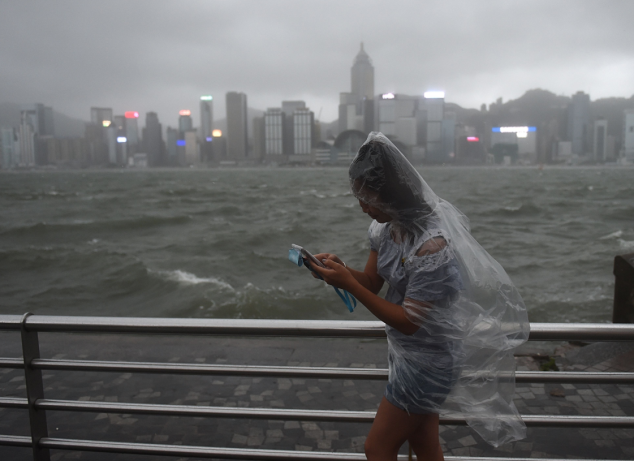 There's nothing worse than getting caught outside—sans umbrella—in the rain. Today's forecasts are so advanced that you shouldn't be blindsided by the weather, yet many of us often are. Just about all the information about the weather that you could ever want is available on your smartphone—if you know how to find it. While weather apps get a bad rap for inaccuracy, some weather apps are certainly better than others. Here's how to avoid those that are worse than just looking out the window.
Most Forecasts Are Accurate and Trustworthy
We like to joke about meteorologists being wrong half the time and still keeping their jobs, but they're out there trying to predict the future. How many of us get to say that? Weather forecasts have improved dramatically over the past few decades, and for the most part they're incredibly accurate, even though it may not feel like it. Today, a temperature forecast for four days in advance is about as accurate as a one-day temperature forecast was back in 1968.
But a forecast is only as good as the forecaster, and forecasting is almost as much of an art as it is a science. Models are good guidance, but relying solely on them is as bad as relying on Google to diagnose your weird and myriad symptoms. A good forecaster uses models, surface observations, radar and satellite data, past weather, their personal experience, and a little bit of intuition to come up with an accurate forecast.
Who Deserves Our Trust?
The most popular weather apps are published by the "big names" in weather, and they're popular for a reason. Apps from companies like The Weather Channel/Weather Underground, AccuWeather, and Weatherbug have hundreds of millions of users around the world. The Weather Channel's forecasts are used for the default "Weather" app on iOS and Android. Even though it's fun to complain about their silly storm names or dubious projects, these organizations' forecasts are solid and trustworthy.
While these big weather companies are putting out name-brand products, many of the other apps available are like food from the dollar store: You probably won't die because of them, but it's not healthy to consume them all the time.
Weather apps' accuracy is determined by the trustworthiness of the people behind them. A lot of the shady ones like "Weather App" and "Radar" don't inspire much confidence because they don't reveal the source of their forecasts. They could be pulling information from anywhere—NOAA, the weather models, climatology, tarot cards, who knows. Some apps even deceive you into thinking the data is coming from a better source than it really is.
But some novelty apps are powered by decent data. For example, two popular iOS and Android apps that feature the weather forecast with pictures of adorable puppies and kittens get their data from Weather Underground—the same forecasts issued by The Weather Channel.
Apps usually mention the source of their data in their "about" section, so it's up to the user to verify that the app is using quality-controlled forecasts.
Pay Attention to the Details
If we can't blame all the misinformation on nameless, shady apps, why do so many people still feel like they're getting inaccurate forecasts?
It comes down to the fine details.
Understanding complicated weather events is much more difficult than just pointing to a few data points on an app. For example, just looking at the percent chance of rain doesn't tell you about the risk for damaging winds or large hail, and a 30 percent chance of thunderstorms could be part of a severe weather outbreak. Further information is also important ahead of snowstorms since the line between rain and snow could be a few neighborhoods wide.
Without looking at details, all this important information would go unnoticed.
Apps like The Weather Channel and AccuWeather provide more information than other apps that only provide a few numbers. When in doubt, jump over to a trusted weather website. You can even make your local National Weather Service forecast your browser's home screen for easy access.
What Are Apps Good For?
Almost all weather apps can tell you what's going on right now. It's hard to get that information wrong. Weather radar is also a safe bet, though over-smoothing and simplified color tables makes it hard to seriously track events like severe thunderstorms. Most weather apps will send out push notifications for severe weather alerts, and you should only trust reliable apps for life-saving weather warnings.
Meteorology has advanced by leaps and bounds over the past couple of decades, and our ability to predict the future is better now than at any point in human history. It's all a matter of finding good information and filtering out the noise.