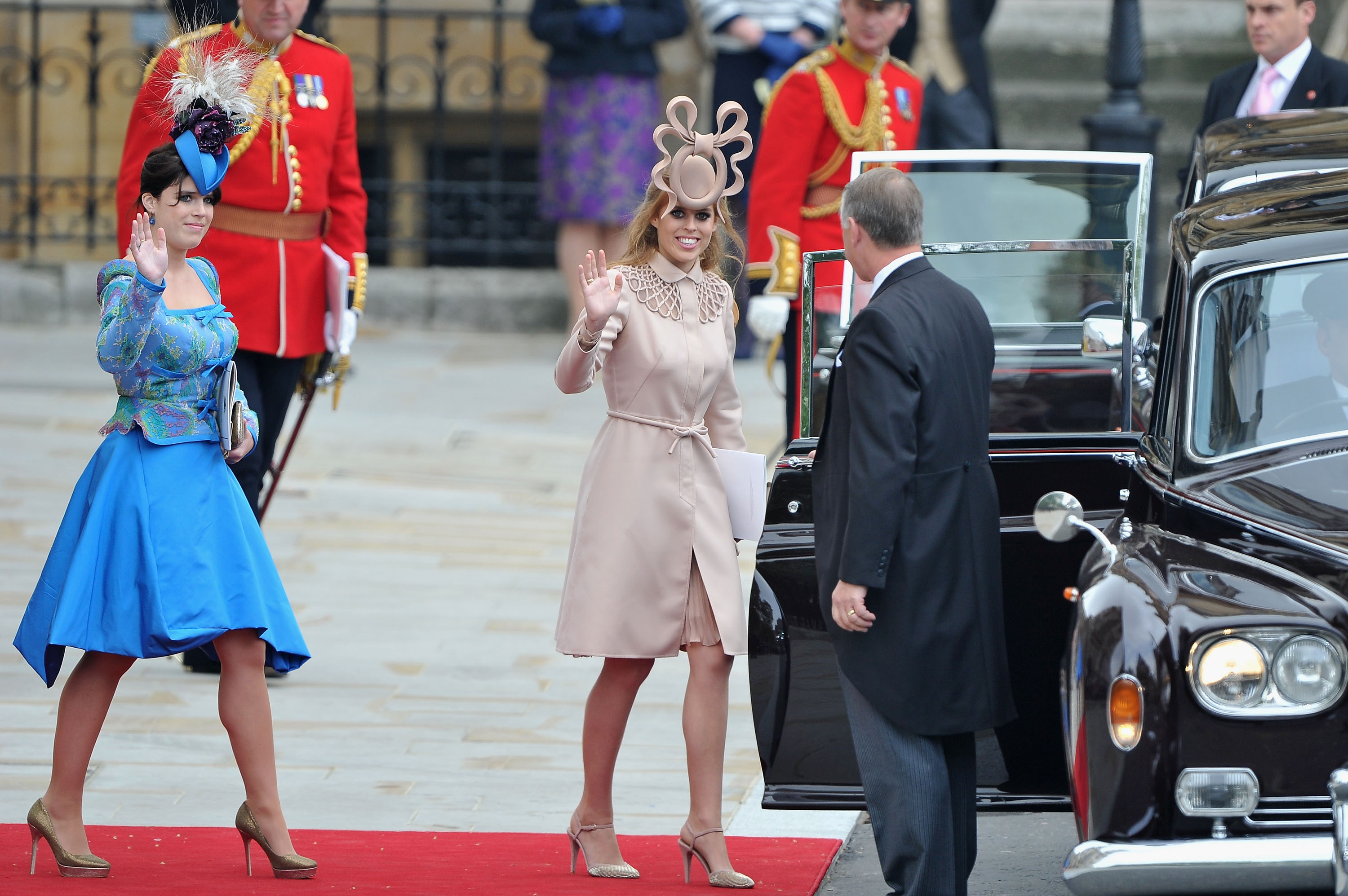 If you to creep on the inner-workings of the royal wedding, the best place to start is by following a slew of hot, young royals on Instagram.
Of course there will be official wedding photographs, courtesy of the Kensington Palace account, who wouldn't rather see the behind-the-scenes footage? Titled guests enjoying Markle's Sparkle and Prince William dad-dancing? Where do we get this?
It's rumored Queen Elizabeth has a top-secret Facebook page, but it's highly unlikely you'll receive a friend request. Instead, consider following the below royal accounts. If the last royal wedding guest list was any indication, this is will likely be at Windsor Castle.
Princess Eugenie
Princess Eugenie's brand new Instagram (she currently has a little under 50k followers) boasts blurry photos of her with her sister, Princess Beatrice, and their mother, Sarah, Duchess of York (better known as Fergie). Although Fergie did not make the list for the last royal wedding, this time she'll be there, per Prince Harry's request. Both princesses know better than to post a photo at the reception, but you'll want to keep up with them to prepare for Princess Eugenie's wedding at Windsor Castle in October. That way, you'll be sure to see her fascinator(s).
Arthur Chatto
https://www.instagram.com/p/BfteSAYA8rB/?hl=en&taken-by=artchatto
Noted thirst trapper Arthur Chatto is Queen Elizabeth's grandnephew, making him Prince Harry's second cousin, so he'll definitely be there in all his muscle-bound glory. He has a distinctly regal pedigree. He graduated from Eton (a royal tradition, as he is Princess Margaret's grandson) and acted as a page boy to the Queen during the British Empire service in 2012 when he carried her train (unfortunately, he's a bit too old to be a page boy these days). Hopefully, the 19-year-old will snap a few shirtless selfies while he's at the palace, as it is his favorite endeavor.
Sam Chatto
Arthur's older, hipster brother Sam will more than likely be at the royal wedding since he attended Prince William and Kate Middleton's nuptials with the rest of his family. He notoriously appeared at the royal Christmas festivities at Sandringham with rebellious, shoulder-length hair last year, but since then he's chopped it off. If Sam takes time off from Edinburgh University to attend, it's possible he'll bring his free-spirited, hippie girlfriend, Sophie Pipe, who's certain to share a few photos.
Chelsy Davy
Chelsy Davy isn't technically a royal, but she did date Prince Harry for seven years, so she's practically part of the family. Her father, Charles Davy, is a millionaire Zimbabwean safari operator and her mother is a former Miss Rhodesia. We can count on Harry's ex to share a snap with her 13,000 followers—and maybe include her new TV producer beau James Marshall, as Markle reportedly introduced them.
Lady Amelia Windsor
Prince Harry's second cousin, Lady Amelia Windsor, was deemed "the most beautiful member of the royal family." The aspiring model is always front row at fashion weeks, and documents everything on social media, from pups to yoga poses—so standby for at least a peek at her outfit. She's also a wellness aficionado, just like Prince Harry, so perhaps they'll get in one last workout together.
Lady Kitty Spencer
Lady Kitty Spencer and her sisters, twins Lady Amelia and Lady Eliza, are all controversial figures. Dubbed England's answer to the Kardashians, Princess Diana's nieces have been British tabloid fixtures for years. Lady Amelia was in the news in 2011 when she faced assault charges after a fight at McDonald's. Because of her arrest, she almost didn't make it to Prince William's wedding (she allegedly kicked a man on crutches in Cape Town). Charges were eventually dropped, so she was able to take part. Lady Kitty has an especially active Instagram, so expect to find at least one fascinator photo. Their younger brother, Louis Spencer, no longer has Instagram, but he'll certainly be in attendance (maybe he can bring Nicki Minaj as his date).
Crown Princess Mette-Marit
Last time around, Norway's formerly controversial Crown Princess Mette-Marit wasn't invited to the royal wedding, but the King and Queen of Norway were. We're hoping she makes an appearance since she and Markle have so much in common—both were previously in high(ish)-profile relationships and now campaign for women's rights. She could bring her extremely eligible son, Marius Borg Høiby, to høbnøb with fellow royals. He would definitely document the experience, although it would probably be in black and white.
Princess Maria-Olympia of Greece
Crown Prince Pavlos and Crown Princess Marie-Chantal have no problem partying with their kids, as Princess Olympia's elaborate 21st birthday party was a joint venture with her father. Be on the lookout for Princess Olympia's siblings, Constantine Alexios and Achileas, as well. It might be slightly awkward that Princess Olympia and Prince Harry were rumored to be involved in the past, but otherwise, the Greek royal family should make quite a splash.
Princess Charlene 
https://www.instagram.com/p/BVozjawBZYq/?hl=en&taken-by=hshprincesscharlene
Expect to see some of Monaco's finest royals at the proceedings (we'd like to suggest all of Grace Kelly's grandkids). Hopefully, Princess Charlene will appear, since she and Markle are said to share a similar style. Princess Charlene is best known for bursting into tears at the altar while she was getting married to Prince Albert II. Here's her chance to cry at a wedding without judgment.