Mayor Bill de Blasio finally released more than 4,000 pages of emails between himself and outside advisers who he famously referred to as "agents of the city" after a three-year long battle with NY1 and The New York Post that concluded with the media outlets winning a lawsuit against him seeking the emails' release.
On Thursday, City Hall released 4,245 emails subject to the litigation—the ones involving BerlinRosen, an influential political consulting firm headed by outside adviser Jonathan Rosen, from January 2014 to April 2015.
The city also released BerlinRosen-related emails from the remainder of 2015 and from all of 2016 and 2017 in an effort to fulfill several pending Freedom of Information Law (FOIL) requests associated with emails that came after the time period of January 2014 to April 2015.
The de Blasio administration said it opted to give up its right to seek a higher appellate court review of the decision concerning the lawsuit.
Observer sifted through the mountain of emails and pulled out some of the wildest revelations about the mayor.
The How-Guide on Hillary Clinton Questions
On Dec. 6, 2014, Andrea Hagelgans, then the mayor's director of agency communications, sent out an email in which she offered some guidelines on how de Blasio should address questions about Democratic presidential nominee Hillary Clinton and her possible presidential bid—less than a year before Clinton formally announced that she was running for president.
De Blasio infamously said he was not ready to endorse the former New York senator, whose Senate campaign he managed, immediately after she announced her bid. In October 2015, he finally endorsed her.
In 2016, as the presidential election was underway, Wikileaks' released emails from Clinton campaign chairman John Podesta's hacked personal account that revealed de Blasio had sought direction from the Clinton campaign—despite stating publicly that he was not ready to endorse her—even after her top strategist Robby Mook derided him as "a terrorist."
He defended his decision to hold off on endorsing her initially, insisting that he pushed the Clinton campaign "to take a more progressive stance."
Bill de Blasio Channels His Inner Trump 
The mayor got upset when the media reported that he was exercising at a gym in Brooklyn when a firefighter was shot while responding to a house fire on Staten Island in 2015—and lashed out, Trump-style.
Trump is notorious for referring to news media outlets and any reporting on him or members of his administration that is not favorable coverage as "fake news" and often describes journalists as "dishonest."
Still, it sounds like he learned a lesson from that bad experience.
'Just Rip His Face Off'
On July 6, 2016, New York Post's Carl Campanile reached out to former de Blasio aide Phil Walzak, who is now the NYPD's deputy commissioner of public information; Austin Finan, de Blasio's first deputy press secretary; and Dan Levitan, who was de Blasio's campaign spokesman for comment on then-GOP presidential candidate Donald Trump's assertion that de Blasio was the "single worst mayor in the history of New York City."
Walzak's recommendation was blunt.

But Eric Phillips, de Blasio's press secretary, took to social media to clarify that there were no violent intentions behind the comment.
I love Me a Cuomo Takedown
De Blasio expressed pleasure over a 2015 Observer article titled, "What Does Bill de Blasio Gain by Openly Blasting Andrew Cuomo?" exploring the mayor's decision to start publicly airing his complaints about Cuomo as a way to counter him.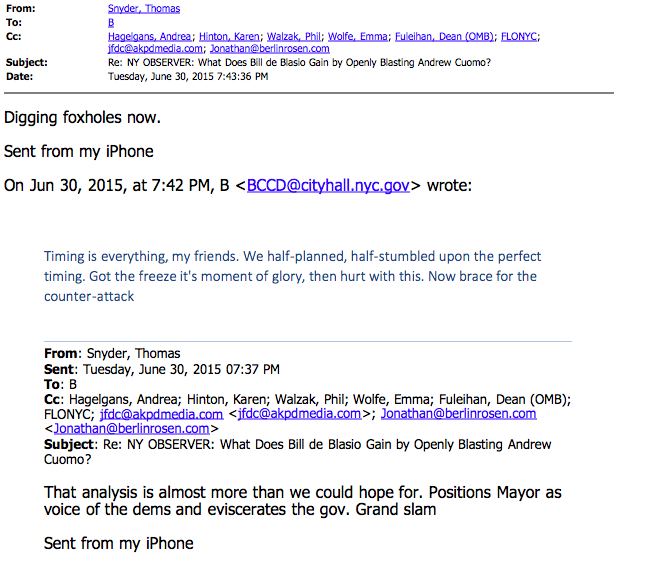 The pair have fought over a variety of issues, including homelessness, funding and repairs for the New York City Housing Authority (NYCHA), the city's beleaguered subway system and even self-driving cars.
Clickbait… City Hall-Style
In response to a 2015 New York Times article about de Blasio responding more calmly to negative questions about his administration—including his trip to the gym when the firefighter was shot on Staten Island and an administration position going to the companion of one of his top aides—he passed along an idea brainstormed by his wife, First Lady Chirlane McCray.
She suggested that the city come up with its own form of "click-bait" content.
Journalists weigh in 
A number of journalists offered their takes on what they learned from the emails.
NY1 political reporter Grace Rauh, one of the journalists who filed the lawsuit:
Yoav Gonen, The New York Post's City Hall bureau chief, who also filed the lawsuit:
Josefa Velasquez, investigative reporter at Sludge: