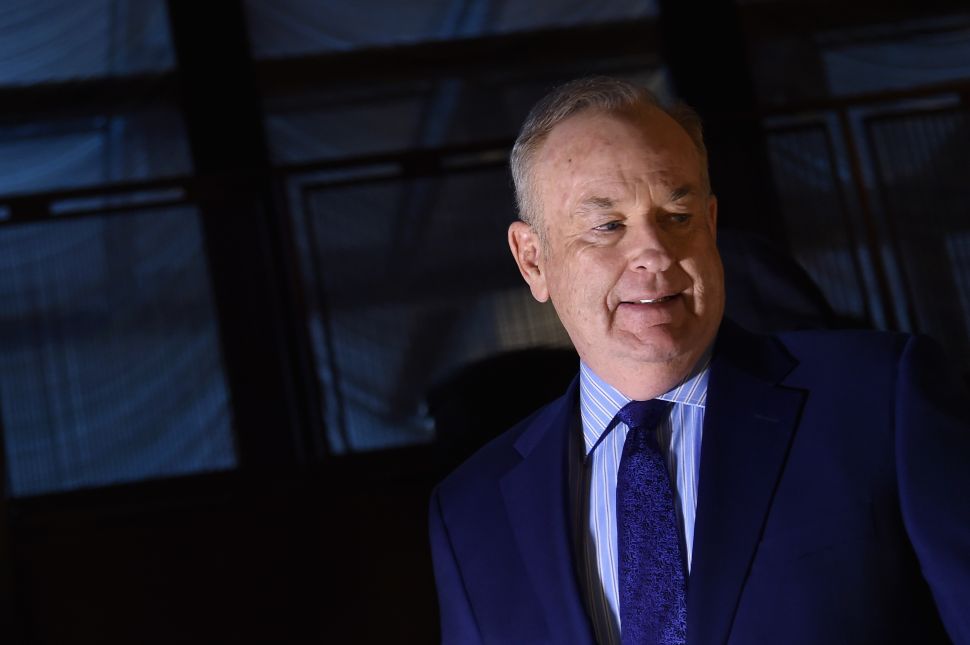 Bill O'Reilly has stayed busy since his ouster from Fox News over sexual harassment claims, developing an online show as a new platform while still earning a staggering $37 million last year. But it looks like the controversial political pundit is ready to get back to his natural habitat.
Page Six reports that O'Reilly is in talks with Newsmax TV to return to cable news in his former 8 p.m. time slot. He is said to be in deep negotiations to develop a new show, while the outlet is reportedly also interested in fellow ex-Fox personalities Greta Van Susteren and Eric Bolling (Bolling is already working with CRTV on a new digital show).
The outlet also reports that former White House press secretary Sean Spicer is being eyed for a political late-night panel show.
"The deals are not done yet, but talks are in the advanced stages, certainly with O'Reilly," a source told Page Six. "The thinking is, following a 6 p.m. news show, Greta would anchor the 7 p.m. hour, O'Reilly would be back at 8 p.m., and Bolling could smoothly continue on at 9 p.m. Spicer and his cohorts would go on at 10 p.m., with the later slot allowing the show to be looser. But the deals are not yet signed and sealed."
In April, former Fox executive vice president of news Michael Clemente joined Newsmax Broadcasting as CEO and has since begun courting an on-air roster of his former talent.
O'Reilly, 68, was previously the top-rated host in cable news. On the back of a rise in national intrigue with the Trump administration, O'Reilly posted his biggest quarter ever in the first months of 2017 with an average of 3.98 million viewers.
However, Fox hasn't dipped much without him, finishing 2017 as the most-watched basic cable network for the second consecutive year and concluding last month as the most-watched cable network for 22 straight months. O'Reilly's replacement, Sean Hannity, is No. 1 across all of cable news in total viewers.
Nesmax TV is a U.S.-based cable news channel owned by Newsmax Media available through cable, DTV affiliates and online streaming. As of February 2018, the network had a reach of more than 50 million homes.