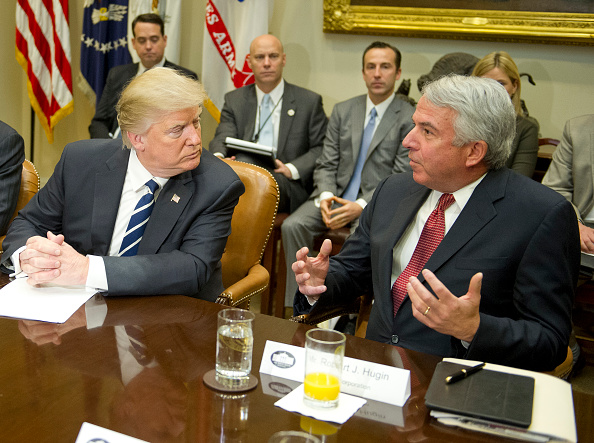 Bob Hugin, a former pharmaceutical executive running for the Republican nomination for U.S. Senate in New Jersey, earned nearly $34 million in 2015 and 2016, according to news reports about his tax returns.
Hugin, the likely GOP challenger to Sen. Bob Menendez (D-N.J.), also brought in $47 million in 2017 and the first three months of 2018, according to POLITICO. Most of the earnings are related to his work at Celgene Corp, where he retired as a top executive in January.
Hugin's campaign gave reporters two hours to review two years' worth of tax returns but didn't allow cellphones, cameras or computers in the room. The campaign notified the media just six hours before the meeting in Lawrenceville.
The arrangement was similar to what Gov. Phil Murphy did during the gubernatorial campaign, though Murphy showed reporters tax returns dating back to 2010 and allowed reporters to bring computers to take notes. Cynthia Nixon, a Democrat running for governor in New York, also gave reporters a two-hour window to review her tax returns, rather than release copies to the public.
Hugin earned $19.5 million and paid an effective tax rate of 46 percent in 2015, according to The Record. He reported income of $14.3 million and paid an effective tax rate of 40 percent in 2016.
Hugin and his wife donated $5 million in charity in 2015, much of it going to the "Hugin Family Foundation," according to POLITICO. The couple contributed $3.9 million to charity in 2016.
"Continuing a tradition of service and giving back that started with his joining the Marine Corps, Bob and Kathy have been extraordinarily generous, donating to charities focused on combating homelessness, improving education and supporting our veterans," Hugin's communications director Megan Piwowar said in a statement.
The Hugin campaign said he would not take a taxpayer-funded salary, would refuse all gifts and put his assets in a blind trust if elected to the Senate. The campaign said he'd take these steps to "raise the ethical standards in Congress"—a clear jab at Menendez, who survived a corruption trial over gifts he accepted from his friend and co-defendant, Florida eye doctor Salomon Melgen.
In response to Hugin's tax returns, Menendez campaign chairman Michael Soliman noted that Celgene repeatedly raised prices for cancer medications.
"While there is nothing wrong with being rich—Bob Hugin's getting rich by ripping off cancer patients is despicable," Soliman said in a statement. "Bob Hugin has gotten very, very rich from overcharging cancer patients for the drugs they depend upon—and apparently he has no shame in showing off how much money he made from doing that."
Menendez, who is seeking a third term, is considered the heavy favorite in the race. A recent Monmouth University poll showed Menendez leading Hugin by 21 points.