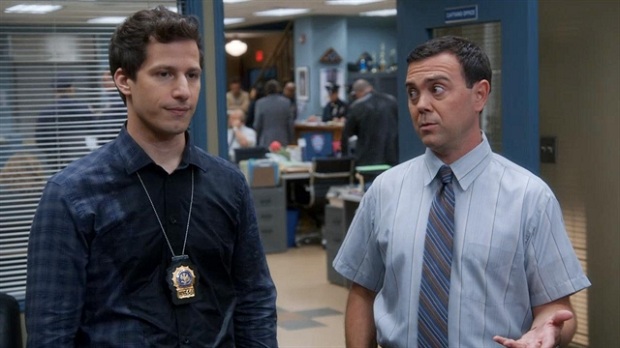 On Tuesday, FOX (FOXA) canceled the Andy Samberg-led comedy Brooklyn Nine-Nine after five seasons, sending all of Twitter into a frenzied tizzy (anytime you have the opportunity to use the word tizzy, you take it).
Saying goodbye to a well-liked show is never fun, but it's important to remember that five seasons and 100-plus episodes is an impressive run for a niche offering, especially in today's crowded era of Peak TV.
But since we are living in such a cluttered landscape where content is king, fans may not have to say goodbye to Brooklyn Nine-Nine at all. THR reports that producers Universal Television are in talks with several platforms, including streamers Hulu and Netflix, TBS and NBC. Each option makes a certain amount of sense.
Netflix (NFLX) is already in business with Universal Television thanks to Tina Fey's comedy Unbreakable Kimmy Schmidt. TBS is headed up by president Kevin Reilly, who first developed the series during his time at Fox. And other broadcast networks always peruse the trash heap of their rivals looking for a treasure to revive.
But Hulu makes the most sense if Brooklyn Nine-Nine is going to continue pointing out potential titles of your sex tape. (Side Note: Captain Raymond Holt is one of the greatest gifts TV has ever given audiences.)
For starters, the streamer already has an SVOD deal to air the show, making it the logical life-after-death destination. Plus, the platform has a successful track record of reviving Fox/UTV comedies after it swooped in for The Mindy Project with a multi-season order after Fox gave it the ax.
With just 2.1 million live weekly viewers this season, we can safely assume that a not insignificant chunk of Brooklyn Nine-Nine's fandom watched the show via Hulu. It's a familiar viewing destination at this point.
From a platform angle, this would also be a great move for Hulu as it continues to try and compete against the mammoth Netflix. The former is putting an emphasis on its considerable library of television; it currently boasts more than 75,000 episodes of TV, more than double of any other streamer.
Thanks to the sweeping success of The Handmaid's Tale, Hulu is also the fastest growing streaming service in the United States. They want to capitalize on this momentum and will be rolling out several splashy titles over the next 12 months.
Netflix is more focused on developing originals at this point, giving Hulu room to further establish its brand as a home to quality TV in general (the streamer is reaping the benefits from its back catalog of ER episodes and recently notched exclusive SVOD rights to the ABC hit The Good Doctor). In 2017, subscribers streamed more than six billion hours of premium content, according to the company.
Adding the small but passionate fanbase of Brooklyn Nine-Nine gives them further footing in the niche they want to carve out while also building some buzz, which is what generates subscriber growth.
The first priority for audiences is to get Brooklyn Nine-Nine back somewhere. If possible, Hulu is the best fit.