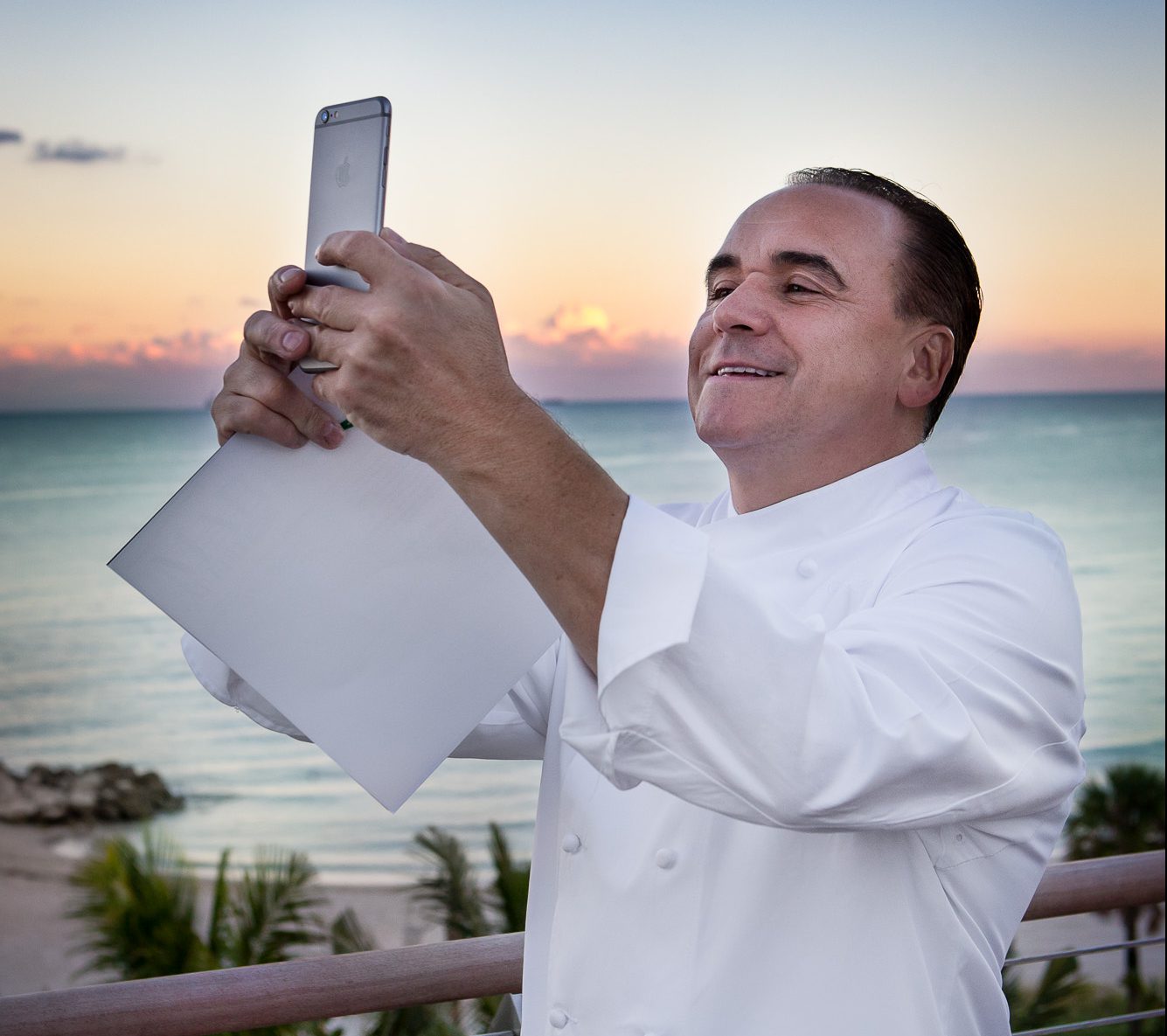 Jean-Georges Vongerichten holds his iPhone like a sheriff's badge. "I do all my own Instagram," he tells me, smiling.
It's Cinco de Mayo in Los Cabos, and one of the most famous chefs in the world is nestled above the Sea of Cortez in a Mariachi-powered corner of SEARED, his restaurant in the One&Only Palmilla. Between tiny bites of cactus we sip fine tequilas as slowly as honey is drizzled on toast. Tomorrow, he promises, an after-party, with disco, 'til 2 a.m.! For now, Jean-Georges captures the evening in Instagram stories, sharing emojis of eggplants to a surprisingly modest 161K followers. 

One&Only Palmilla is a chic Pucci paradise encrusted by brown sugar sands, where Vogue-thin women sweat green juice and five-carat diamonds. For this invasive species from LA and Mexico City, Shaman-led healing and rolling Jack Nicklaus greens mustn't wait more than a two-hour flight. 
This weekend, they're here to see Jean-Georges and his team of belly-laughing sous chefs, who came straight from New York to bestow their knowledge of Instant Pots (there's one in every JGV kitchen), baby chickens (best served at three weeks), and the proper use of butter (in everything, in abundance). 

"Do you know who he IS?" To my right, a tight-lipped blond whisper-screams—transparently thrilled to be the one to tell me why I'm here. I oblige. "He is a VERY IMPORTANT chef!" Back to my tequila. And to Jean-Georges…
You said last night that your Chinese sign is a rooster, and that roosters are "really good at having both feet in shit, but still having fun." The rooster is the only bird, the only animal, who can have two feet in poop but still sing and be happy with his feet in shit.
In life, have you had an experience like this? Where things are going on, your feet are in it, but you're loving the moment? Yeah! Many times. Some nights, crazy nights, where everybody comes out. This is not the worst night. I'm a rooster in the kitchen. Every day is a different day, and you adjust. After 45 years of cooking, you know, you see amazing days and crappy days.
And today is…? Today is a happy day. I haven't stepped in anything.
What is the easiest thing to make, that people always screw up? The simplest thing is always the most complicated. Eggs are a good example. An egg that's overcooked—of course you screwed it up. Many times, as a chef, it's a combination of things. As you get older, more experienced, you screw less up. When I was younger, 30 years ago, I put some crazy things on the menu.
Like what? Once I put something on the menu and we only sold one all week. But I insisted. It was the summertime, and I decided to do a sparkling vegetable broth.
…sparkling? Yeah… I did a vegetable broth with scraps of vegetables, water, herbs—an infusion I put in a seltzer bottle, with all kinds of cooked vegetables. It was a vegetable soda, and everything was moving! The peas were going up and down.
Which restaurant? It was before I opened my own. It was called Lafayette at the Drake Hotel. It was a little crazy. Nobody wants to eat a sparking vegetable broth! It was in 1988 or something like that. I just put it on the menu, I was insisting to sell it. But nobody ordered it. Next! Turn the page! Sounds crazy, huh?
A little bit. Did you drink it from a straw? It was served in a glass bowl. You drink it like a cold broth. With vegetables in it. Sparkling! SPARKLING! Who wants to drink a vegetable soda?
You may have been ahead of your time, though, because now everyone's drinking green juice. You just made it with bubbles. But the drink was transparent. I didn't blend it. It was all clear, sparkling, vegetables moving in a bowl.
Sounds artistic. It would be a great Instagram video! It was like two cups of sparkling vegetable broth. TWO CUPS! But it tasted okay.
Just okay? Yeah, but two cups? That's too much. I should have put a straw with it.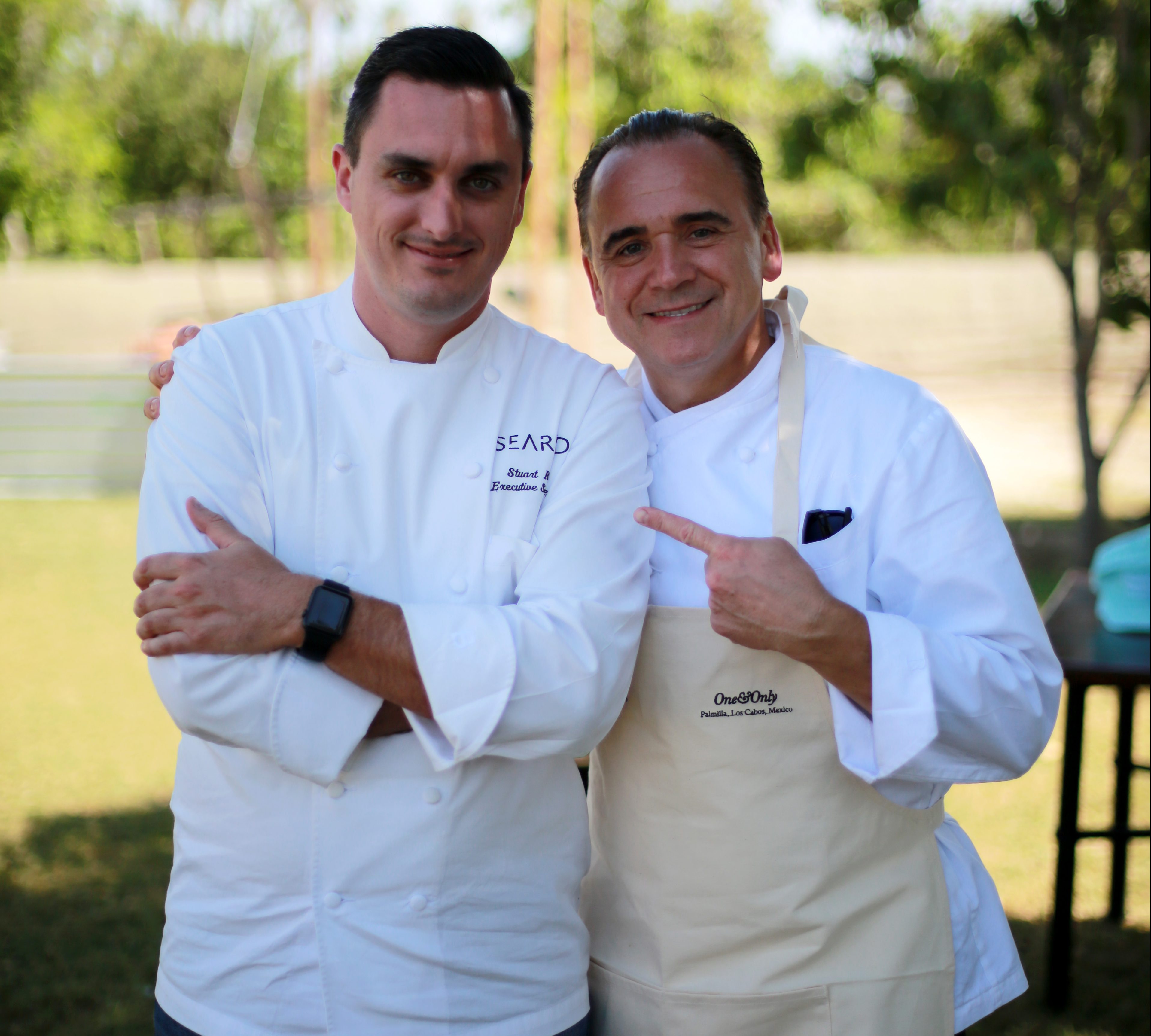 So I live in a tiny New York apartment. For someone who likes to cook and endeavors to cook, but lives in a small space, what's your advice? Instant Pot! It's amazing, non? If you have a small space, you should do everything in one pot. At the restaurant, I plate every day. So each time I cook on the weekend at home, I don't like to wash 20 pots to do one dish, so I try to do a one-pot meal, and I think the Instant Pot is a good solution. It's the easiest to do when you're alone or in a small space.
You might get a sponsorship from this. Non!
Is there one ingredient that you think is underrated? Everybody is using pretty much everything, but maybe camembert. It's forbidden in hotels in Thailand, because it has such a strong smell.
What about an overrated ingredient? Probably kale right now. I love it, everybody loves it. You can juice it, serve it raw, braise it. It's so good for you that I have it every day in my juice…but it's a lot.
Do you ever eat fast food? Is Shake Shack a fast food? I like Shake Shack. But the first time I really had a full fast food sandwich was 10 years ago on my way to Mexico. We stopped in Houston, I was starving, there was nothing. And I had a spicy chicken—a country spicy chicken—sandwich at Wendy's. It was a revelation for me. The spice, it was moist, it was crunchy. I was like, "Woooowwww!" And it was a great experience. I said, "Why do people complain about fast food? This is delicious!" Of course, when I first came to New York, it was the hot dog. That's New York's favorite street food.
Is it your favorite street food? I think it's delicious. A New York hot dog with sauerkraut on top. Reminds me of Alsace in a sandwich. So that was my first fast food, my second one was Wendy's, and then Shake Shack once in a while at the airports. It's pretty cool.
What is your order at Shake Shack? I order the cheeseburger. But I also like the egg sandwich Shake Shack has in the morning.
I haven't had it. Terminal four, JFK. Egg and cheese with bacon. It's pretty damn good.
Is there anything you're really bad at making? In the beginning, I was bad at pastries, but I've become good at it. Before computers, we had so many restaurants and everything was eyeballed. Pastries taught me an exact science, that you have to be precise. If you don't weigh everything, it doesn't work. I learned that, when I tried to improvise with pastries, it doesn't work. So we develop a recipe and send it elsewhere. Everything—the dishes we send to our other restaurants—is what we did yesterday in New York. We have over 50,000 recipes in the computer.
Because you can't be everywhere at once. Right. If you want 100% of me, I will have to open a counter with seven seats. I will cook, serve, and wash dishes. That will be 100% of one Jean-Georges. When you open a restaurant you have to have people helping you, so you have to pass on the knowledge.
What do you look for when hiring, beyond the basic skills necessary—what personality traits? It depends. If it's front of the house, better to have the personality than the techniques. A great smile. You can't teach an angry person to be nice. Or service to somebody who doesn't want to please. I prefer to hire somebody who is very green. Most of the chefs and sous chefs we have train from the ground up. I prefer a green person I can teach who, after two months, works exactly as I teach them. A good example: when I went to my apprenticeship, they taught me to peel an apple this way. Then I went to the next chef—another three-star chef—who taught me to peel an apple that way. It's difficult sometimes to change somebody's techniques after a certain amount of years. But if you hire somebody green, after a while they nail it, the way you want them to. The seasoning, amount of chilies, the vinegar. Once they get your palette, it's amazing. Many times sous chefs are built from within.
What would you be if you weren't a chef? I was supposed to be an engineer, when I was a kid.
Did you want to do that? I hated it. For me, I was always fascinated by architecture, design, clothing, textures. Design and architecture are very similar to food; it's like building on colors and textures. Food is the same, but it has something else: taste. One more element.
Do any of your children want to follow in your footsteps? Yeah! One son, Cedric, who is 37, is a chef at Perry Street. My daughter Louise was in the trade, too, but she just had a baby. I have three grandkids. Seven and five from my son, and my grandson who is a month old. And I have a young daughter who is 17, but I don't know what she wants to do yet. She spends most of her time on the phone.
Maybe she wants to be an "influencer"? Exactly.
So if you could make dinner for anyone, dead or alive, who would it be? It would be probably my hero, Salvador Dalí. I love what he does. He's a crazy man. I'd probably do some crazy dinner. I'd probably give him the sparkling vegetable broth! His mustache would shake. I love his books. I did a dinner actually, an homage to him.
Where was that? At Lafayette as well. It was crazy. We decorated the restaurant with a dead tree, with dead pigeons hanging from it.
And that made people hungry? It was inspired by one of his paintings. On every table top was a dead pigeon with a crack in its chest with a roast sticking out.
What year? '87, '88?
And people wanted to eat dinner when they saw the dead bird? They had no choice!
Did you serve bird? We served the same bird, roasted. We used a baked potato that we opened up, like a sarcophagus, with a little candelabra on the side. We served pigeon and we played the March of the Dead as we served. It was a recipe from his book! Dalí did a cookbook as well. It was all sexual, death.
The cookbook? Yeah! And everything we served was from that cookbook. People were screaming. It was crazy.
Where does the fascination with Dalí come from? He was still alive when I grew up. I really enjoyed his art, and I would go to museums to see what he was doing. Very influential to me as a kid. And when we did a Food & Wine dinner, they asked me to do something unique and crazy, and to go all out. People had no idea when they walked in. They said, "It smells like dead bird? And roses. At the same time?"
If someone asked you to do that today, what would you do? I think I would repeat it, because it was crazy. One dish was called the Breast of Venus.
What was that? A pork belly. We punched out a little gelatin breast and there was a little nipple made out of carrots. It's part of his book! I'm not inventing it. We did about ten courses from the book. I picked some crazy stuff. People were like, "WHAT is this?" I like to do things once. This was an homage to Dalí.
Last question: Where did you get the dead birds? I called a guy.