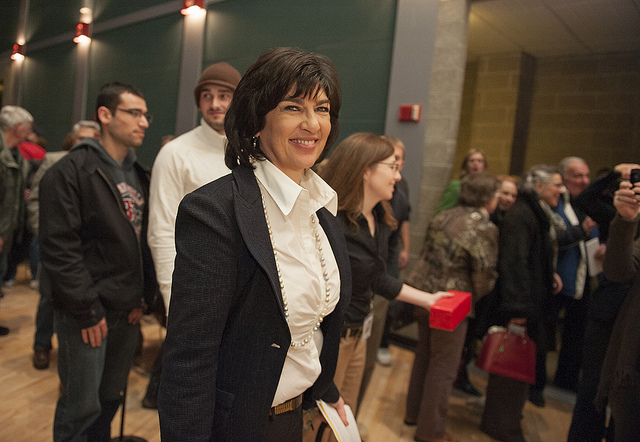 Christiane Amanpour will officially replace Charlie Rose on PBS stations across the country. Her new nightly news program Amanpour & Company will launch in July.
PBS made the announcement this afternoon during its annual meeting. The Hollywood Reporter first broke the story, though financial terms of the deal were not disclosed.
The new hourlong show replaces Amanpour, a half-hour CNN International program which had been simulcast on PBS since December. Amanpour, CNN's chief international correspondent, will continue to host the CNN show on weekdays.
Amanpour was inserted into the late night slot after multiple women accused Rose of sexual harassment. He was also fired from CBS This Morning after these allegations.
The "company" of the new show will consist of four contributors:
Michel Martin, weekend host of NPR's All Things Considered;
Walter Isaacson, a former CNN CEO and Time editor who now teaches history at Tulane University and runs the Aspen Institute think tank; he's also authored eight books, including Steve Jobs;
Alicia Menendez, contributing editor at Bustle, special correspondent for Fusion and host of the podcast Latina to Latina;
Hari Sreenivasan, anchor and correspondent for PBS NewsHour and host of the national public television series SciTech Now.
Amanpour is based in London, but her cohorts will produce the show from the WNET studios at New York's Lincoln Center.
"I'm delighted to expand my role at PBS from interim to permanent along with this remarkable diversity of voices and views," the 60-year-old journalist said in a statement. "Never has the time for exploring our world and America's place in it been so urgent. I am also thrilled to be a female filling this role at this time."