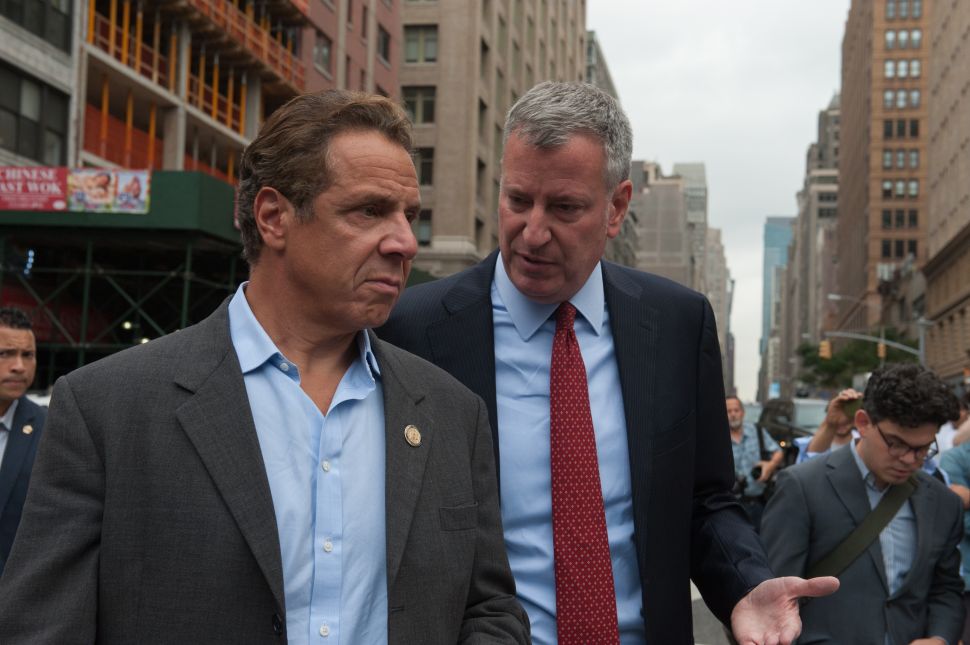 Although Gov. Andrew Cuomo has received high-profile endorsements from former Democratic presidential nominee Hillary Clinton and former Vice President Joe Biden at the New York State Democratic Party Convention, Mayor Bill de Blasio—who was not at the star-studded affair—seems confident that his longtime friend and ally Cynthia Nixon could prevail.
On Wednesday, the first day of the convention in Hempstead, N.Y., Cuomo received a whopping 95 percent of votes cast by convention delegates, while Nixon received a mere five percent. To get a spot on the ballot and be permitted to speak at the convention, candidates have to receive at least 25 percent of the vote. Cuomo accepted the nomination to serve a third term as governor on Thursday.
On Thursday morning, Biden backed Cuomo. Clinton, a longtime ally of Cuomo, endorsed him on Wednesday afternoon.
De Blasio, as he has indicated since Nixon formally declared her candidacy in March, said he is "not in this primary yet" and plans to make a decision about the race at some point. He maintained that his focus is on helping Democrats win back the state Senate, which he thinks is "about to flip Democratic."
"At some point, I will weigh in, but I want to say there's a question of what's happening, why it's happening," he said on MSNBC's Morning Joe on Thursday morning, referring to hunger for change among progressives within the Democratic Party. "It's very consistent with what we see around the whole country."
When asked whether he thinks Nixon can win, he expressed full confidence in her prospects.
"… unquestionably," de Blasio continued. "In a race with two prominent candidates, in a time that people are very distrustful of the status quo, anything can happen."
He pointed to the fact that there are progressives and "change agents" in the party who no longer accept the status quo, insisting that they have "the wind at their back." He gave Stacey Abrams, who recently won the Democratic gubernatorial primary in Georgia, as an example. Abrams could become the country's first black female governor.
When asked about the fact that his policy positions line up more with Nixon's than Cuomo's—for example, they have both blasted what they believe is the governor's role in allowing former breakaway Democrats to caucus with Republicans in the state Senate—he acknowledged his history with Nixon and her work on education issues.
"In terms of history, I have a great respectful positive history with Cynthia Nixon," he added. "We've worked very closely together. She's been an education activist. She's been someone who's fought for, I think, a lot of the right things. But the fact is the electoral decisions are something I'll make when I feel it's the appropriate time."
De Blasio attended the state Democratic Party's convention in 2014. He suggested that he was not offered a substantial role at this year's convention.
"I'm a progressive, and I'm a very proud progressive, and I am going to be involved in efforts in this city, this state, this country to create a more progressive Democratic Party and a more progressive country," he told reporters at an unrelated press conference on Wednesday. "That said, you know, there was not an invitation to play a meaningful role at the convention. I got a lot of other good things I can do with my time. And so, I'm not worried about it. I'm going to continue my work either way."
And he expressed no surprise at Clinton's endorsement of Cuomo, referring to the fact that he worked as secretary of the U.S. Department of Housing and Urban Development (HUD) for her husband, former President Bill Clinton.
"Obviously, there is a long positive relationship between the governor and Secretary Clinton, so it's not surprising at all that he would want her endorsement and that she would give it," he said.
Over on Long Island, Biden, who spoke for about 45 minutes—much longer than Clinton, who clocked in at 12 minutes—pointed to Cuomo's achievements such as paid family leave, marriage equality, a statewide $15 minimum wage and tougher gun laws.
"Andrew Cuomo has never backed away from his progressive principles, not one single time," Biden argued.
During his lengthy speech, he also took aim at Trump and the Republican Party.
"This is not your father's Republican Party," he continued. "They are not who we are. They are not who America is. But what they are doing is they're sending a vision of America around the world that's distorted, that's damaging, that is hurting us with this phony populism and this fake nationalism."
Indeed, he argued that the Trump administration and Republicans in general are taking aim at marginalized groups.
"It's designed to be able to step back and let the wealthy and the powerful control and then blame it on the other—the immigrant, the black, the woman," he added. "That's what this is about. And that's everything that you are not and everything Andrew is not. That's not who we are."
Biden enjoys a positive relationship with Cuomo and has made appearances with the governor numerous times. In June 2017, Cuomo held a fundraiser with Biden in Manhattan.
Just a year prior, Cuomo and Biden kicked off the construction of a new Terminal B building at LaGuardia Airport in Queens. In February 2014, he referred to the airport as a "third world country"—a comment that de Blasio did not respond well to at the time, saying that it was "not his finest moment."
And in 2015, the pair also appeared together to push for an increase in the statewide minimum wage.
Biden jokingly said that one of the reasons why he's a big fan of Cuomo is because they both own Corvettes, insisting that his Corvette is "better looking" and that he "came for one simple reason: Matilda Cuomo," referring to Cuomo's mother.
"Our families have a lot in common," he said. "We were raised in homes—one Italian, one Irish—where we were taught that the greatest sin anyone could commit… is the abuse of power, whether it's government abusing power, the abuse of economic power or physical power. It was the ultimate sin. We were taught [that] everyone, and I mean everyone, is entitled to be treated with dignity."
After accepting his nomination at the convention, Cuomo praised Biden and also joked about the competition between their Corvettes.
"I love Joe Biden, he is the heart and soul of the Democratic Party and he really has been fantastic," the governor said. "Couple of points that I just want to clarify. He made a comment about his '67 Corvette and my '75 Corvette. He's right that the '67 is a better-looking Corvette than my Corvette. That is true. He then went further and suggested that his car would actually beat my car in a race. And that was a low blow. And he doesn't know what I have under the hood."
This story has been updated to include a comment from Gov. Andrew Cuomo.